You've been growing your crops, laundering your money, and keeping all your lieutenants in line. Living the life of a kingpin in Cartel Tycoon can be tough, but one aspect of this Early Access management title has been giving players fits: raising loyalty.
Fairly early on, you receive a quest that requires you to raise your loyalty in order to take control of a city. Raising your loyalty in Cartel Tycoon is actually fairly simple; the game just does a poor job of explaining what you need to do. This little hiccup will likely be fixed as the game moves forward in development, but here's how to raise your loyalty meter now (as of March 22, 2021).
How to Increase Loyalty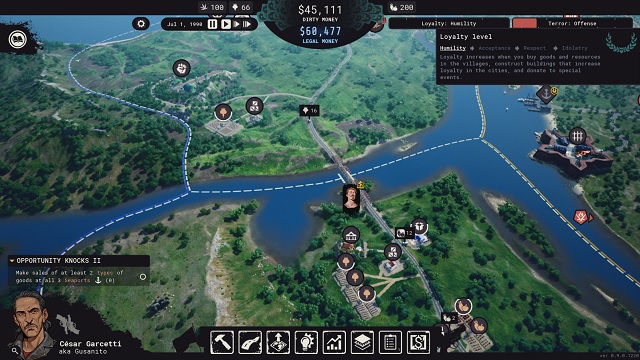 You'll find your Loyalty Meter at the top of the screen on the right-hand side, next to your terror meter.
There are four different levels of loyalty, each indicating how the general population views you in world of Cartel Tycoon. The game makes it seem as if loyalty is separate for every city or region, but that is not the case (at least at this point in the game's development).
You have one loyalty meter, and actions you take in any region affect it for all areas on the map. The way to think of your loyalty meter in Cartel Tycoon is how the general public views you. The way to increase that meter is by doing things the people would enjoy or appreciate.
Armed with that knowledge, here are the main ways to boost your loyalty.
Build Specific Buildings
You start with one city under your control and, if you followed the early game quests, you should already have a Taxi Company there. However, there are a few more slots to construct buildings in that city, and several of them will increase your loyalty.
When looking at the buildings to create there, look for a Specification that reads Loyalty One-Time Increase. Buildings that include this boost include the Amusement Park, Salsa Club, and Church. Once any of those buildings are constructed, your loyalty meter will increase.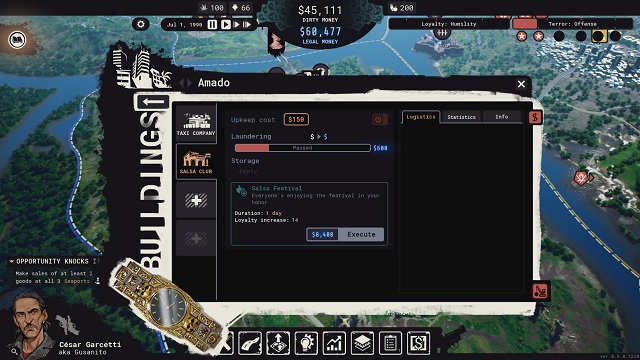 Throw Special Events
Once you have built one of those buildings, you can also donate a large chunk of cash to a special event at that building to get another loyalty boost.
Look for the Give loyalty on Action Specification. These events are expensive but provide a significant loyalty boost, like throwing a Salsa Festival at the Salsa Club. You can throw as many of these events as you like; they just each have a cooldown to keep an eye on. Click on the building and look for the Execute button to throw one of these events.
Buy from a Village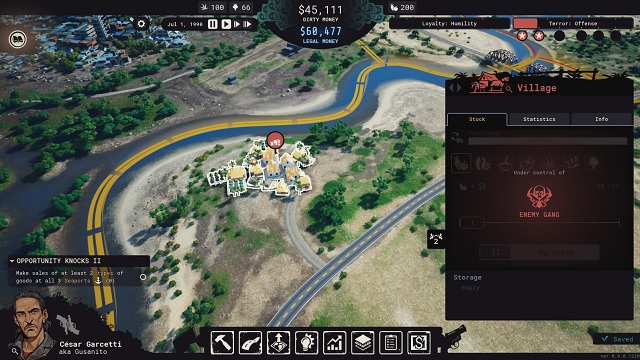 Across the Cartel Tycoon map, you'll find villages that are under the control of rival gangs. You can take over these villages just like you would any other building. Taking over a village gives you the ability to buy goods or resources there, and doing so will provide a small increase to your loyalty meter.
That's all there is to it! Now you know how to increase and raise loyalty in Cartel Tycoon, making you a formidable boss. For more on Cartel Tycoon, check out our game page!
About the author