The Diablo 4 Kixxarth Helltide Assassin is a boss that roams around during Helltide Events. This foe has some devastating abilities that can be very punishing if you're caught unaware or unprepared. Our Diablo 4 Kixxarth Helltide Assassin guide tells you how to beat this opponent, as well as its rewards.
How to Beat Kixxarth Helltide Assassin in Diablo 4
As mentioned earlier, the Diablo 4 Kixxarth Helltide Assassin only appears during Helltide Events, which occur every other hour. The activity itself lasts for an entire hour, and you'll need to collect Aberrant Cinders by defeating lots of hostiles. You might even amass enough to open a Tortured Gift of Mysteries Chest.
However, while you're exploring and battling foes, you should be aware of Kixxarth if it's roaming in the vicinity. You'll notice a horned skull icon if it's nearby. At World Tier 3 (with level 53+ recommended), Kixxarth is already Level 72.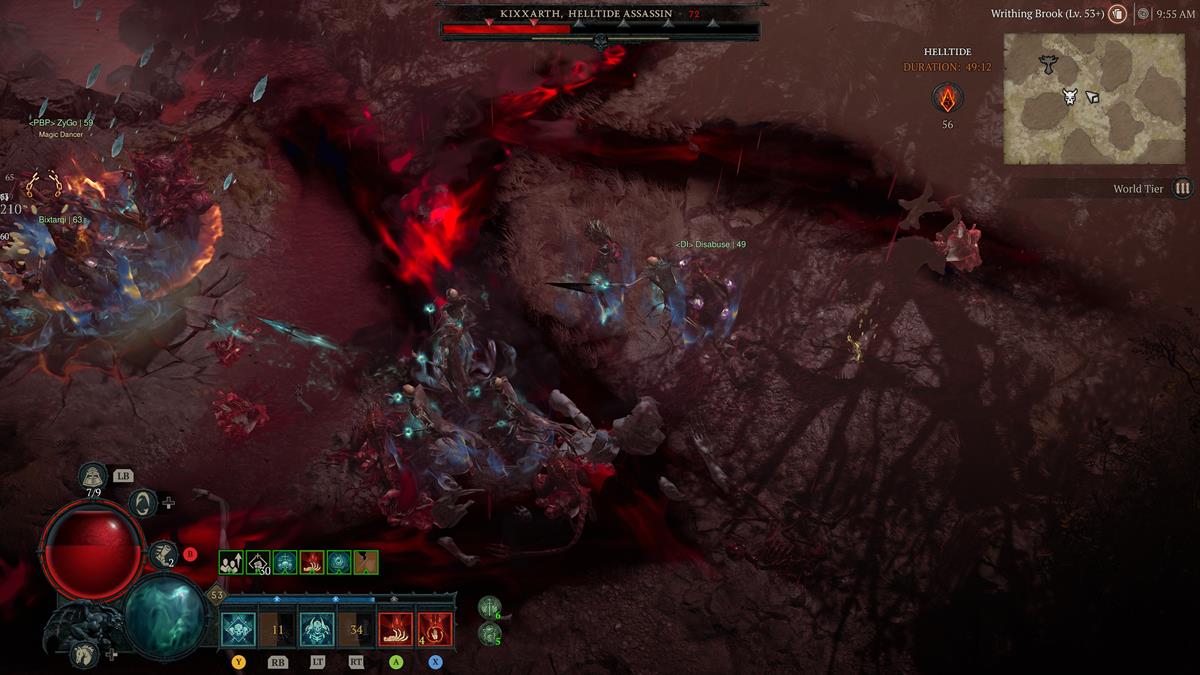 Kixxarth Helltide Assassin Abilities
Aggro Pounce:
Kixxarth will pounce at its intended target a few times, chasing them down before stopping in place.
Kixxarth's melee hit can be tanked without issues. However, since the boss does this a few times, it's always wise to use your dodge action to avoid taking damage.
Crimson Flare:
Kixxarth's most dangerous ability is used in conjunction with aggro pounce. Whenever he leaps around, he'll leave behind a crimson trail that deals constant damage.
When you see red lines appear on the ground, it's imperative that you move away immediately. The damage-over-time (DOT) ticks are quite high. Ideally, you'll want to find a gap between the crimson lines so you can still use your own abilities.
Doomfear:
Causes an AoE nova that inflicts fear on its opponents.
Kixxarth will do this periodically, which will make your character and other friendlies run away due to the fear affliction. Just get back into the fray and avoid the crimson lines.
Kixxarth Helltide Assassin Rewards
As a Necromancer main, I mostly relied on my minions to do the dirty work, all while I used the Bone Spear spell. Additionally, when I had just started switching to World Tier 3 and, eventually, World Tier 4, I was quite under-leveled for the Diablo 4 Kixxarth encounters. Thankfully, there were many players who were also battling the boss whenever they spotted him. Now, at a higher level, I try to solo him when there's still enough time on the Helltide clock.
Is fighting Kixxarth worth it, though? Well, I know for a fact that I never received a Sacred/Ancestral Legendary or Unique item from this opponent. However, it does drop several Fiend Rose and Forgotten Soul materials. Perhaps it's better to just avoid it so you can farm more Aberrant Cinders from regular enemy mobs.
And that's it. That's everything you need to know about beating Kixxarth Helltide Assassin in Diablo 4. For more tips, walkthroughs, and strategies, our Diablo 4 tips hub has you covered.
About the author