As you make your way deeper into the end game of Diablo Immortal, you'll be scrambling to find information on the vast number of different resources you'll have to manage. You have to worry about Legendary Gems, Adventure Journals, and more. One of those is Fading Embers.
This guide tells you everything you need to know about Fading Embers, from how to farm more to how Runes come into play.
What are Fading Embers?
Fading Embers constitute one of the many end-game currencies. They become available when you unlock Elder Rifts. You can earn Embers from completing rifts, then exchange them for FA Runes from merchant Cellik [Fading Embers and Runes] in the town of Westmarch at a rate of 18 embers per rune.
You can find Cellik down the stairs of the entrance to Elder Rifts.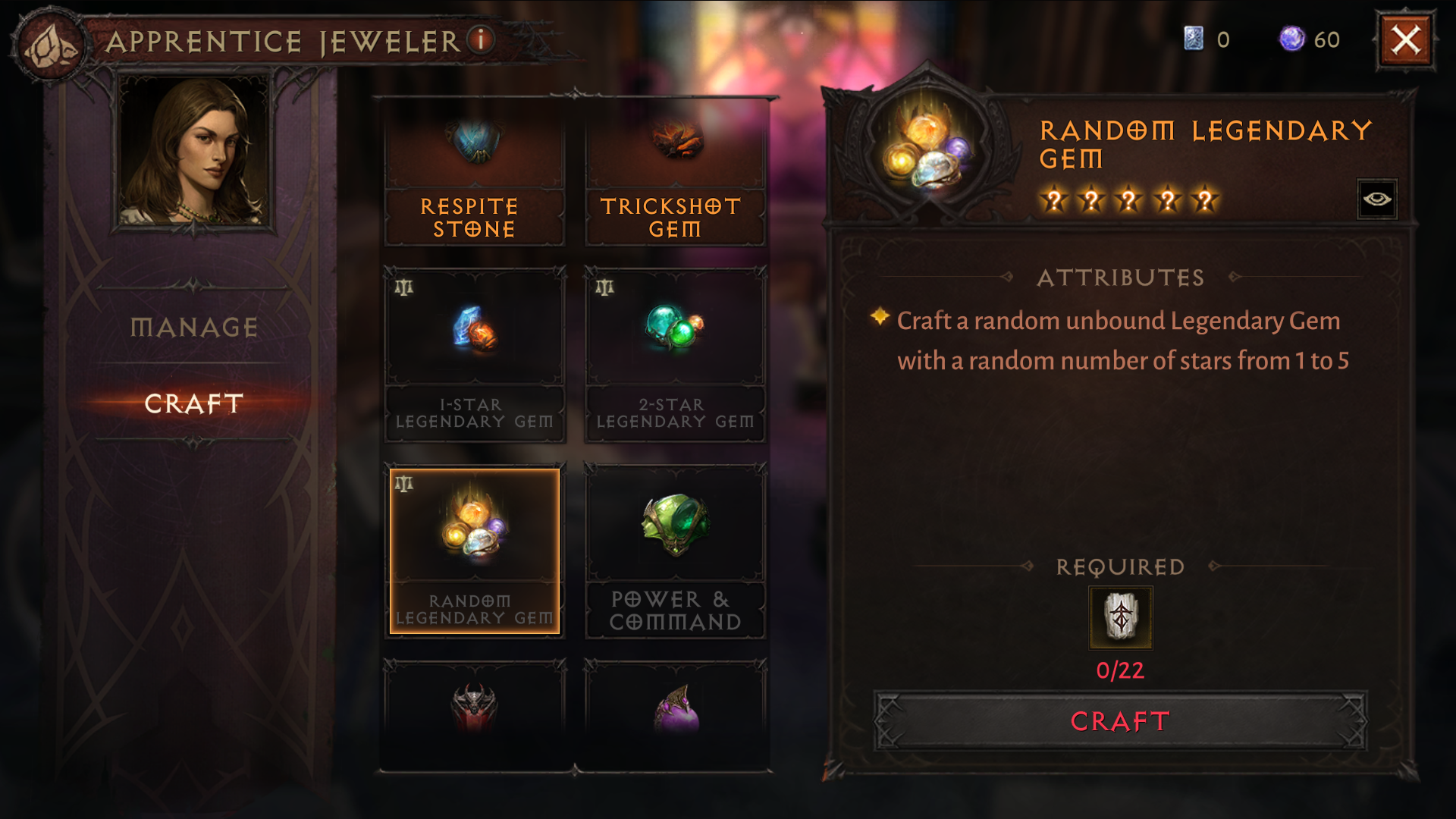 Why are Runes Important?
So why should you buy Runes? Because they're one of the most important items for crafting Legendary Gems. Like others in the series, Gems boost your character stats in Diablo: Immortal. That means you'll get more health, more attack, etc., depending on the Gem. Some, like the legendary Lightning Core, add extra effects to your abilities, as well. Gems are just as, if not more, important as your other gear, thus making Runes from Embers important, too.
There are two options when crafting high-level gems. The first involves crafting specific Gems, where you'll need X amount of ATI runes and X amount of a different rune specific to that legendary. The second involves crafting random Legendary Gems, nowhere you'll need X amount of FA runes depending on the type:
7 FA runes for a guaranteed 1-star
28 FA runes for a guaranteed 2-star
22 FA runes for a legendary between 1 and 5-stars.
It's easy to run out of Embers and Runes in Diablo: Immortal, so it's important to always be on the lookout for Fading Embers.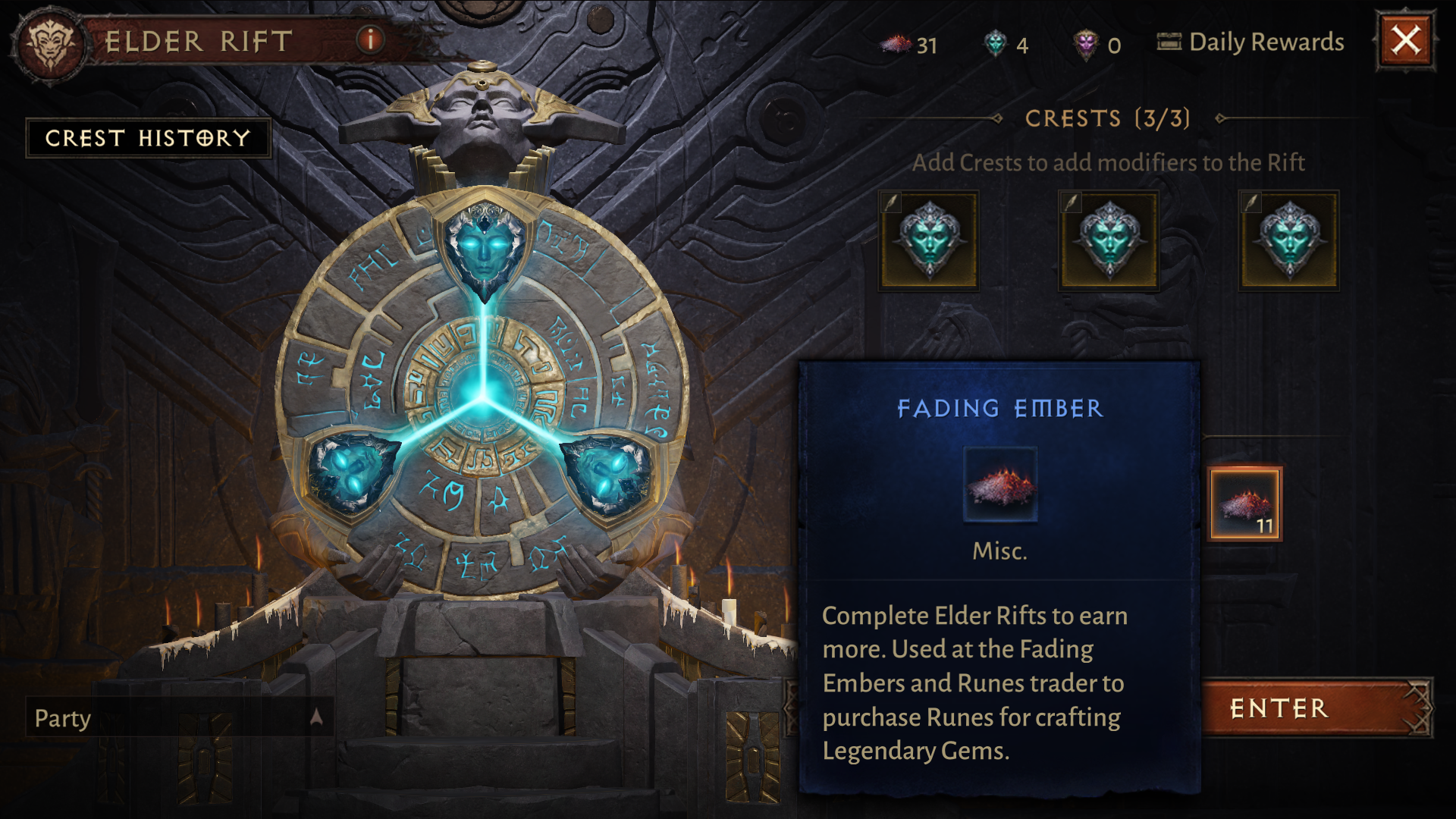 How to Get More Fading Embers
Fading Embers are capped. Unlike some other games, where you can earn as many items as you can kill enemies — or games like WoW and FFXIV, where everyone pays a small fee and is time-gated — Diablo Immortal's system time-gates Free-to-Play and allows others to go as far as their wallets will take them.
You can earn up to 200 Fading Embers per week just from running Elder Rifts, and you can earn another 120 Embers if other players in your group stack their crests and use only legendaries. Rare Crests will add 1 bonus ember per crest, and Legendary Crests add 5 per crest. Players can run these rifts as many times as they want, but they will only get bonus embers if they use crests and haven't met their weekly limit.
At 320 max Embers per week, 18 Embers per FA rune, and 22 Runes (396 Embers) for just the chance to get a good Gem, you will have to grind quite a bit to get what your character needs. Keep this in mind when you're farming.
Just like Embers, this Diablo Immortal guide is fading. The fun doesn't have to stop here, though, as we have tons of other coverage for you to check out, like our Essence Transfer and Difficulty Changing guides.
About the author