Far Cry 6 is out now on most major platforms including Xbox, PlayStation, PC, and Stadia, and it offers another 50+ hours of chaos for players to generate at their own discretion. Players wondering how to play Far Cry 6 co-op multiplayer, however, may be left scratching their heads.
In this quick guide, we'll walk you through how Far Cry 6 co-op multiplayer works, so you don't waste any time tagging along with a friend across all of Yara.
How to Play Co-op Multiplayer in Far Cry 6
When you start the game, you'll need to play in solo mode for a little while before the co-op system reveals itself.
Play through the story missions (marked as yellow diamonds on your map and listed as Operations in the Journal menu) until you get to the mission named "Du or Die" on Isla Santuario, the first island you arrive on after washing ashore.
Depending on how much you explore and complete side missions, getting through to this point will take you anywhere from 2-5 hours on average, but if you're in a hurry, just stick to the critical path and you'll come in on the lower side of that estimate.
Once you complete Du or Die, you'll get a notification on the right side of the screen that multiplayer is now available.
To access the mode, pause the game anywhere and click the square icon with the two white silhouettes in the top right corner (it is not available in the map submenu). A new menu will appear, letting you play with a friend, search for a partner, and set yourself to available to be someone else's partner.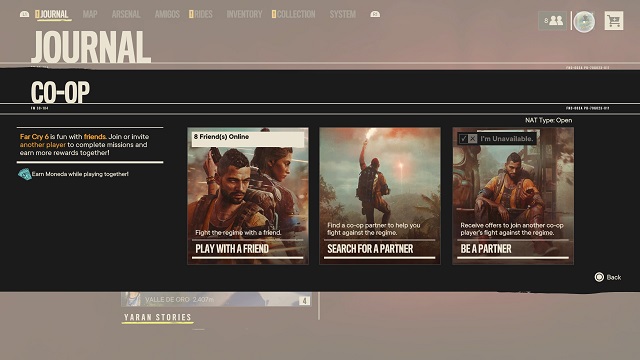 Alternatively, if you want a co-op partner and can't find one from your group of friends, you can use the system-side options such as Xbox's Looking For Group feature, or comparable systems on other platforms, and request a teammate there.
Note, you cannot set yourself to be a partner and look for partners at the same time. You can also only search for a partner or make yourself available for search when playing the story; you cannot do so when taking on special operations.
Once you're in a co-op game, you and your partner can play the whole game together including main missions, side missions, and open-world activities like hunting and fishing. If you played Far Cry 5 in co-op, you'll already be familiar with this system as it returns in an identical fashion.
Playing in these missions will earn you Moneda, a currency used at Black Market vendors such as Lola. You can spend Moneda to buy weapons on rotation, charms, or crafting material such as industrial circuits.
Related guides:
That's it for Far Cry 6 co-op multiplayer instructions. Be sure to keep it here for more Far Cry 6 guides and other coverage all week long.
About the author