With the release of the Stormblood expansion for FFXIV, a ton of new content suddenly became available for players to explore. As is always the case with new content, questions have arisen about quests and events that are not explicitly explained to the player.
One such quest, "Dearest Keiko", makes it a point to refrain from directing the player — only giving vague clues and sketches for direction. Thankfully, this guide will go over what you need to do, with map coordinates included, so you can demystify the tragic story of Keiko and her beloved and complete this quest.
How to Get the "Dearest Keiko" Quest in FFXIV
To start the "Dearest Keiko" quest, you'll have to have completed "All the Little Angels", then find the body of a mauled man. The body can be found in Heron's Way (29, 21).
Once you find the body, searching will start the quest — and the game will warn you that there won't be any quest markers on your map. You will then pick up the man's blood-stained journal and read about his regret that he'll never return to his beloved. In the journal, you'll find sketches showing where he was intended to meet his lover. It then falls to you to find that location to alert his lover that the man has died.
How to Complete the "Dearest Keiko" Quest in FFXIV
Deliver the sketch
Using the sketches, you can find where the two were supposed to meet — but since these kinds of quests can often be frustrating, we've done the leg work for you.
You'll need to speak with the "Dispirited Woman", who can be found at The Heron's Flight (34, 15). You will need flying to get there.
Show her the sketches and she will tell you that she's not the woman you're looking for, then offers to lead you where you need to go next. She takes you to a grave, telling you that her sister (the mauled man's lover) is dead. She informs you of her and her sister's tragic past, then tells you to meet her in the village, Namai.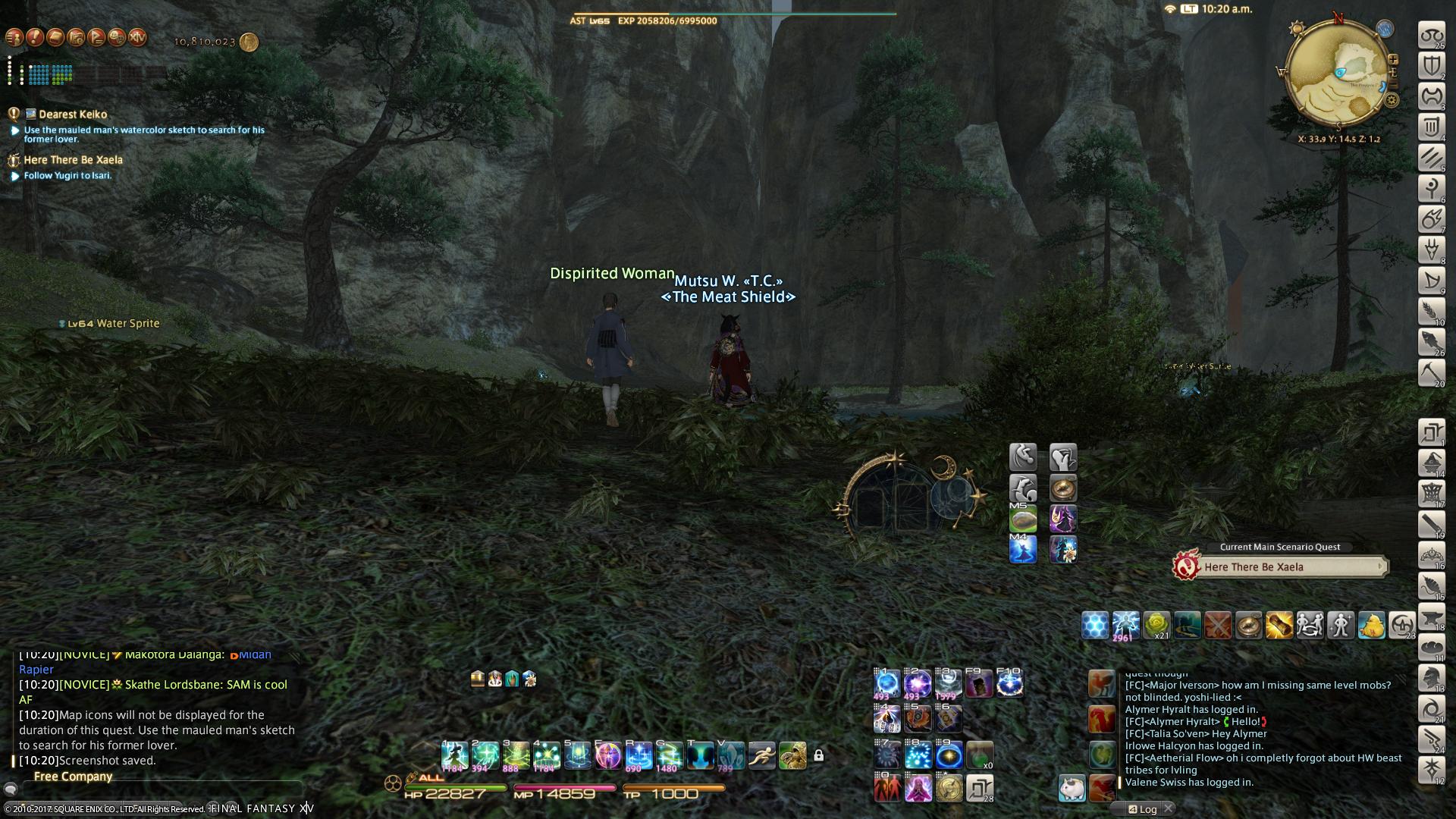 Find the girl at the village
To wrap up the quest, you'll have to visit the woman at her village of Namai (31, 20). The woman will inform you that the man will be buried alongside his lover, and she will thank you for your efforts, granting you some money and experience.
That's all you have to do for this quest! Be sure to check out the rest of our FFXIV Stormblood guides to stay ahead of the game.
About the author