The Final Fantasy 16 Ability Mastery mechanic is something that you'll want to consider as you progress further in the campaign. With it, you can make use of various skills, regardless of your chosen Eikon. Our FF16 Ability Mastery guide discusses how this mechanic works, and how you can unleash its full potential. Likewise, please be reminded that this article contains minor spoilers.
How to Use Ability Mastery in Final Fantasy 16
The Final Fantasy 16 Ability Mastery mechanic, naturally, is first seen in the Abilities menu. There, you'll notice several skills that you can unlock and obtain, including some of the best options for the early-game experience. And, yes, the skill respec method is fairly lenient, too.
As a quick primer, Clive gains the power of Eikons (i.e., summons / eidolons) throughout the campaign. However, you're limited to just three Eikons at any given time. This will play a huge factor when you decide to master a particular move, which I'll discuss in a while.
What Happens When You Upgrade and Master an Ability
When hovering the cursor over an ability, you might see that there's an additional cost for upgrading and, past that, mastering the ability:
Upgrade — Upgrading an ability unlocks a particular boost, such as increased damage or an additional effect.
Master — However, the FF16 Ability Mastery mechanic makes it available for use regardless of the Eikon. I've noted an example in the next section.
How to Make the Most Out of Ability Mastery
For this example, I used Ifrit's Ignition ability. Due to storyline restrictions, Ifrit's abilities are shared with the Phoenix Eikon's own slots. Since each Eikon can only have one feat and two abilities, you might think of dropping Scarlet Cyclone or Heatwave just to equip Ignition.
But, if you unlock Ignition's mastery, you can equip that in another Eikon's slot. For instance, if you don't like some of Ramuh's spells, you can replace one with Ignition instead.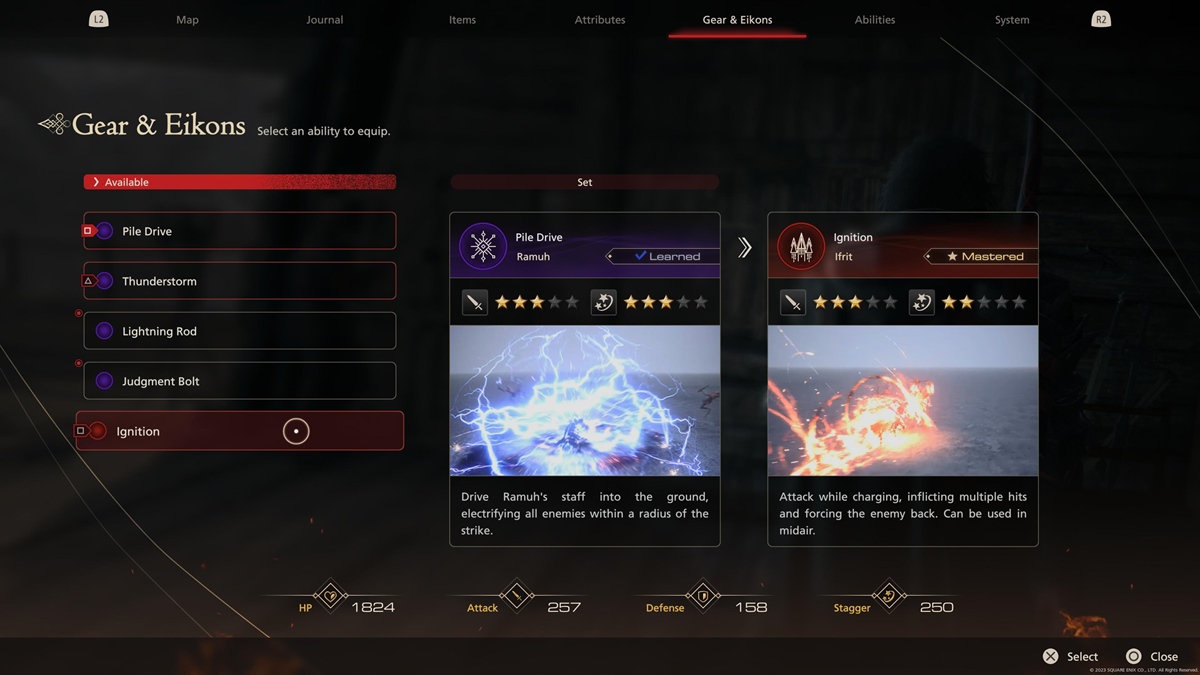 What this concept means is that you can still retain some of your favorite abilities regardless of the Eikons that you're using. That leads to more unique attack chains and dazzling combos.
In any case, that's everything you need to know about Ability Mastery in Final Fantasy 16. For more tips and strategies, you can visit our FF16 guides hub.
About the author