The Final Fantasy 16 Benedikta boss fight occurs a few hours into the campaign. While you've met this vicious femme fatale early on, this will be your first battle against her. It will also be a true test of your mettle. Our Final Fantasy 16 Benedikta boss guide tells you this opponent's abilities, as well as how to defeat her. Spoilers follow.
How to Beat Benedikta in Final Fantasy 16
The Final Fantasy 16 Benedikta boss fight happens at the end of the Headwind mission, just after you complete the Chirada and Suparna boss encounter.
How to Defeat Benedikta Phase 1
By now, you'll know that Benedikta is the Garuda Dominant, which means she has all the powers of the Aero element. She'll use these abilities, and then some, during the bout.
Windblade — This attack creates multiple blade projectiles that travel along the ground. One pattern is horizontal, which means you can either jump or sidestep to avoid it. The other is a triple claw, where you'll have to dodge sideways or stay in the middle of gaps.
Nosedive — Once cast, she'll fly up into the air before crashing down. Watch her movements and don't be where she crashes down
Aerora — This attack shoots out multiple orbs that travel at an arc.
Aeroga — This creates a small gust of wind that pulls you in and causes damage. It can be used in conjunction with other abilities while you're pinned down. Try to pull away from Benedikta when this happens.
To beat Benedikta during the first phase, you'll need to be mindful of her projectiles. Personally, I mostly dodged Windblade and Nosedive attacks before doing a short combo chain. I tried not to be too greedy with the offense since she has rapid attack animations. Playing patient here goes a long way.
How to Defeat Benedikta Phase 2
After fully depleting Benedikta's HP, she'll transform into her Eikon Dominant form. This grants her boosted abilities, as well as some new ones:
Windblade — This boosted version of Windblade creates both triple claw and horizontal arc patterns, which are fired in quick succession.
Aero Rain — Benedikta takes to the air, raining down several orb projectiles that track Clive's location.
Gathering Clouds and Tornado — These two are used in succession, with Gathering Clouds as the charge-up and Tornado creating a massive funnel that can cause a lot of problems.
Deadly Embrace — Benedikta uses the Garuda claw to grip Clive and pull him toward her.
The second phase of the FF16 Benedikta boss fight is all about avoidance and careful offense. That means dodging her projectiles without going in for your own combos — unless her attack sequence is already finished. Likewise, there's a point where Benedikta incapacitates Torgal, but your dog companion will return to help you out.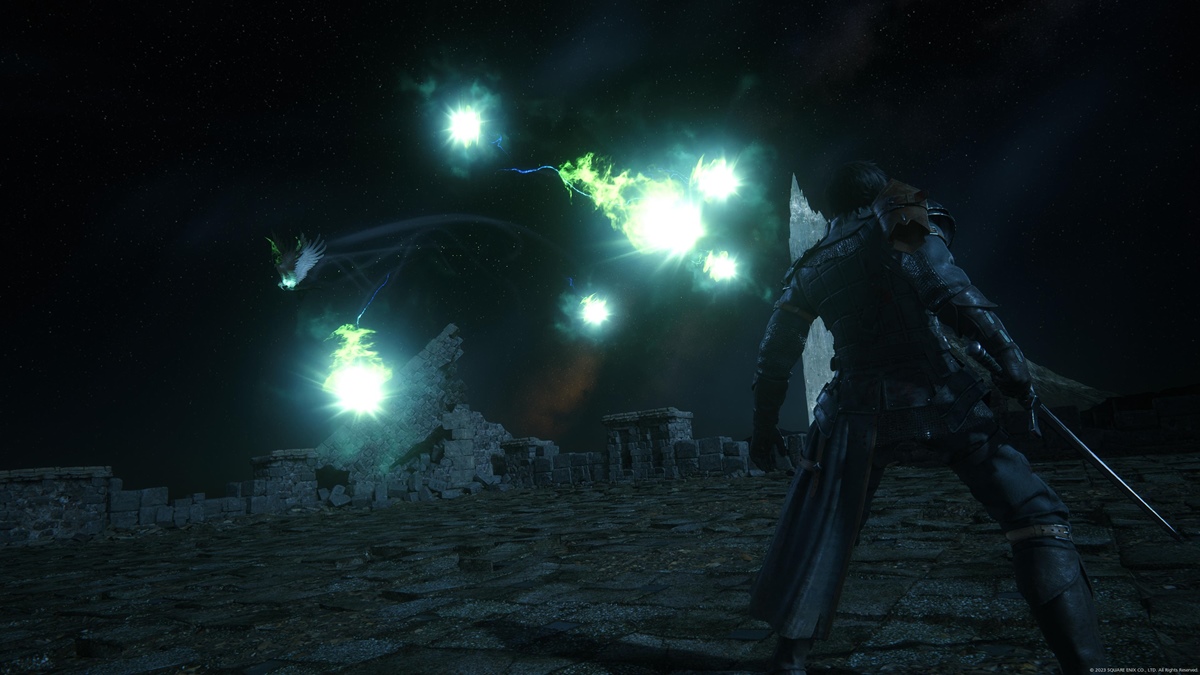 Moreover, there are a few Cinematic Clash, Evasion, and Strike sequences here, including a part where she'll attempt to smash you with the castle's parapets. Press/mash the required buttons to stagger or take her down.
In the end, you'll receive 50x Wyrrite, 2x Meteorite, and The Will of Fire (Rising Flames). This last one is an accessory that gives +10% Rising Flames damage. Even better, Clive will also unlock the Garuda Eikon abilities. You can test out your newfound skills, but don't rest on your laurels since you'll battle Garuda soon enough.
In any case, that's how to beat Benedikta in Final Fantasy 16. For more tips and strategies, visit our FF16 guides hub.
About the author