Let's go treasure hunting in Fortnite once again, this time to Moisty Mire and then Retail Row!
Season 4 is almost here, and it's looking more and more like Tilted Towers is about to get demolished by a meteor. There's still a little over a week to go with this current season, though, and new Fortnite Battle Pass challenges just arrived to keep you busy while we await that area's eventual destruction.
Wondering where to go to complete this week's treasure map challenge and grab the Battle Star? Let's head out and get started.
Fortnite Moisty Mire Treasure Map Challenge
The treasure hunts are two-parters (sort of — you can actually skip finding the map), starting with locating a map and then decoding its hidden message to figure out where to actually locate the treasure.
In this case, of course the map is in the Moisty Mire swamp, so try to jump off the Battle Bus as close to that location as possible.
When you search Moisty Mire, you will eventually find a sign with the map below. Usually they give some major landmark to try to figure out the treasure location, but this one is a little more esoteric, just showing trees and footsteps to a house.
The "X" indicates the star is on the roof of the house by a chimney. But what house, and how do you get there?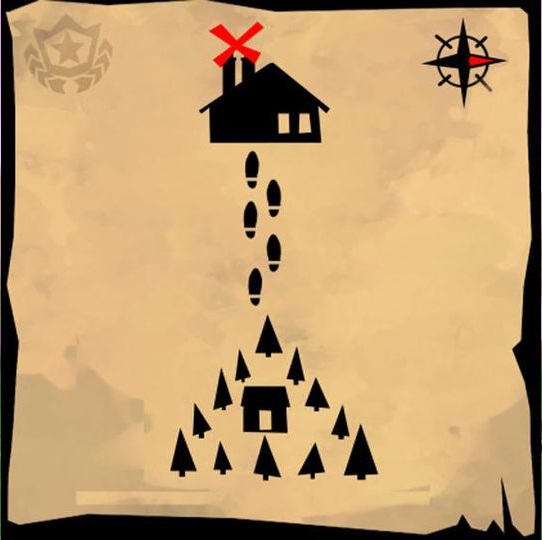 Moisty Mire Treasure Map
Moisty Mire Treasure Location
If you turn your head sideways (or rotate the map to the left), the triangle of trees pointing towards a house actually looks like a location near Retail Row, and that's where we are heading to complete the challenge.
From the Moisty Mire area, head north until you arrive at the southwest corner just before Retail Row (where the road is visible on the map in grid coordinate G6). The exact location is marked in the Battle Royale map below.
If you follow the trees to the gap between the two roads, you should see a house. Head up to the roof, and the Battle Star will spawn. Just pick it up to complete this weekly Fortnite challenge, and then get onto the business of gunning down the competition.
Grabbing the Battle Star
There's more than one house in this area, so if you don't see the Battle Star on the first rooftop, just go to the next one, and it should appear — but be on the lookout for snipers!
With houses and a treeline, this is a perfect spot for sneaky players to lie in wait and take out anyone trying to complete the challenge. If they are nice, they will at least let you pick up the Star before pulling the trigger, but that's not a certainty.
Fortnite 3.5 Moisty Mire Treasure Hunt Location
Here's the full lineup of Fortnite Season 3 Week 9 challenges now available to play:
Deal damage to opponents' structures – 5 Stars
Search chests in Haunted Hills – 5 Stars
Build structures – 5 Stars
Visit different Taco Shops in a single match – 5 Stars (stay tuned for a full guide coming soon)
Follow the treasure map found in Moisty Mire (Hard) – 10 Stars
Shotgun Eliminations (Hard) – 10 Stars
Eliminate opponents in Lucky Landing – 10 Stars
You can also check out our other latest Fortnite guides to up your game and get yourself a #1 Victory Royale:
About the author