Forza Horizon 5 is filled to the brim with content and interesting game modes to keep solo players engaged and playing for hours on end. Nonetheless, being able to play with friends can elevate the racing game even further and offer a whole new experience.
So, if you're struggling to invite and play with friends in Forza Horizon 5, this guide will go over how to do exactly that.
In order to play with friends, you'll need to create and join a Convoy, which is Forza's equivalent of an online party. However, there are a few steps to take before you'll be able to do this if you've just started the game.
How to Create a Convoy to Play With Friends
If you pause the game, you'll notice that the Online tab might be greyed out. This is because online multiplayer isn't available straight away, and you'll need to complete some races and activities first.
These include the introductory tutorial, the "On a Wing and a Prayer" showcase event, and a quest of your choice. Thankfully, these are fairly basic races and serve to familiarize you with the game's controls and mechanics.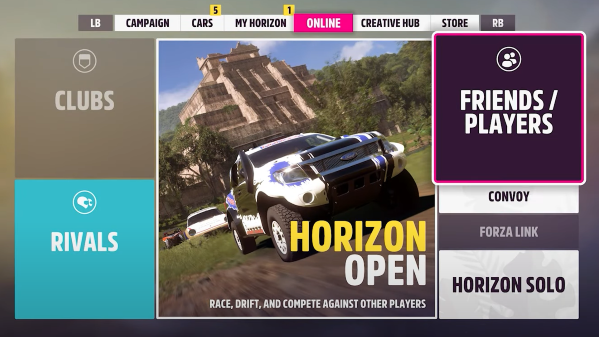 After completing these introductory races, you'll now be able to play with friends by accessing the Online tab in the pause menu.
From there, click on Friends/Players to bring up your friends list. Then simply select the friend you'd like to play with and press Invite to Convoy. If you can't find any of your friends on the list, press the Y button to manage your convoy. This should bring up a list of your Xbox friends and allow you to invite them.
Another way to play with friends in multiplayer would be to select Convoy directly from the pause menu instead of Friends/Players. Then select Create a Convoy and set the privacy to Friends or Invite Only (both work fine). After this step, just proceed by inviting your friends using the same method as before.
Each convoy can include a maximum of 12 players in Forza Horizon 5. However, a convoy of this size won't be able to participate in most events as they are usually limited to 6 players per team.
Forza Horizon 5 also supports crossplay between Xbox and PC so you can play with friends on different platforms. While Xbox players can join convoys normally, Steam players will have to use the Xbox Game Bar overlay on PC to accept and send invites.
Related articles
That's all you need to know in order to create a convoy and race across Mexico with your friends in Forza Horizon 5. Now it's time to play!
About the author