Lingering Malady is a world quest in Genshin Impact that has some decent rewards for a relatively easy task, if you know the exact locations of the three posters and a billboard. This guide will show you where to look for these posters in Genshin Impact.
In order to start the Lingering Malady quest you need to talk to Aramis, who stands at the entrance of the Mondstadt Cathedral. He will ask you to help him collect the lost posters and a billboard around the city.
Below you will find the map with their exact spots, including short instructions on how to find each one.
Posters and Billboards Locations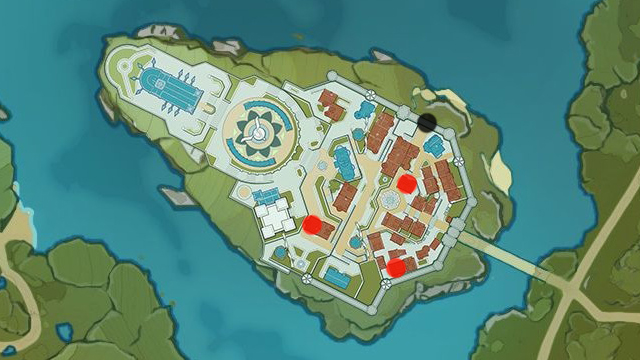 All three merchant posters and the billboard are located in Mondstadt. The three posters can be seen on the roofs of the buildings (indicated by red markers on the map above) and the billboard can be seen on the northern wall (indicated by the black marker):
First poster is located on the roof of the building next to the Wagner Blacksmith's shop.

Second poster can be seen on the roof of the house opposite the Knights of Favonius' building.
Third poster is located on the roof of the Timaeus the Alchemist's building.
The billboard can be seen on the northern patrol walkway.
Once you have collected all four items you need to return to Aramis at the cathedral and report about the success of your mission to him. As a reward, you will be given the following items for your troubles:
100 XP
20,000 Mora
6x Hero's Wit
3x Northern Smoked Chicken
That's all you need to know in order to complete the Lingering Malady world quest and collect all posters and billboards in Genshin Impact. If you found this guide helpful, consider checking out our other Genshin Impact tips articles!
About the author