Finding or building a shelter in Green Hell is an essential part of your survival gameplan. A shelter is a place where you can not only take a rest and protect yourself from the wild animals, but also save your game and continue safely onto the next day.
The first big update for Green Hell is now live in version 0.2.0, which adds a number of new animals and plants to the game, and a brand new type of shelter — the modular shelter.
If you want to know how to build a shelter in Green Hell, including the modular one, and find the best possible locations for it, then follow our guide below for all the info you need.
How to Build a Shelter in Green Hell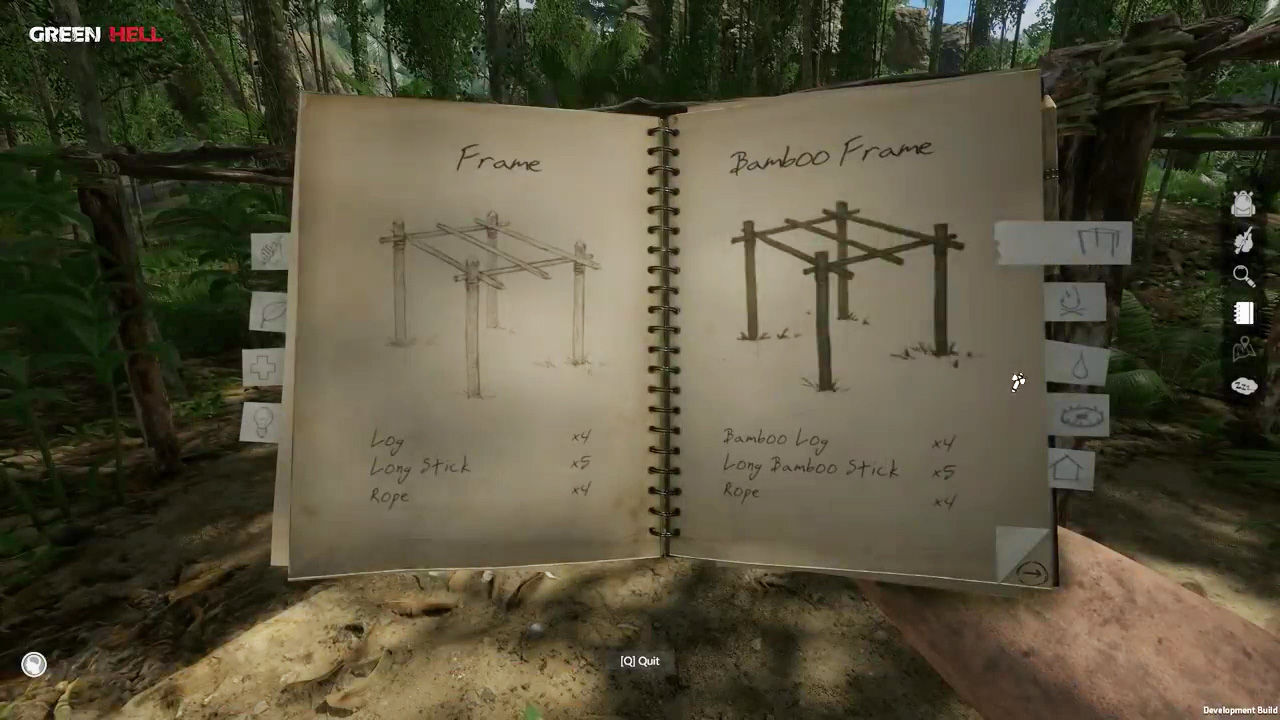 Currently, you can build four types of shelters in the game: small, medium, hut, and modular. The first three are designed to sustain you during the early parts of the game, when you have only a few resources so you could build something quickly, rest and save your gameplay.
The modular shelter offers something much greater than that and it gives you a chance to build a shelter as large as you want in case you have enough building materials and a large enough area.
Small Shelter
One of the simplest types of shelter you can build in Green Hell is a small shelter that looks like a shed. It can protect you from rain, but you will sleep on the ground, which makes you vulnerable to worms.
Here is the crafting recipe for a small shelter:
2x log
6x long stick
9x rope
26x palm leaf
Medium Shelter
It is better to build a medium shelter, but you will need more materials for it. Just like the small shelter it will provide a roof over your head, but instead of lying on the ground you will now sleep on a bed made of sticks, which is a much safer way to spend your nights.
Here is the crafting recipe for a medium shelter:
24x long stick
10x rope
59x palm leaf
Hut Shelter
The hut shelter is very similar to a small shelter in terms of conditions, but it can be built using less materials. So if for some reason you can't find enough palm leafs or lianas for your small or medium shelter, then consider building a hut shelter instead.
Here is the crafting recipe for a hut shelter:
8x stick
3x long stick
1x rope
13x palm leaf
Modular Shelter
Modular shelter consists of four parts: frame, wall, shed, and roof. Each part is crafted separately, and then combined in any way you see fit. The only limit is your imagination and the number of crafting materials in your backpack.
Modular shelter will let you not only keep yourself away from getting wet under the rain but also your campfire, which can be crafted inside your shelter. Also, you can store food in the sheds or any other items you wish.
Here are the crafting recipes for all the parts required for modular shelter:
Frame

6x log
5x long stick
4x rope

Wall
Shed

2x log
5x long stick
5x rope

Roof
Best Locations for Shelter in Green Hell
You don't have to build a shelter in order to spend the night, instead you can find an abandoned camp or a bed that are scattered all over the map. But you will probably need one in case you want to store food, weapons and building materials somewhere safe.
Safe-to-Live Spots
Here are the coordinates to the locations where you can find safe-to-live abandoned camps and beds:
52W 17S
51W 19S
40W 24S
46W 26S
50W 27S
Avoid These Spots
You can also stumble upon tribal villages that are guarded by the natives. These camps are not safe, so try to avoid them. Here are their coordinates:
Safe-to-Build Spots
In case you're looking for a safe place to build your own modular shelter, then you should be looking for a place which is well-protected by the surrounding hills and has all the resources for food and building.
Here are the coordinates that fit this description the best:
44W 24S

46W 29S
52W 28S
50W 23S
All three of these locations are located relatively far away from the hostile natives, and the last one even has an oasis with everything you need. You can safely build you base there and further develop your survival skills in Green Hell.
—
You can now easily find a great location for your shelter and build any type of base you like. For other related Green Hell guides at GameSkinny, take a look at the links below:
About the author