Since its release in February, Team Cherry's Hollow Knight has already garnered thousands of downloads and positive reviews on Steam. This single-player game is a hand-drawn 2D masterpiece that takes players underground to explore and navigate the dark depths of a once glorious kingdom.
Lots of people have been talking about this game non-stop since its release. And recently, a good deal of that talk has been about finding and destroying the boss villain Nosk. Where is he located? What are his major moves? Is he even worth killing? We have the answers, and in this short guide, we're going to tell you how to track down and defeat Nosk.
Where to Find Nosk in Hollow Knight
Nosk's location is inside of Deepnest. Here's how to get to the precise area where you'll find him: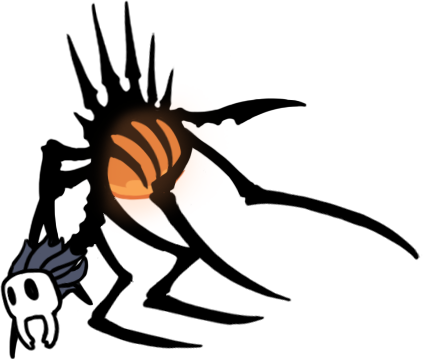 Go to Deepnest, specifically the Hot Spring to the West of Tram.
To the left of that Hot Spring there should be a room with a wall. Break it.
Behind that wall is a Grub with wall behind it. Do whatever you want with the Grub and then break the wall.
Follow the tunnels, and you will soon find yourself in Nosk's lair.
How to Beat Nosk in Hollow Knight
The interesting thing about Nosk is that he is a mimic — so when you are first looking for Nosk, look for a character that looks just like yours. There's a fair chance that it's Nosk trying to hide. (According to the wiki, Nosk will appear as the character in multiple locations at once.)
Defeating Nosk is relatively simple. First, attack yourself until he turns into his scary real form first. Then comes the real fight.
Other than mimicking, Nosk has only two attacks:
Charge: Nosk sprints towards you from side of the room to the other.

Jump: Nosk quickly jumps around the room, making him a difficult target.
The best piece of advice to follow when you're facing this boss is to hide when he tries to charge or jump on you. There is a little hideout just beside the elevated platform in the center of Nosk's lair. Hiding there gives you enough time to heal so that you can jump back into the fight. Check out the image below to see exactly what we're talking about:
Is Nosk Worth Beating?
The TL;DR here is yes. Nosk appears to be a major part of the game, given that he's mentioned in the Kickstarter — and there are also hints toward his existence throughout the game.
Nosk is also guarding a Pale Ore that you can obtain upon defeating him. So if you're looking to upgrade your Nail, you'll definitely want to pick this up.
—
We hope this helps! Share your Nosk battle story in the comments below. And while you're here, be sure to check out the rest of our Hollow Knight guides to make sure you get out of Hallownest alive:
About the author