Forzathon points are vital if you want new cars in Forza Horizon 5, but it's easy to overlook how you actually get them in the deluge of information the game hits you with. Fortunately, earning Forzathon points is simple in most cases, and you've got plenty of chances to earn them each day and week.
What Are Forzathon Points in Forza Horizon 5?
Forzathon points are a type of currency used exclusively in the Forzathon Shop, which is tied to Forza Horizon 5's seasonal challenges.
Each season introduces a new set of rewards, such as cars, emotes, and more importantly, cars, and they cost anywhere from a few hundred to several thousand points.
How to Get Forzathon Points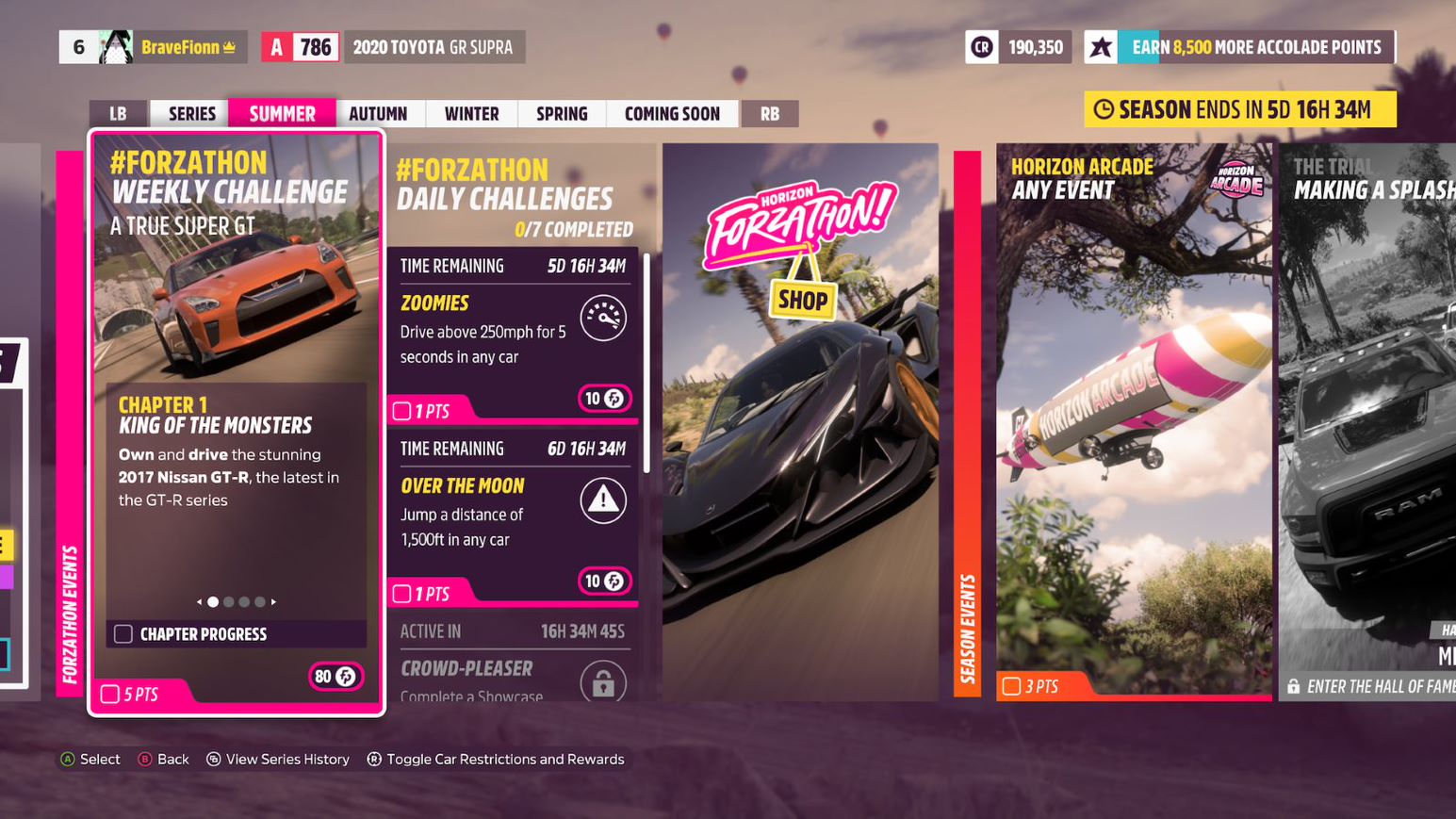 Open the campaign menu, and choose Horizon playlist. You'll see a broad selection of options for the current season, including daily and weekly challenges — many of which you won't be able to complete until you explore more or unlock faster cars — and these are the most reliable ways to get Forzathon points.
Completing any Arcade event earns you three Forzathon points as well, though they require an online connection.
There's a range of photo challenges to complete for points and, sometimes, credits, and additional car- or task-based challenges that take you to various points on the map. These are often very specific, such as pulling off a certain skill with a specific car.
If you're having trouble accessing the Forzathon shop, there's a good reason for that. It's not available yet. Just keep stockpiling points to spend in the meantime.
That's all you need to know about getting Forzathon points in Forza Horizon 5, but make sure to check out our other Forza Horizon 5 guides for more tips, such as how to unlock drift zones and how to play online with friends.
About the author