It's undeniable that while PlayerUnknown's Battlegrounds may have been the game to really ignite the Battle Royale game fever, Epic Games's Fortnite has pretty much managed to edge PUBG out of the top spot.
So while there are plenty that still argue that Fortnite is a clone of PUBG in and of itself, it's really not surprising that a Fortnite clone, FortCraft, has also hit the mobile market — and has even managed to come out on beta even earlier (it opened March 12).
Currently, to get into the Fortnite Mobile beta you need to have an invite from either Epic Games or a friend, but FortCraft allows pretty much anyone to sign up and play.
It also shouldn't surprise anyone that FortCraft was developed by none other than NetEase Games — the massive Chinese publisher behind four different mobile PUBG copycats (including its most popular, Rules of Survival and Knives Out).
If you didn't make it into Fortnite Mobile's beta and you're really gunning to bring the fun of building stuff, smashing 100% breakable environments, and participating in massive PVP shootouts to your phone, here's what you need to know about getting started in FortCraft instead!
Sign Up for the Beta
First thing's first! Not only do you need to install the game through the appropriate app store, you will also need to sign up for the beta through the FortCraft TestFlight website here.
(Update: Please be aware that currently the iOS beta is full. You can still sign up on Android.)
(Update 2: Unfortunately for Android users, they've disabled the game on a bunch of devices in order to streamline the beta test.)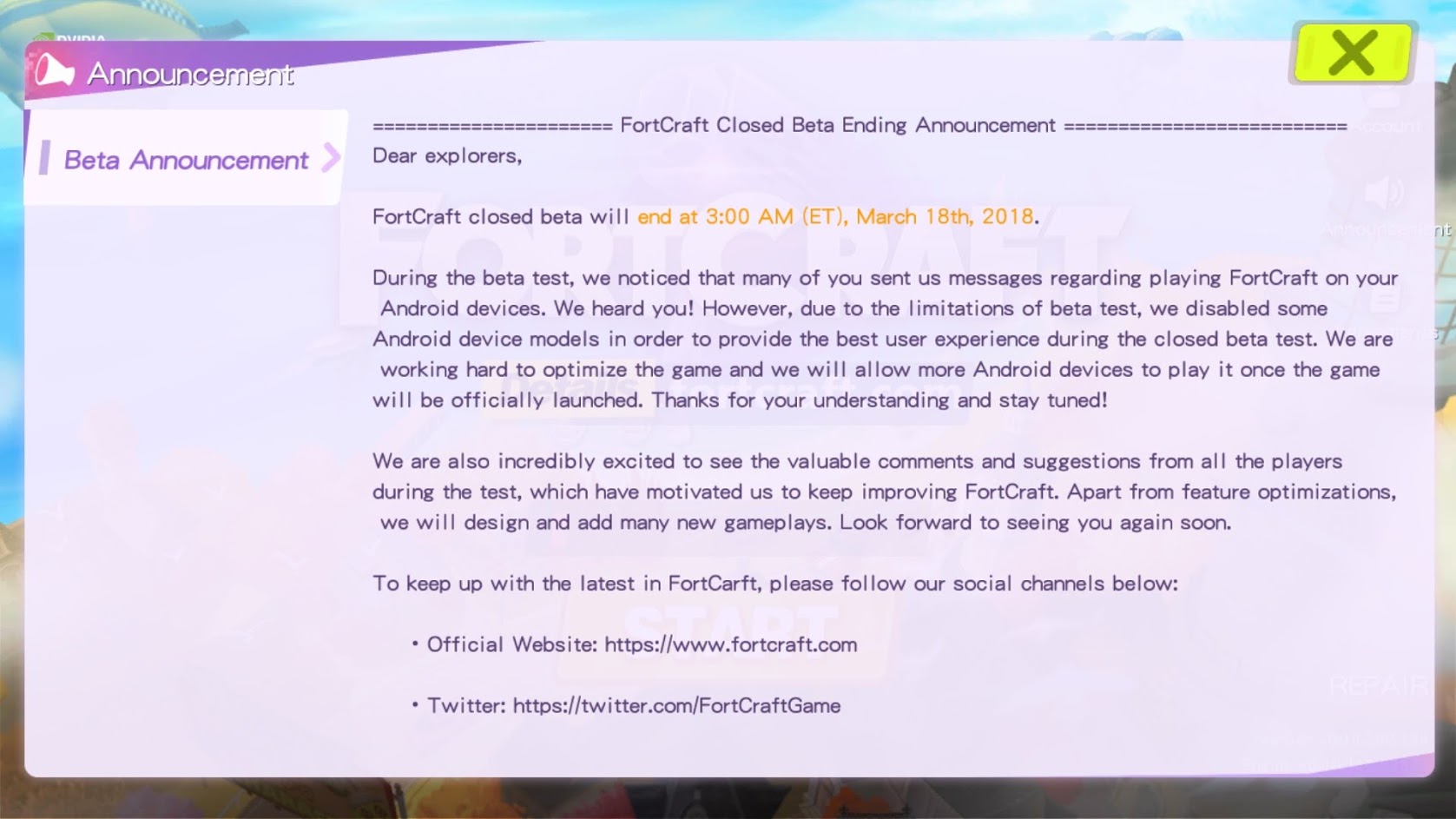 If you're on iOS and didn't get signed up for FortCraft in time, it can't hurt to try and sign up for the Fortnite Mobile beta here, which is still open for sign-ups, although they're currently done with this round of keys too.
Check Your Device Compatibility
While anyone can sign up, not every device can handle the game. Here's what FortCraft will currently play on:
iOS:
Requires iOS 9.0 or later

Requires iPhone 6 or later / iPad mini 4 or later / iPad Air 2 or later / iPod 6 or later
Android:
Requires Qualcomm Snapdragon 625 or later / Snapdragon 810 or later / Samsung Exynos 7420 or later / Huawei Kirin 930 or later / Huawei Kirin 650 or later / MediaTek Helio X25 or later
Storage:
At least 600 MB available space
This is particularly important because there's no point in downloading a game that you can't actually play — and while the Play Store is normally pretty good at hiding the apps that aren't compatible with your device, this isn't the case with the FortCraft beta.
Error: Phone Not Supported
If your device doesn't meet the specs above, chances are you can probably still download the game — you just won't be able to play it. There are no current fixes for this error yet.
Get In Game at the Right Time
Since FortCraft is still in beta, it unfortunately won't be playable at all times of day and night; in the interests of improving player match-ups, the daily login time is from 9:00 a.m. to 11:59 p.m. EST.
Furthermore, the number of new players on any one day is limited to 20,000, and after this is reached, game access is closed and you will be required to try again the next day.
If you want in, you need to get set up (including character creation, which honestly just requires you to choose a gender and a name) early in the day to ensure that you actually get to play!
Stay tuned to GameSkinny for more information on FortCraft as it develops.
About the author