Injustice 2 is officially out for mobile, and it has some changes from the original game. The fighting and graphics are updated, alongside a new gear system, new characters, and more.
If you are just getting started with — or played the first Injustice mobile title — you will want to check this guide out to get a better understanding of what is going on.
This guide will go over everything you need to get started in Injustice 2 mobile, including:
Getting Started: The basics of the game.

Game Modes: Description of each and what you get for playing them.
Hero Classes: Including strengths and weaknesses.
More Tips: Even more tips to help you in the game.
Getting Started in Injustice 2 Mobile
Even though it's a mobile game, Injustice 2 is a pure fighting game. You can do even more types of attacks now than you could before, so there's a lot of possibilities for approaching this new title.
Controls
Tapping performs basic attacks, swiping right performs a dash attack, swiping up performs a jumping attack, swiping down performs a crouch attack, and swiping left will dash away from the opponent.
If you tap while far enough away, you will perform a ranged attack. You can also hold the icon on the bottom left of the screen to block.
As you fight, you will fill up your meter under your health bar. At certain levels, this allows you to perform special attacks. Filling the bar completely will allow you to perform your ultimate attack.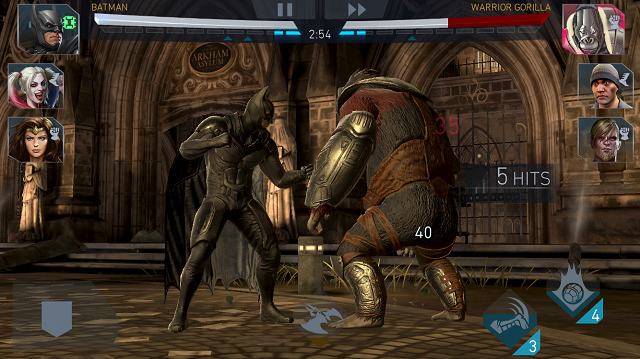 Characters and Energy
You can have up to 3 characters on your team at once, and they can switch out during battle. It is usually a good idea to have a balance of different character classes — which I'll talk more about in an upcoming section of this guide.
Unlike the last game, you have a general pool of energy as opposed to separate character energy. This is the same energy system that nearly every mobile game has, so most people will be familiar with it.
Each battle takes energy, so when you're low, you will need to wait for it to recharge.
Gear
Your heroes can now obtain up to 5 different pieces of gear. This gear increases certain stats, and you get a bonus for equipping multiple pieces. All gear also has a base effect that is always there — and as you level up you can get a Chance effect. These only happen periodically.
The gear set bonuses are always active, as long as you keep the required number of pieces equipped. These bonuses happen at 2, 3, and 5 pieces.
Daily Objectives and Achievements
These are things you can complete to get rewards such as money, experience, and more.
The objectives refresh daily, so you can complete them more than once. They usually just ask you to keep playing the game at a fairly basic level, with challenges like completing 4 normal campaign battles, or upgrading a character's ability.
Achievements are one-time completions, but offer better rewards and even pieces to unlock characters.
Game Modes
There are multiple ways you can play the game. The main mode is called Campaign.
Campaign
This is your main way to level up your Heroes and obtain gear. You will go through a series of fights which end in a boss fight. Each fight gives you money, experience, and sometimes loot.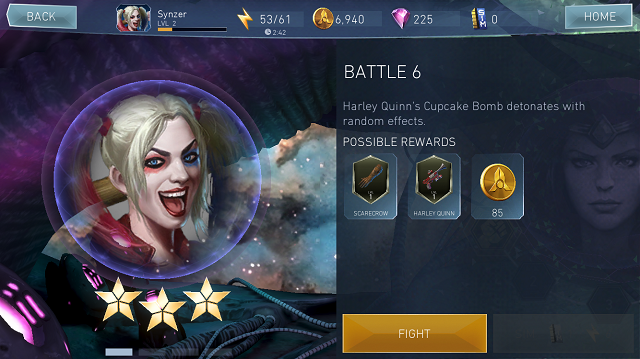 The boss fights give you more experience than the normal fights, and will earn you character shards for the boss battle the first time you complete it. These shards can be used to increase the Star Rating of your characters, which makes them stronger and unlocks more options.
Story
This mode lets you play through the story of Injustice 2. You will fight as set characters and will not gain any experience or money. There are achievements for completing these, so they can still benefit your other characters.
Arena
This is the versus mode, though you will not play against live players. Instead, you will play against other players' teams while they're controlled by A.I.
This mode has a separate energy system from the rest of the game, and it is per character. This means that if you run out of energy with your characters, you can switch in others if you have more than 3.
There are daily and weekly rewards given depending on your current rank. The weekly rewards give you special arena currency that you can use in the arena shop. This allows you to buy character shards and gear.
Resource Missions
These change daily and allow you to get extra XP capsules, which can be used to level up your characters. Each day is a different class type and Sunday offers credits instead of XP capsules.
Operations
Finally, we have operations. this is a big part of the game, especially if you can't constantly play it or run out of energy. This mode allows you to send your heroes out on missions to get experience and more.
You will have to wait real-time for the mission to complete, and you can't use the characters while they are on missions.
The higher your character's Threat Level, the harder and longer missions they can complete. You can also use Power Gems to upgrade your operations to give more bonuses. These include, Completion Speed, XP, chance at gear, Credits, and chance at gems.
I highly suggest upgrading this, because it will give you the most benefit in the long run and let you level up faster.
Challenges
This is unlocked once your profile reaches level 10 — which is separate from your individual character levels. You can level up your profile by completing daily objectives and achievements.
Challenges are limited-time battles that let you get special character shards you can not get otherwise. You get the shards by winning the challenge battles, but you can only do 2 each day for each difficulty.
Each time you beat one battle, you unlock a harder battle, which grants more shards for winning.
Hero Classes
Not all characters are the same. Each hero has a class which is strong against and weak to another class. There are 5 types of classes in the game.
Tech: Strong against Might, weak to Metahuman

Agility: Strong against Metahuman, weak to Might
Might: Strong against Agility, weak to Tech
Arcane: No strengths or weaknesses
Metahuman: Strong against Tech, weak to Agility
More Tips for Injustice 2 Mobile
Mix up your attacks
Just like normal fighting games, it's a good idea to mix up your attacks instead of doing the same thing repeatedly. Put a crouching attack in the middle of a combo if the opponent blocks. You can also link your basic attacks into your special attacks
Stay on top of operations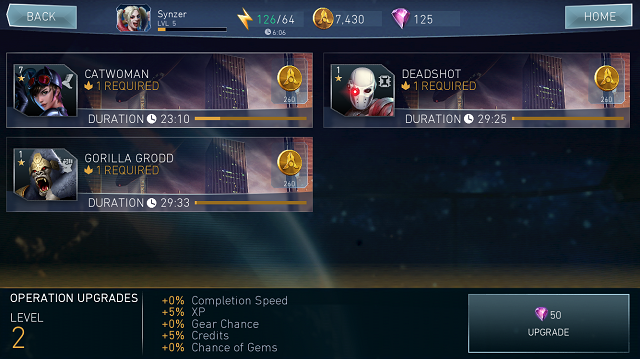 Upgrading your operations so that they give better benefits is a great idea — and be sure to always have heroes on missions. This will allow you to continually get stronger even with you are not playing.
Upgrade Abilities and Unlock Talents
Even as your hero levels, their abilities won't get stronger unless you upgrade them with credits. Pay attention to what each ability does, and focus on upgrading your important abilities first.
I suggest working on 1 ability for each character first, since you can't always use all of your abilities multiple times in a fight.
Talents also need to be unlocked, so be sure to spend the credits to unlock them for all your active characters. You can even reroll them until you get something you want.
Focus on Boss levels in Campaign
If you are having trouble beating levels, go back to a previous boss level. These are repeatable and give more experience than the normal battles. You also get a chance at gear.
Even if you get gear that you already have, you can destroy duplicates to get upgrade powder. You can use this to level up your other gear.
—
Those are all the tips I have for starting in Injustice 2 Mobile. Let me know if you have any questions or tips of your own I should add!
About the author