There are many challenges that you'll face in Lies of P. Surprisingly enough, these challenges also come in the form of status effects, which range from elemental damage to instant death. These debuffs can certainly cause trouble if you're not careful. Here's how to cure status effects in Lies of P.
How to Cure Status Effects in Lies of P
Status effects can be cured by Purification Ampoules. Likewise, there are Resistance Ampoules that lower the build-up. Here's a quick summary:
Lies of P status effects have their own gauges or meters. Once filled, the effect will become active for a certain duration, which you'll notice as the gauge gets depleted.
These afflictions are classified into two: Attribute ailments and Special ailments.
The Attribute Purification Ampoule and Attribute Resistance Ampoule work against effects like Overheat, Electric Shock, Decay, and Corruption.
The Special Purification Ampoule and Special Resistance Ampoule work against effects like Shock, Break, and Disruption.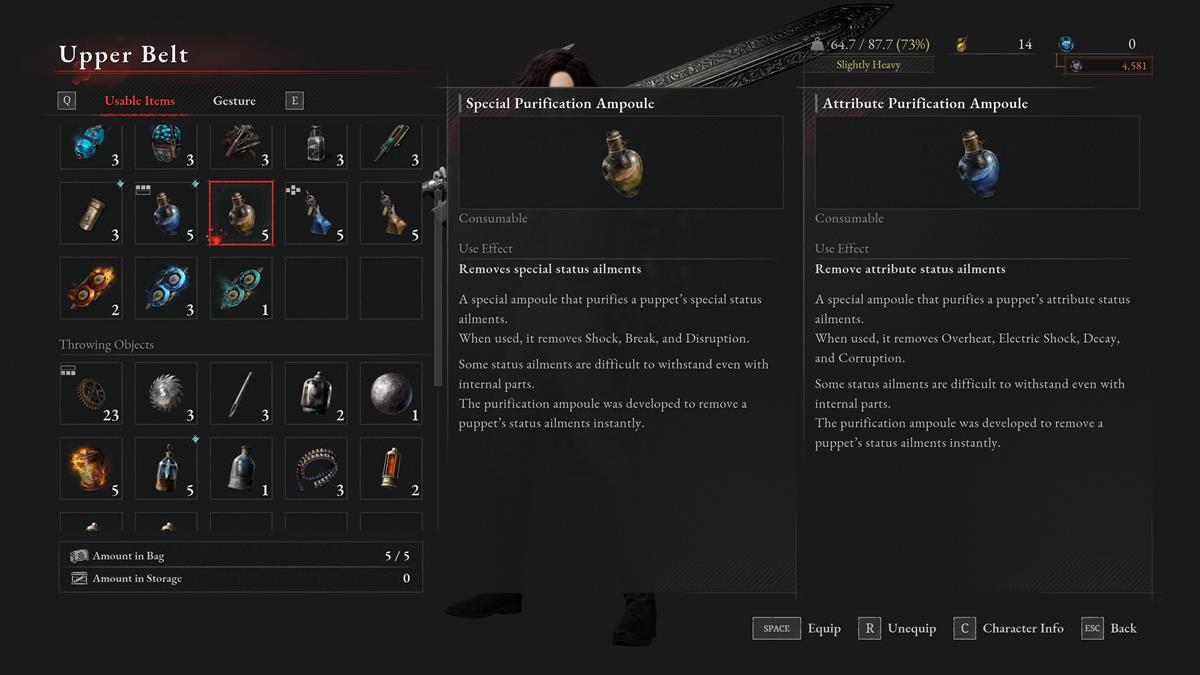 Attribute Status Effects
Overheat — Occurs when you take fire or explosive damage from enemies; gradually depletes your HP; take increased fire damage; lowers guard regain recovery.
Electric Shock — Caused by build-up of electric damage; gradually depletes your Fable (i.e. weapon skill mana).
Corruption — Builds up when you walk across areas with poisoned pools; drains your character's HP.
Decay — Triggers when you take acid or blight damage; drains your HP similar to Corruption; also lowers your active weapon's durability.
Among these Attribute-type status effects in Lies of P, I found Decay to be the most annoying. That's because it also affects your armament. As such, there were instances when I had to repair my weapon's durability in the middle of a fight, or I had to switch to a secondary weapon that would have its durability depleted gradually.
Related: How to Stagger Enemies in Lies of P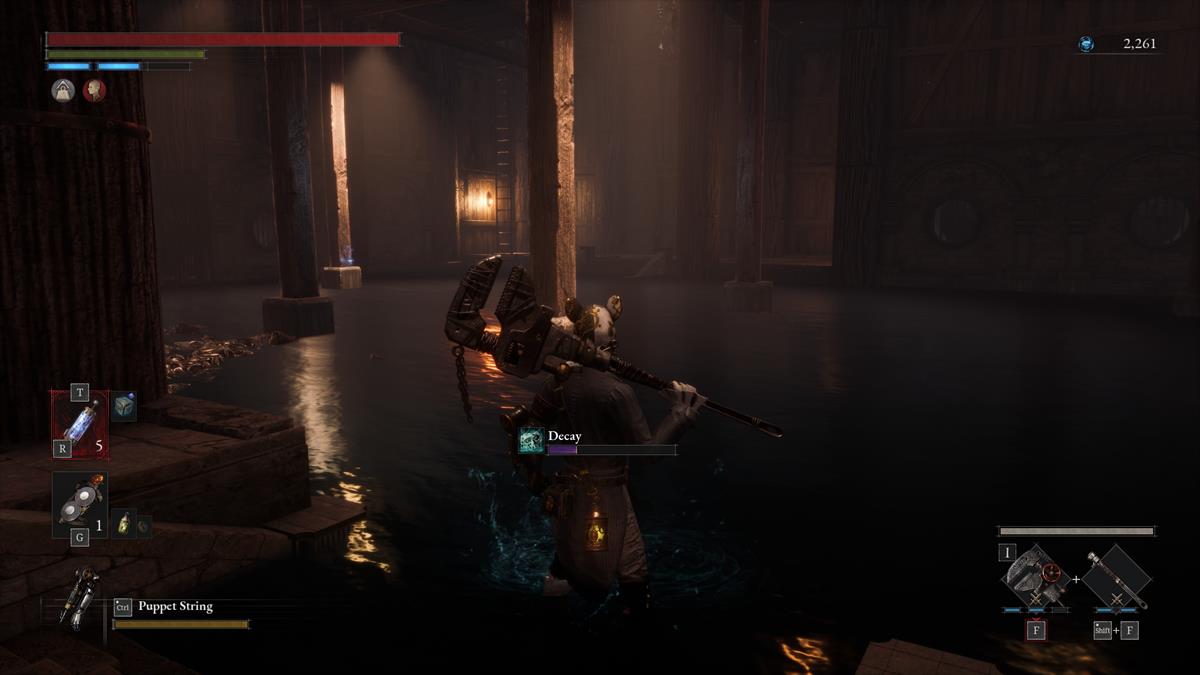 Special Status Effects
Shock — Caused by electric damage that's different from Electric Shock; if active, your stamina recovery will be decreased.
Break — This occurs when you're hit by sawblade mobs or when you step on bear traps; lowers the amount healed by Pulse Cells.
Disruption — Caused by specific types of enemies or by glowing yellow crystals later in the game.
Disruption is one of the most devastating Lies of P status effects. It's pretty obvious since your character instantly dies the moment the meter is full. Whenever I saw an enemy that's able to cause Disruption, I made sure that I had a Special Purification Ampoule ready, or that I can move away to avoid additional build-up.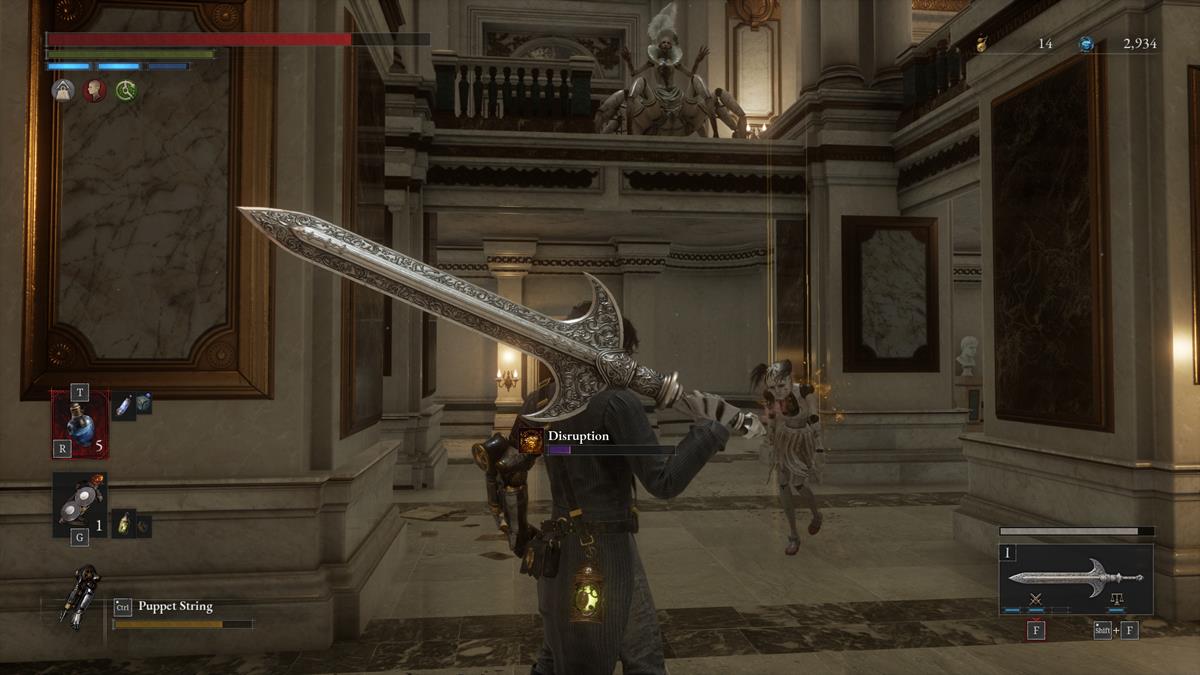 As an aside, there are also P-Organ upgrades, amulets, and defense parts that increase your resistance to debuffs. Take note of an item's description so you know if you're protected against an affliction. I also advise you to make the necessary changes whenever you encounter areas or enemies that apply these debilitating effects to your character.
That's everything you need to know about how to cure status effects in Lies of P. For more tips and strategies, such as the best Wishstones, you can visit our LoP guides hub.
About the author