Multiplayer is as big of a part of Monster Hunter Rise as it is in other entries to the series, and with its release on PC comes different methods to join your friends' lobbies and quests over the Nintendo Switch version of the game. Not to fret, though: It's still easy as can be.
Note that you will not be able to do Village Quests in multiplayer in Monster Hunter Rise, only Hub Quests. Village Quests are essentially the game's story and are easier than Hub Quests, while Hub Quests are the real meat and potatoes.
How to Create a Lobby in Monster Hunter Rise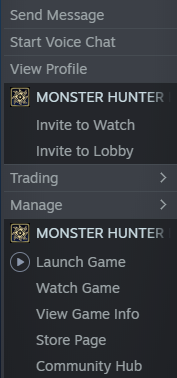 First you'll need to create a lobby before you can invite other players to you game. This is done through the Courier Palico found in the middle of Kamura.
Choose 'Create Lobby' and make any adjustments as necessary and hit 'Create'.
If you don't want random players joining your lobby, be sure to check off 'Passcode'. You will be prompted to input a four-digit passcode when you create the lobby in these instances.
How to Invite Friends
You can choose to invite in-game friends at the Courier, but as this is the PC version of Monster Hunter Rise and on Steam you can also go the old-fashioned route and simply right click their name on your Steam friend list and invite them to a lobby once you've created it.
How to Join Friend Lobbies in Monster Hunter Rise
To join a friend and take on Hub Quests with them, they'll first need to create a lobby as gone over above. Then they can either invite you or you can take it upon yourself to join their lobby in much the same manner as they invite you.
With a friend's lobby up:
Right click their name on Steam and select 'Join Game'.
Switch back to Monster Hunter Rise and talk to the Courier, then select 'Accept Lobby Invite'
Input passcode
Once you've done this, you'll be transported to your friend's lobby and you can progress to whomp on Hub Quests.
Related Guides
That's all you need to know about joining friends in Monster Hunter Rise on PC. Check out our other Monster Hunter Rise guides here on GameSkinny.
About the author