To upgrade the best weapons in Outriders, you need a consumable material called titanium. You won't find much of it early on, but as you increase your World Tiers and get into higher difficulties, the game will throw it at you. This is especially true if you're using the best titanium farming methods. There are three, and we cover them in this guide.
The best ways to farm titanium before getting deep into endgame content and Expeditions are:
Kill specific Hunter questline monsters
Dismantle Epic and Legendary gear
Buy it from an NPC named Bailey
One thing before we begin: these strategies are best used when you are at least in World Tier 7, preferably WT8 or WT9. Any lower and both the gear and titanium dropped by enemies will be lackluster.
How to Start the Hunter Questline
When you reach Trench Town in the campaign, visit Noah Dembele in the bar. Speaking to him will start the Hunter questline, which has you traveling to the game areas and killing miniboss monsters in special arenas in different destinations.
If an area has a monster to kill, you will see a yellow paw icon on the map and a Hunt quest when you hover over an area. To start a hunt, proceed to the area with the paw and interact with the glowing carcass found nearby. Your character will say something like, "This should be interesting," or "Might as well put my skills to good use."
Once you interact with the carcass, the hunt arena opens up. Be aware that until you clear all 10 hunts in the game, you can't replay one after you complete it. However, once you turn in all the hunt trophies to Noah, you can replay them at your leisure.
One final note: For optimal farming of both loot and titanium, kill the boss of the hunt then let the mobs kill you. The boss will respawn and still drop gear, allowing you to fight the hunted monster infinitely. Or until you're bored.
Best Titanium Farming Quests
The two best hunts for titanium are Splitooth in the Forest Enclave and Wendigo in The Gate.
Splittooth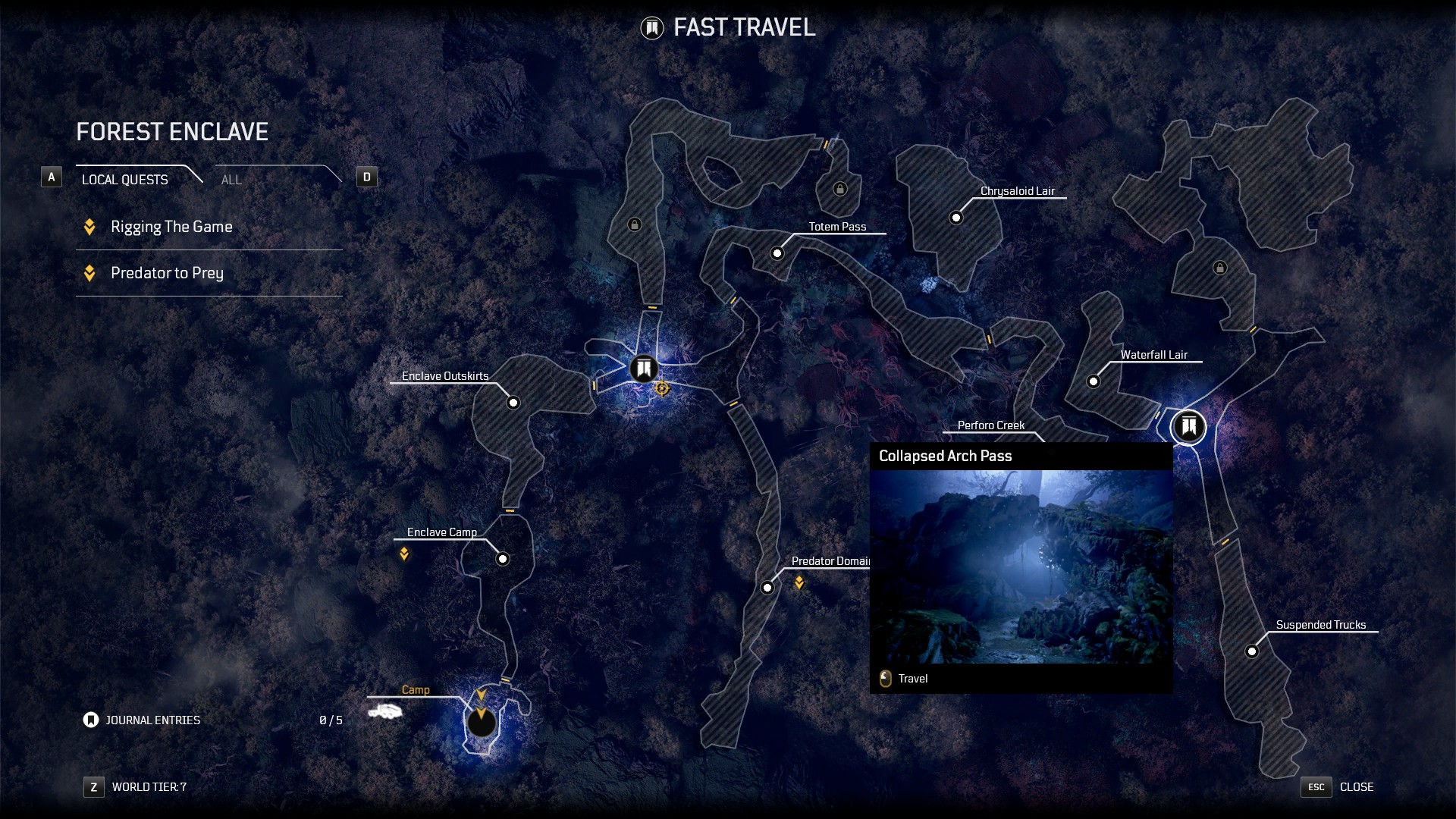 Splitooth's arena is in the Forest Enclave destination, right next to the Collapsed Arch Pass flag at the map's far-right.
You'll need to kill two waves of enemies before Splitooth appears, and they're made up of weak melee perforos and poison-spitting venomous perforos. Use the waves to build up buffs, then summon Splittooth by clearing the area.
Since they're a crawler, watch out for their straight-line breath attacks, as they have deceptive range and insane tracking. Be careful too around their slam attacks, as it sends shockwaves along the ground that knock you down and deal a lot of damage.
Wendigo
Wendigo is even easier to find than Splittooth: both the carcass and Wendigo's arena are on the edge of your Camp at The Gate.
You'll deal with two waves again as you make your way through some ruins. When you reach a wide-open area with a column in the middle, Wendigo spawns directly from where you enter its arena.
Take some time to clear the wave of weak mobs that spawn around it, then kite it into an open area. Wendigo has more health than Splittooth, but not as much as some of the other hunt targets, so come with good single-target damage.
Watch out for Wendigo's sweeping attacks. They deal a lot of damage, knock you back, and can be a bear to dodge properly. Wendigo will also dawn an Anomaly cloak, giving it some resistance to your abilities. Melt it quickly with shotguns or heavy DoT damage.
Alternative Ways to Farm Titanium: Dismantling Gear and Buying from Bailey
At higher World Tiers, you'll have an easier time finding purple epic and gold legendary gear. Dismantling any of these rarer items rewards an amount of titanium based on the gear's rarity.
Whether you're using the hunting methods above or going through endgame Expeditions, you're going to earn a lot of gear that either doesn't jive with your current build or is plain worse than the equipment you already have. You have two options to get rid of this trash loot: sell it or dismantle it.
Dismantling rewards three or four titanium for epic up to more than 10 or 15 for the rarest legendaries. You can also unlock new mods from dismantling and the base materials of iron for weapons and leather for armor. There's more about dismantling in our crafting and upgrade guide.
Selling what you don't use opens up the possibility to purchase titanium directly from Bailey, a camp merchant you unlock during the campaign. She sells the material in stacks of five units for 1,625 Scrap. This might seem like a lot, but when most Epic gear sells for at least a few hundred scrap and eventually a few thousand at a time, you'll be rolling in dough after just a few hours of grinding.
—
Those are the best early methods for farming titanium before you get deep into Outriders' endgame, where the game hands the stuff out like candy no matter what you do. Expeditions are also a good way to earn titanium, but because they take significantly longer even at lower difficulties, farming them is neither efficient nor expedient. Be sure to check out our other Outriders guides for more tips and tricks.
About the author