While Pokemon Unite's unique stylings are catered to the popular franchise, many of its gameplay mechanics are derived from the MOBA genre. That includes the ability to empower a character using Held Items and Battle Items.
Learning how to properly equip your Pokemon is important. Before you can, though, you'll need to know what Pokemon Unite's items are. Our guide below details their specific uses, how to upgrade some of them, and more.
Held Items vs Battle Items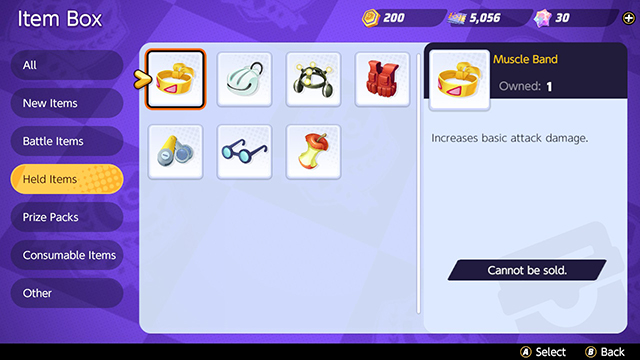 Pokemon Unite allows players to utilize a ton of different items. When it comes to equitable items though, there are two main types: Held Items and Battle Items.
Held Items
A Held Item is a piece of gear that either alters a Pokemon's stats and/or gives them extra passive abilities. Wise Glasses, for instance, increases the damage of special attacks. Leftovers, on the other hand, passively recovers a percentage of HP whenever a Pokemon is not in combat.
Players are given their first slot at Trainer Level 1. They'll unlock the second and third slots at Level 7 and Level 10 respectively.
Held Items can be equipped in the Battle Prep menu, either from the start screen or right before a battle.
Battle Items
Battle Items are tied to your trainer level – the first item, Potion, is unlocked at Level 4 – and cannot be purchased through the in-game shops. They all provide active abilities, have cooldown timers, and only one can be equipped at a time.
One might restore a bit of HP while another creates a smoke cloud, slowing down rivals. You use them by pressing "Y", and they essentially give each Pokemon an extra skill to use during matches.
Battle Items can only be equipped right before a battle.
Upgrading Held Items
Pokemon Unite's Held Items can be upgraded using Item Enhancer tokens after reaching Trainer Level 9.
This is done by hitting "X" on the main menu screen and navigating to the Battle Prep option. From there, after clicking on Held Items, you'll be greeted with a screen showing the last Pokemon you played with.
Select All Held Items on the left-hand side to pull up your list of unlocked/purchased items. This is where you'll be able to upgrade them using Item Enhancer tokens.
Each Held item can be upgraded several times, incrementally increasing its stats and token cost along the way, getting a major boost at Level 10 and maxed out stats at Level 20.
Item Enhancers
Item Enhancers can be obtained in various ways. You can receive some by leveling up the Battle Pass, completing events, or increasing your Trainer level. Some can be rewarded some via the Engery Reward system. You can even purchase them from the Aeos Emporium (one of the in-game shops) using Aeos tickets.
That wraps up Pokemon Unite's Held and Battle Items. Want to learn about other game mechanics or tricks to improve your in-game experience? Feel free to check back here for more Pokemon Unite guides.
About the author