In Remnant 2, Blood Moon Essence is a currency unique to the Yaesha region. It opens up the ability to purchase unique equipment, Sanguine Vapor, and the Faded Grimoire, which you'll need to unlock the Summoner archetype. In this guide, we'll go over how to get Blood Moon Essence in Remnant 2 during a Blood Moon.
How to Get Blood Moon Essence in Remnant 2
Blood Moon Essence comes into play once you reach Yaesha – Forbidden Grove. There, you'll come across the Root Nexus encounter and fast travel point. Nearby, you'll see a curious-looking object known as the Bloodmoon Altar.
Around the Bloodmoon Altar, you may notice wares that require Lumenite Crystals (dropped by elites), Scrap (dropped by most enemies), and Blood Moon Essence (which is what we're looking for).
What Can You Buy with Blood Moon Essence?
These are the items that you can buy from the Bloodmoon Altar, including their respective Blood Moon Essence costs:
Faded Grimoire (key item) — 15; used to unlock the Summoner archetype/class
Knotted Helm (armor) — 5
Knotted Cage (armor) — 5
Knotted Greaves (armor) — 7
Knotted Gloves (armor) — 3
Soul Anchor (amulet) — 10
Soul Guard (ring) — 5
Blade of Gul (melee weapon) — 10
Sanguine Vapor (concoction) — 1
How to Trigger a Blood Moon
Given all the items, including the Summoner unlock, you might be wondering how to obtain Remnant 2 Blood Moon Essence in Yaesha. For this, you'll need to trigger a Blood Moon. Basically, here's what I did during my playthrough:
I progressed further in the Yaesha main quest to eliminate the Ravager, a boss from the previous game. Note that this task might be different in your campaign.
At a certain point in time, I noticed that the skies seen in Yaesha's overworld maps had a deep-red hue. This meant that a Blood Moon was active.
There were instances when the skies were clearer, though I simply had to fast travel back and forth a few times to make a Blood Moon occur once more.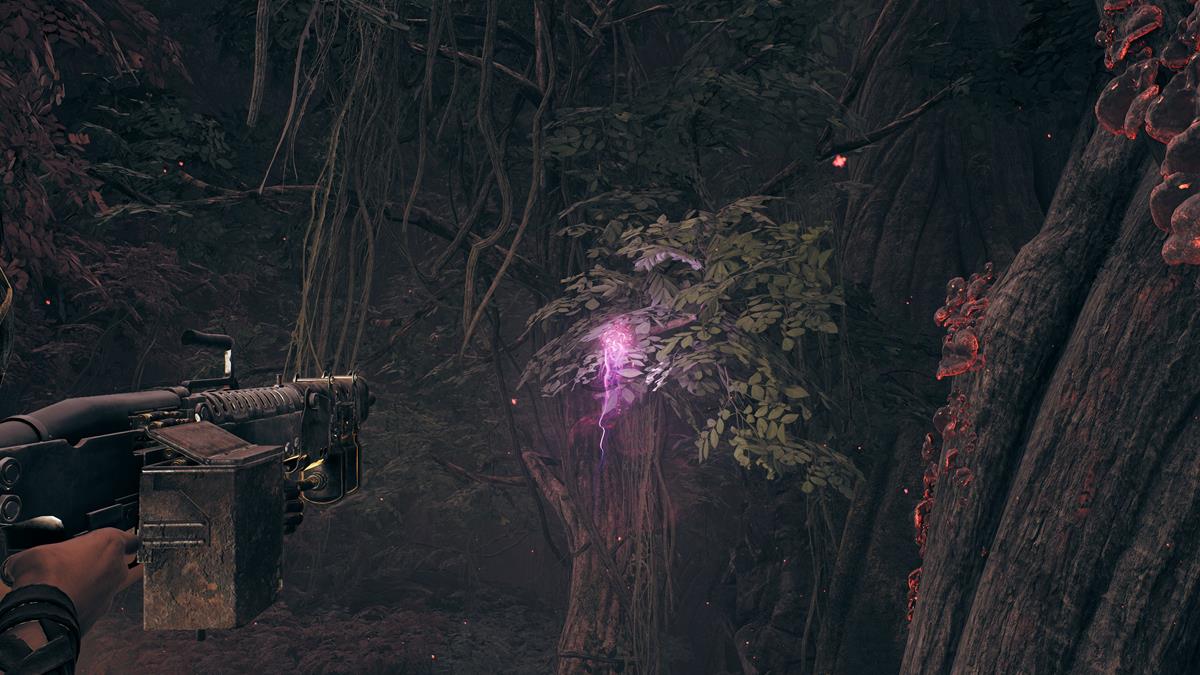 How to Farm Blood Moon Essence
While a Blood Moon is active, you'll want to explore Yaesha's overworld locations, such as Forbidden Grove, Lost Temple, and Faithless Thicket. While roaming around, you'll notice purple wisps darting in mid-air. These wisps are often seen on tree house rooftops, canopies, and copses in the wooded forest.
You only need to shoot and hit a wisp once, and it'll fly to you. You'll instantly receive a Blood Moon Essence for each wisp that you hit. However, be forewarned that they'll fly away if you're too close or if you shoot others near them.
In my case, I had to return to these areas frequently just to amass more currency. As it happens, the Yaesha zone also has Meidra's Gifts and the Imperial Gardens puzzle, which I stumbled upon while exploring.
And that's it: that's how you get Blood Moon Essence in Remnant 2. Don't forget that the Faded Journal has to be given to Wallace in Ward 13 so he can give you the Class Engram for the Summoner archetype. For more tips and strategies, you can visit our Remnant 2 guides hub.
About the author