In Stardew Valley you grow your own farm, become part of a community, and seek to restore the community center to its former glory — among other things.
Once you have started to get your legs underneath you a little bit (by making 25,000 G), a man named Demetrius will offer you the opportunity to participate in an experiment. If you accept, you must decide whether to use your cave as a home for some fruit-providing bats or as a garden for some mushrooms.
But which one should you choose? The answer is clear: mushrooms.
In this short guide, we'll go over why you should choose to host mushrooms in your Stardew Valley cave, and what benefits you'll reap from doing so.
Why Mushrooms are Better than Bats in Stardew Valley
Mushrooms Are A Time Saver
Perhaps the biggest reason to use mushrooms is the fact that it saves a lot of time. Most mushrooms are only available in one or two seasons, which can make them a pain to get in a pinch. Moreover, the only reliable way to get purple mushrooms is by mining — and it can take mining as deep as the 90th floor before you start reliably seeing large amounts of mushrooms. Not only does that much mining take a long time, but it can also be risky, assuming you value your life.
But if you've got plenty of mushrooms growing right in your own cave, you're all set!
Mushrooms are More Consistent
The bats are, well, bats. They don't always bring fruit, and the fruit that they bring is random. The mushrooms, on the other hand, are much more reliable. There will be 6 planters, and every two days those will net you 6 mushrooms.
While the mushrooms you get are on a more reliable time table, they are still random — so you will get some duds.
You Can Grow Fruit, But Not Mushrooms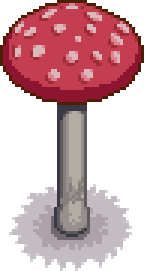 Naturally, you can eventually grow all types of fruit trees. And it doesn't take a very long time. But you can only grow mushrooms 1 of 2 ways. The first is by choosing the cave option that we're discussing here. The second is completely luck-based and can't be controlled. During the Fall, there is a chance that a fully grown common tree might be changed into a Big Mushroom Tree overnight. While this tree will spread like other trees, you can not actively plant it, which makes it unreliable.
Moreover, unlike the mushroom cave option — which provides you with all types of mushrooms — the Big Mushroom Tree only provides common, red, and purple mushrooms. Because of this, the mushroom option is the only way to reliably have mushrooms without having to actively gather them on your own time.
Mushrooms Let You Make Life Elixirs
There are two types of people in this world — those that swear by life elixirs, and those that would rather eat spicy eel. I just so happen to be one of the former. Life Elixirs restore all of your HP, which is valuable from the beginning of the game until the end of the game. Simply put, Life Elixirs are one of the best healing items.
Additionally, since Life Elixirs don't give a buff, they will not overwrite a previous buff. Life Elixirs can be made once you have combat Skills at Level 2 and use one (1) of each of the following:
Red mushroom

Purple Mushroom
Morel
Chanterelle
These ingredients are hard to gather without the mushroom option, but become laughably easy to get once you have it. This, in turn, means you don't have to worry about how you are going to heal for much of the game.
The Only Case for Choosing Bats
Honestly, one of my biggest knocks on bats is that they are not as regular as the mushrooms. Not knowing for certain that you will have X number of berries every Y number of days is not only annoying, but can also literally result in you having significantly fewer berries than what you would have earned in an equivalent amount of time getting mushrooms.
That said, some fruit trees can be expensive to buy, and their seeds can take time or luck to obtain. Moreover, some fruit — blackberries and salmonberries in particular — are only found on certain days during their respective season, making them a pain to forage.
Fruits also arguably help you complete more essential bundles than mushrooms, such as the Artisan Bundle. Most villagers like most of the fruit variations, and some villagers even love certain fruit. So these factors are all worth considering.
It Doesn't Matter…Nothing Matters
Ultimately, however, neither decision matters forever. So don't stress too much. I find mushrooms more helpful, but if your current circumstances mean that you'll find fruit more helpful, then you'll want to go for the bats. Choosing mushrooms or fruits is really just choosing which you'd prefer to have accelerated use of early on.
Need more help with your farming adventure? Check out the rest of our Stardew Valley guides for more tips and tricks:
About the author