It takes a while to reach the quest No Sudden Moves in Bethesda's newest RPG, but it doesn't take that long to complete it. In it, you have to convince a collector to hand over another artifact, though that's easier said than done. Our guide discusses how to complete No Sudden Moves in Starfield and what you can expect once you're tackling this objective.
How to Complete the No Sudden Moves Quest in Starfield
The Starfield No Sudden Moves quest takes place well after All That Money Can Buy. Around this time, your group will be divided into two: those aboard The Eye and those in The Lodge. At the time of this writing, I can't say what determines which companion goes where. What I do know is that Sarah, Sam, and Barrett went to The Eye, while Andreja was the only companion who stayed with me.
No Sudden Moves Quest Walkthrough
Where to Find Captain Petrov
Your goal in No Sudden Moves is to meet Captain Petrov. You'll find him in a ship called The Scow, which is orbiting Procyon A in the Procyon system. Petrov sees himself as a collector of the finest rarities. Upon meeting him, you can use your Persuasion skill to flatter him. He'll then lead you to his vault.
How to Get Captain Petrov's Artifact
Once inside the vault, Petrov will show you the artifact. I suggest doing the following:
Grab the artifact: "Sorry, Petrov. It's for science."
Petrov will turn hostile. Quickly bring out your weapons and deal a lot of damage to him.
"Tell your crew to stand down, and no one gets hurt."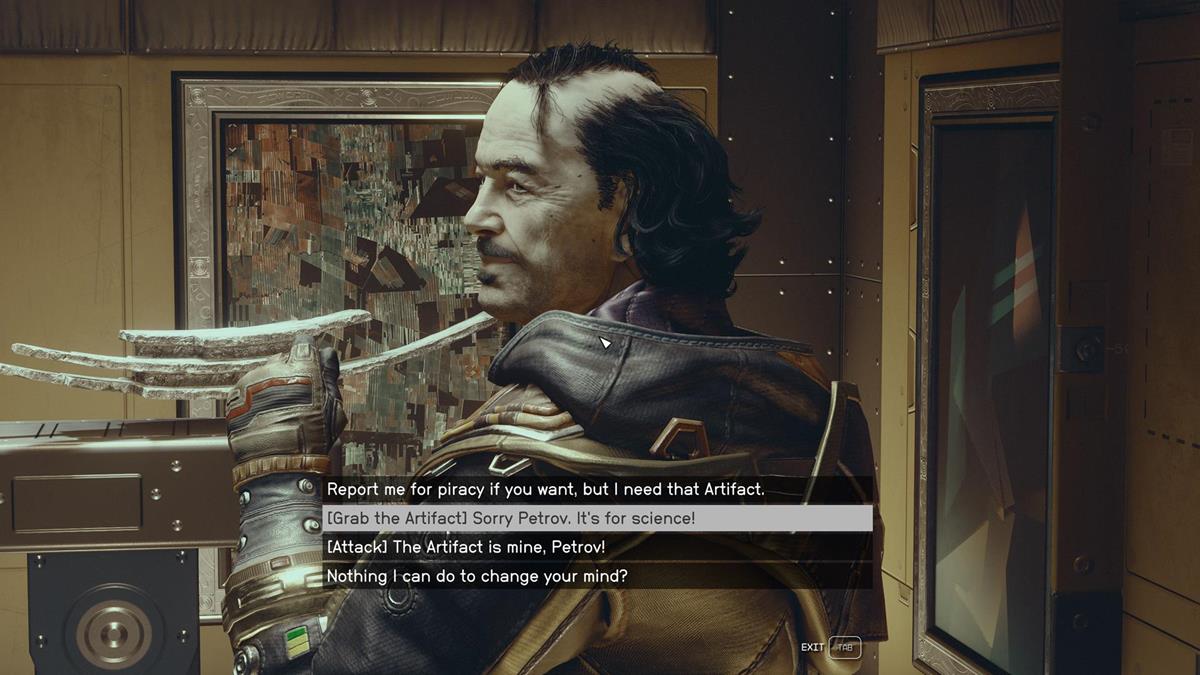 Andreja was with me and liked the brash actions I took, which boosted her affinity a couple of times. Moreover. Since you didn't execute Petrov, that won't count as murder. The rest of his troops aboard the ship will not be hostile once you exit the vault.
In any case, return to The Lodge and talk to your teammates to finish the whole objective. That's everything you need to know about how to complete No Sudden Moves in Starfield. For more tips and strategies, you can visit our guides hub.
About the author