As if pumping 60+ hours into a huge action-RPG weren't enough, there are multiple endings to worry about in the latest SAO entry, Sword Art Online: Fatal Bullet. Landing on the "true" ending takes a bit of work, but if you plan ahead, it's not too hard to reach.
Keep in mind that it's entirely possible to miss the true ending if you don't know what to do ahead of time, and oddly enough, going into New Game+ actually makes it harder to get this ending than if you do it on the first go around!
Let's go ahead and dive into the list of Fatal Bullet true ending requirements.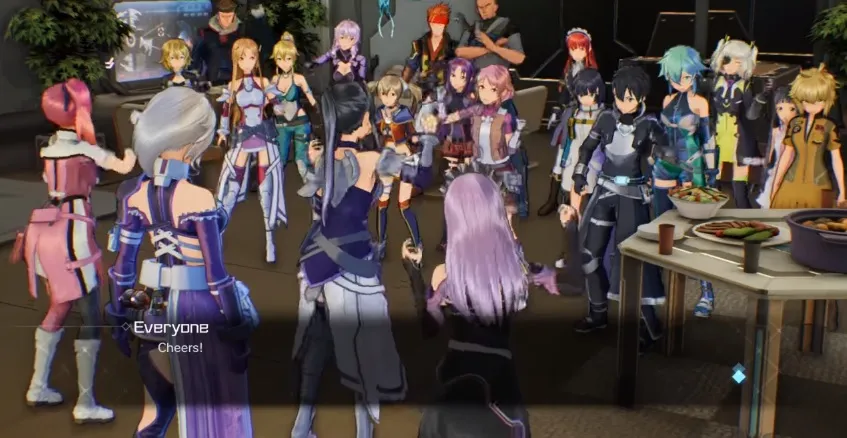 Cheers indeed, we deserve it for reaching the end!
How To Get The Sword Art Online Fatal Bullet True Ending
Make sure to do all of this before going into NG+ mode, as activating New Game+ resets all your character affinities, which means you've essentially got to start all over in working towards the true ending.
It's also best to complete all of these steps before the final section of the SBC Flügel area. You'll know you are about to go too far when you get the option to go into NG+ or choose to rewind time.
If you hit this section, just rewind time back to restart a section, and you can still potentially get any of the endings.
True Ending Requirements
Before reaching the end, you need to hit affection level 4 75% with the new Fatal Bullet characters Afasys, Kureha, Zeliska, Itsuki, and Bazalt Joe.
You also need to get all the original Sword Art Online characters (Kirito, Asuna, Sinon, Premiere, Strea, Philia, Rain, etc.) to at least affection 2. To make sure you have enough time to get this far on the affection levels, you should have most of this done before the quest Mother Claudia.
Next, get the Afasys Amulet/Charm after clearing Kirito Mode (note that there is a point in the game where Kirito mode becomes unavailable, so watch for it and don't pass it without going through this special mode). Once this is done, make sure to watch all the sub event scenes for each character, marked on the map by a green balloon.
Furthermore, make sure you've done all the various side quests (like making outfits) for Agil, Lisbeth, and Asuna.
With all of the proper character affection levels achieved, all event scenes viewed, and the Amulet in hand, now you need to fight the last boss and evade the hyperbeam. Stop the final boss's dark sphere attack and then whittle down the remaining HP.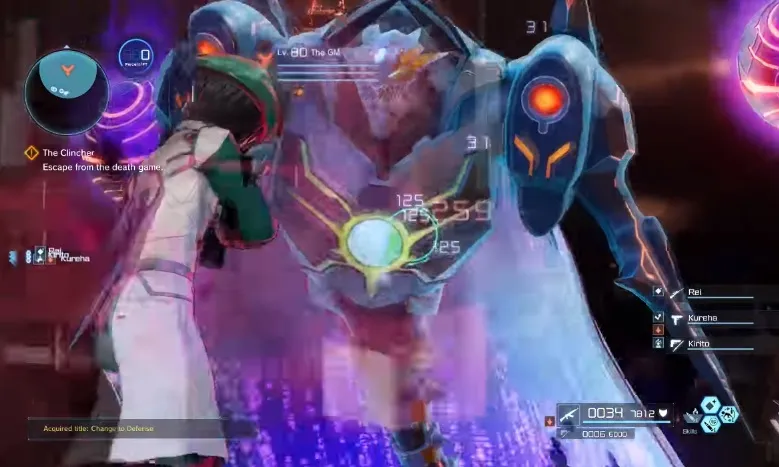 Why on earth do these kids keep logging into VR MMOs that they know they will get trapped in and have to fight for their lives to escape?
At this point, the quest switches out from Dead All to Fatal Bullet when you equip the nervegear to let you know you are on the path to the true ending. If this doesn't happen, you missed something along the way.
Have any other tips for meeting these true ending requirements easily or before reaching certain points of the game? Let us know in the comments section, and we'll get them added to the guide.
Or Just Skip All That!
Following this guide makes reaching the Sword Art Online: Fatal Bullet true ending fairly simple, but If you don't want to go to all that trouble (particularly if you've already finished the game and went into NG+), you could just watch the true ending below.
Yep, it's cheating, but you've already put enough hours into this game anyway. Enjoy the game's ending sequence!
Need help with any other part of this entry in the long-running RPG franchise? Be sure to check out our other Fatal Bullet guides here:
About the author