If you have the Seasons expansion pack for The Sims 4, then you must be happy celebrating the HarvestFest day in the company of thirteen gnomes. But that would be the case only if you knew how to appease them properly. If you don't appease these gnomes the right way, they will crash your party like you've never seen before.
This guide will provide you with tips on how to appease every gnome in The Sims 4. This little event will require you to give some gifts to the gnomes that randomly appear in and out of your home, and you need to be sure that you're giving them the right things.
How to Appease Every Gnome in The Sims 4
The game doesn't tell you which gnomes are which before you appease them, so it's important to know how they look before you give them anything.
When gnomes are properly appeased, a bright halo will appear above their heads.
Happy Gnomiversary!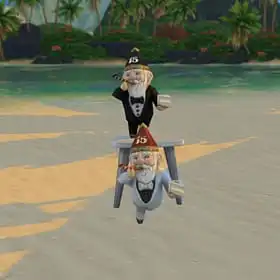 This festive gnome looks like he's holding a party horn in his mouth and a piece of cake in his hand.
Give him coffee and he won't break your things or strike you with an electric shock.
There's No Place Like Gnome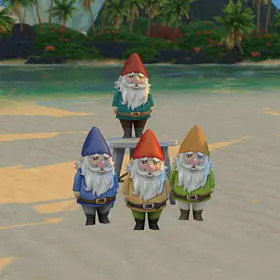 This is the most normal-looking gnome of all, albeit a bit sad. You can use this gnome as a decor for your garden, and he will take his duties very seriously.
You can give him a fruit cake or coffee, and both should work.
Upside Down Gnome Decor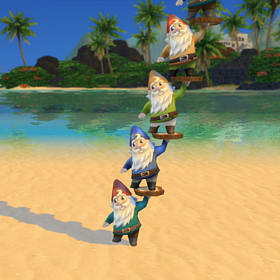 These happy gnomes hold special support plates in their hands, where you can place other gnomes. If you place other similar gnomes there, then you can stack them indefinitely.
But if you want to appease them, then salad would be the best choice.
Guardian of the Gnomelaxy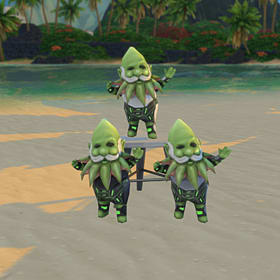 This is one of the easiest gnomes to spot due to his unusual look, and his favorite thing is obviously a future cube. You can't miss this one!
Bearly Gnome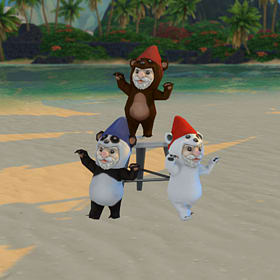 This gnome is another easy one, as it wears the bear costume, and clearly loves pies.
Also this gnome likes to stay outside, so don't keep him inside the house.
Happy Gnome Garden Pal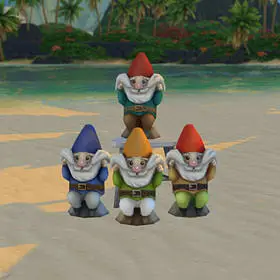 This cheerful gnome stretches his beard with his hands, thus showing how jolly and happy he is.
If you appease him well, he will provide you with some garden seeds.
Gnome Matter What, I'm Still Your Baby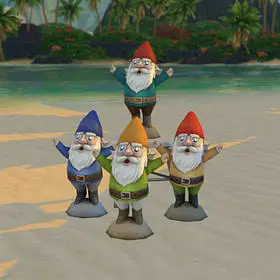 This gnome appears in a posture of begging for somebody to take him in their hands. Just like Happy Gnome, this one also likes coffee more than anything.
Don't Fear the Reagnomper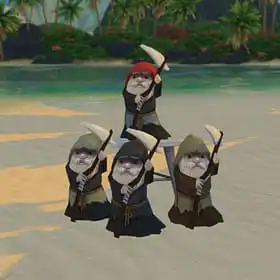 One of the most peculiar gnomes in the game looks like the Grim Reaper. Despite his wicked appearance, he likes a simple pie.
You can place him in a garden with plants that emit green gas or at the cemetery.
Mr. Floppy the Gnome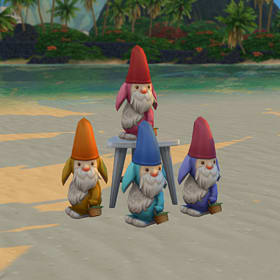 If you've played during the Egg Hunt and Flower Bunny events, then this gnome should look familiar to you.
This is also one of those few gnomes that likes salad, just like bunnies.
The Ghastly Ghostly Gnome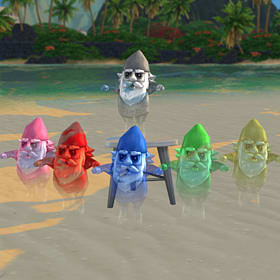 The haunted house should have a haunted garden with ghostly gnomes. This one has a particular affection for fruit cakes.
Poolside Gnome
The only female gnome on the roster wears a swimsuit and a floaty. She can be a great decoration for your home pool. She also likes pie.
Strictly Business Gnome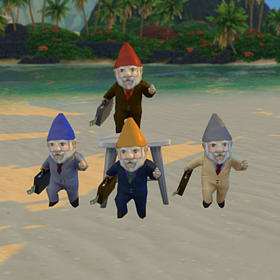 A gnome in a business suite looks adorable, and he likes coffee, just like any businessman. This statue can be placed in your home office.
Bare Essentials Gnome
Naked pixelated gnomes are a weird sight, especially when they appear in your garden. But once you give them a toy to play, they will reward you with some season seeds.
That's everything you need to know on how to appease every gnome in The Sims 4. For more The Sims 4 tips and tricks articles, please visit our dedicated guides page.
Image source: Sims Fandom
About the author