When building your first restaurant in Chef: A Restaurant Tycoon Game, it's going to be a lot like a real-world restaurant. There are a lot of factors to consider and things to keep track of if you want to get your business off the ground and keep it there. And yes, any little mistake can completely tank you.
The good news is that it doesn't have to. Now, we covered one of the big factors of running any successful restaurant in our recipe guide. But we all know that how good your food is doesn't matter if you don't do the things necessary to set yourself up for success from day one. So, we wanted to do this second guide filled with tips to help you build the establishment of your dreams.
So, let's start where all things should… at the beginning.
Choose the Type of Restaurant You Want
When you start Chef, you're going to be asked to make some decisions. The problem is that it's hard to make good decisions if don't already have a bit of a plan and you're not informed.
Every good restaurant starts with a plan. What do you want it to look like? What kind of customers are you catering to? That second question is one of the most important. After all, customers are who you get your money from, and how happy they are with your service affects a variety of factors that determine your success.
Of course, you can't cater to every type of customer — and some you just won't want to. It's also good to know before you pick a location since come customers won't be as attracted to some places as they are others.
Chef has a total of 11 customer types. Detailed information on all of them is available in the game's menu (after you've chosen your location). So, to help you choose, here are the basics on each of them.
Cheapskates: Have a super low budget and are the only type of customer that will show up almost anywhere to start. The only good thing about them is that they have low expectations

Lower Class Families: These people are looking for good deals but aren't as tight with their cash. They're good to have around at the start
Upper-Class Families: These aren't the biggest money spenders, but they're up there. They also have high expectations
Blue Collar Workers: These guys have extremely low budgets, but if you're located near their work place, they'll show up anyway. They do expect a swift turnaround on their meals
White Collar Workers: They have a median budget, and like their blue-collar counter parts expect fast service
Food Enthusiasts: Another median budget group. They like to try new things and don't care as much about how fast it gets to them
Gourmets: This is the BIG budget group. They're prepared to spend a lot of money. But, there aren't as many of them and every thing needs to be just right
Vegetarians: Just like in the real world, vegetarians are looking for a place that offers them a good variety of options. Their budgets are middle of the road, and they're not as picky as some others
Vegans: Pickier than vegetarians, but with a higher budget
Low Budget Tourists: Despite being low budget, this group has higher expectations. A good reputation is the only way to attract them
High Budget Tourists: Take your low budget tourist and give them a lot of money to spend. You'll need a top tier restaurant to attract these guys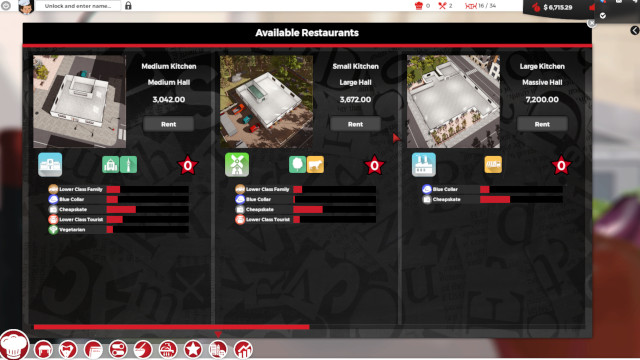 Find the Perfect Location
Once you know what kind of clientele you want, you can begin shopping around for the perfect location. There are several factors to consider here — from kitchen and hall sizes to actual locations. Remember: The bigger the establishment the more equipment and staff you'll need.
From playing around, I've discovered that there are eight different types of locations, ranging from old town and industrial to the country side. Each location type has its own perks and problems.
On top of that, each individual location offers specific factors for players to take into consideration. No two old town locations are exactly alike, just as no two countryside ones are. And as with the general location, these factors can negatively or positively impact your business. For example, a nearby dumpster may turn people away, but it might be worth dealing with to get that amusement park traffic.
The good news here is that the restaurant selection menu offers very detailed information on available restaurant space. The bad news is that you might not get exactly what you want your first go-round as the results are randomly generated. So…
Be Willing to Start Over
Yes. You can change restaurants later on, and as you play your dream location may just pop up on the market. You'll just need to be smart to make sure you have enough money to buy it when you're ready.
Don't Act Like You've Got Money to Blow
So, this bit isn't explained when you're selecting your location, but:
Rent is monthly (although it comes out in smaller weekly bits)
You only have $8000 to start with
That $8k has to cover appliances, tables, decorative items, staff pay, and things like cleaning and maintenance — as well as advertising if you decide to do it. (Don't.)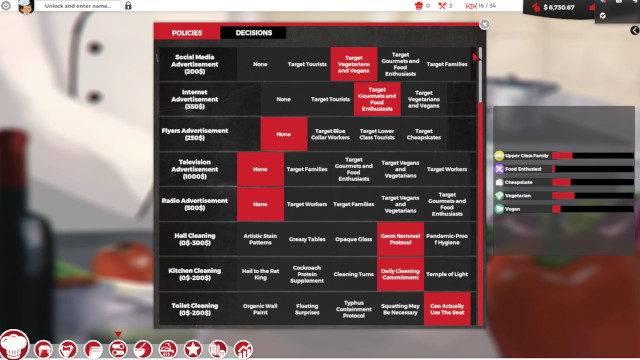 That's right. Do not pay for advertising starting out. You'll get customers either way. And don't worry about filling your restaurant with tables right off the bat or hiring the best staff. Go with what you can afford for now. The one thing I might consider doing is putting money toward cleaning. The cleaner your place is, the wider a variety of customers it will attract — and the better your reviews will be, which will in turn bring you more customers.
As for staff and tables: If you don't have a lot of tables to start with, you can have a lower staff count and not become overwhelmed. This means that your rating won't be hurt too badly with negative remarks on service.
Just remember. You can add things to your monthly budget as your revenue increases. That said, always be aware not to add too much at once. Do it in stages.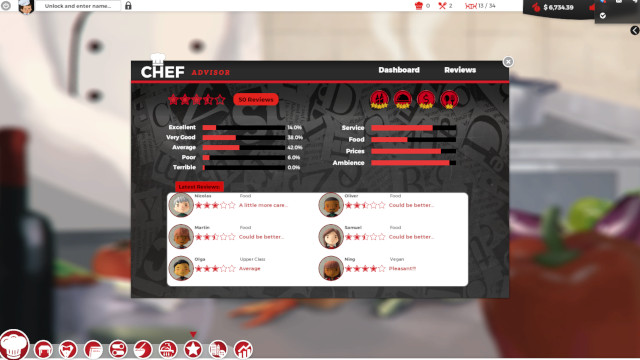 Pay Attention to Your Ratings
While your playing, you'll constantly get reviews from your customers. Now, I will admit that the actual text part of the reviews can be ignored. But look at the star ratings. They break things down into four sections: Service, Food, Prices, and Ambiance. Getting above average scores on any of these increases the percentage of each type of customer coming to your restaurant, while negative scores decrease it. (A 3 star rating has no effect.)
Be Willing to Change Things Up
Look, at least until Inner Void implements skills for staff, there's no reason getting attached to these people. As soon as someone better — that you can afford — comes along. Drop the old guy and grab the new one. It's not personal, it's just business.
Also, don't be afraid to adjust your menu, increase prices, tweak decor, and swap out appliances.
Speaking of Menus… Those Prices
When you're setting up your menu. You'll notice that recipes include a price. Think of that price as what it will cost you to make. So you'll want to increase that.
In the real world, a good rule of thumb is to multiply the cost for you to make a meal by three. That's pretty reasonable here. Although, when starting out. You'll probably want to make most of the items on your menu at least $5, no matter what the game says the cost to you is.
Finally, Get Rid of Cheapskates as Early as Possible
This is a tough one. Starting out, these people will likely be your primary customer base. But they're just going to bring you down. They hate new things and don't like fancy — because you have to pay for that. So, as with cockroaches, you'll want to get rid of them as soon as you can.
So far, I've found the best way to remove this blight is to just price them out of existence. But in order to do that, you do need to make sure your food and service are right for the price. It will take some time, but eventually, these guys won't show their face at your door anymore.
***
And there you have it. everything you need to know to get your restaurant off on the right foot. Of course, you're going to have to do some experimenting of your own to really create your dream establishment, but isn't that always the way?
About the author