If you haven't jumped on the free-to-play, Minecraft-inspired MMO Trove yet, now is the time to do so as the massive Adventures update officially lands!
As expected, the servers are taking a hit with this massive free update arriving, and not everyone is even able to log in and try out the Adventures additions yet.
Keep trying though, because, there's a whole new biome, new dragons, and massive Club changes now in effect you'll want to experience. Below, we explain all the major changes you need to know about once you are finally able to log into Trove!
Trove Game Updates
First up, there are some welcome changes for the newbies — if you have a new character, now Expertise Adventures will appear at level 8, teaching you how to go about building, crafting, and using Frameworks and Workbenches. If the game's complexity seemed daunting, now there's more clear cut explanations on how to work each system.
For the long-time players, an overdue change has arrived as Mastery is no longer capped at 300, and new Mastery rewards have been added for levels 100, 220, 250, 260, and 270. If you already hit those ranks previously, the rewards will appear when you login.
If you had enough points to raise your Mastery above 300 before the update arrived, it will automatically level up to the appropriate rank when you log in. The required points above level 300 are always half the next level, so for instance to hit Mastery level 500 you need 250 Mastery points.
Sharing loot and XP has been revamped with the Tethering system, which lets you Tether to other players of your choice who are within 500 blocks of each other. Face another player and hit Ctrl-E to send a Tether invite (on console editions, look at a player and hold the button used to switch between adventure and build mode). If accepted, XP and loot will be distributed between players in the Tether who damaged an enemy.
Last but not least, the blingy Prismatic Lasercorn is free to download for console or PC players through December 18th (nab him at the Deals tab of the Trove Store).

Claiming your free Prismatic Lasercorn!
Club Adventures
The focus of this update is solidly on expanding out Clubs, with new ranks and permissions available. The biggest and most obvious additions are permanent Fixture buildings added to your Club World that assign adventures and Shrines that bestow buffs if a Club is set as your primary.
Your Club members will have to find Frameworks recipes to construct these buildings and add-ons. The new Rally of Heroes Fixture is free and summons NPCs with a sleep cycle system. While awake, these NPCs bestow adventures for anyone in the Club to play through. The rarer adventures are available less often as the NPC sleeps longer.
Fixtures cost rent to remain active, and that's where the Trovian Clubit Union Fixture comes in, letting any Club member cash in Clubits to pay rent. Your Club needs to be working together to pay the rent on new buildings to keep them around, so stay in contact and help out your Club mates!
While trying out these new adventures, be sure to be on the lookout for the new Club Headquarters building for your primary Club. On the 1st and 15th, a Golden Flux Dragon appears there to sell items.
All these new systems require some management, so now you can see everything all at once by pulling up the Adventure window (by pressing "I" on PC or Options/Menu on PS4/Xbox One).
New Trove Dragons
This is what you were really want to know about, right? Three new dragons are now available to construct, requiring a recipe from the Dragon Crucible and egg fragments. You can grab your fragments from these locations:
Fish in water locations to get bubble dragon egg fragments for Sarsaponia, the Pristine.
Defeat elite enemies at the Shadow Tower to get starfire egg fragments for Almakhestia, Host of Starfire.
Acquire blocktron egg fragments at the club world market fixture for Blocktron, the Guardian Beyond the Sky.
New Trove Biome: Forbidden Spires
Finally, there's an entire new area focused around ancient Asian cultures that is the featured biome in Uber-6. There are plenty of dungeons to delve into here, along with new enemies that drop Fiery Feathers to build new types of workbenches.
Keep an eye out for Forbidden Spires decoration recipes scattered across the biome, along with an entirely new crafting material to harvest called Cinnabar, which is required for the new Radiant Stellar Rings.
If you manage to get your hands on any Panda Talismans, don't forget you can now craft panda mounts at the Adventurer's Crafting Bench.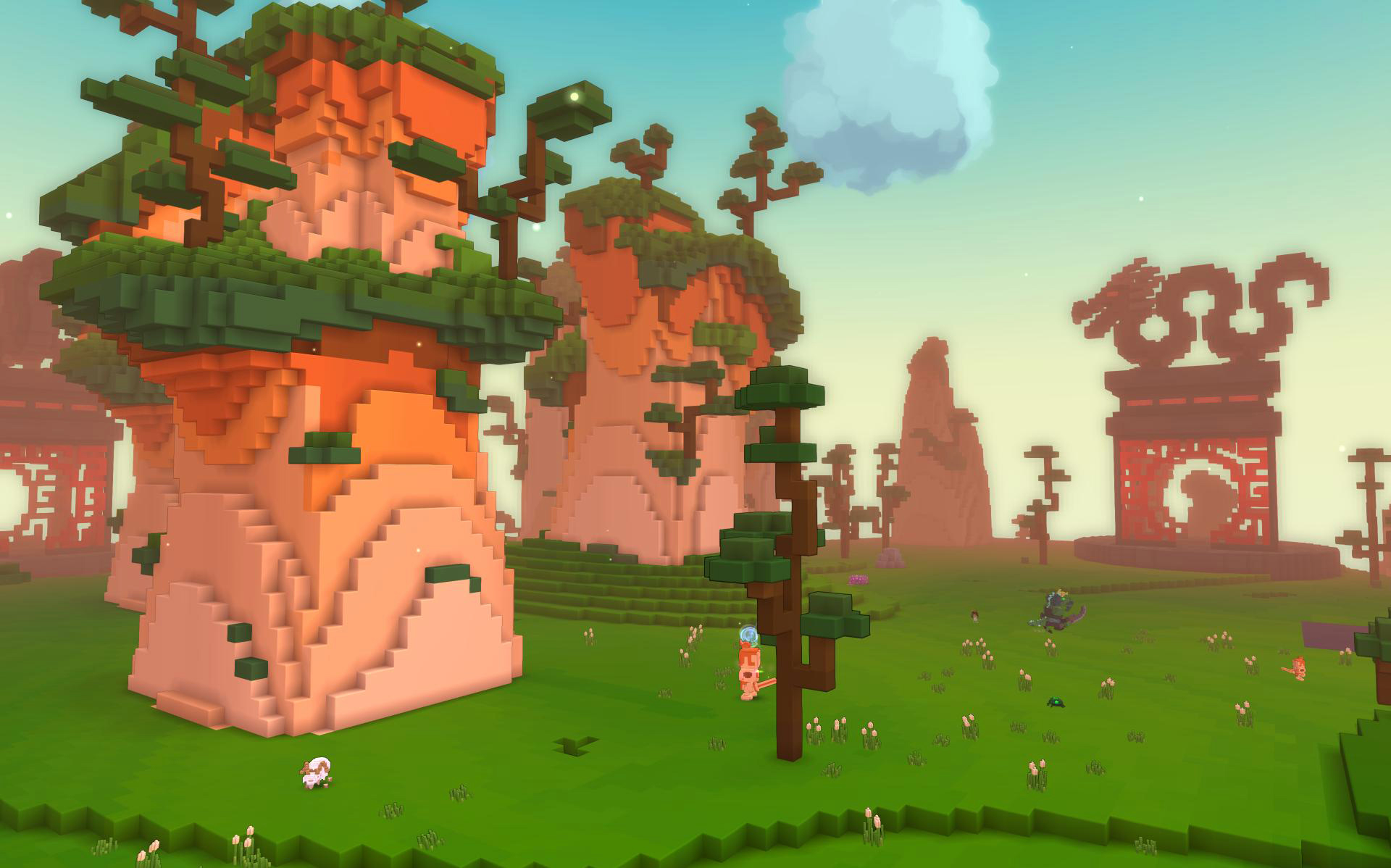 Those are all the major changes you need to know about with Trove's Adventure update! What are you most looking forward to trying out, and what Club are you in? Let us know in the comments below!
About the author