From Sneaky Sniper to 50 vs 50 and even Squad mode, Fortnite's foray into the increasingly crowded Battle Royale waters keeps evolving with new limited-time modes!
Most of the time, we know a limited event is coming via official announcement, but this time, the player base found out about the Fortnite special event Blitz due to a glitch the developers didn't intend us to see.
When logging into the Battle Royale lobby, you may have seen a daily challenge to play a special event called Blitz, but there doesn't seem to be any way to actually complete the challenge at the moment. So, what exactly is Blitz mode, and when can we play it?

This curious challenge has many players scratching their heads.
Fortnite Battle Royale Blitz Limited Time Mode
Recent patch notes from Epic revealed that this mode isn't quite ready to be unleashed yet, so the Blitz challenge appearing in your daily quests will soon be patched out.
While Epic hasn't spilled the beans yet on what exactly happens in Blitz mode, we have a pretty good idea of what to expect. It will clearly be a limited-time event and is expected to make extensive use of the newly released minigun that arrived with the 2.4.0 patch.
If Blitz events in other games are any indication, this mode is expected to play much faster, with the storm circle closing in on a faster schedule and more damaging weapons like RPGs and grenades expected to play a bigger role.
What do you think will happen with the Fortnite Blitz limited-time mode? Let us know your predictions in the comments, and we'll be sure to get a full guide out once the details are known!
Fortnite Patch 2.4.0 Changes
The patch that inadvertently let us know about the coming Blitz mode also fixed a bunch of lingering Battle Royale issues like the cozy campfire being used in the lobby giving you a shield boost when you land in the game. Here are the remaining known issues from the 2.4.0 patch notes:
Chests occasionally have no loot in them
Players will receive quests for "Blitz Mode" LTM – this mode is not currently available, and we are working to remove this from available quests
Sometimes the first weapon found cannot be equipped
You cannot open the pause menu if you go into the DBNO state while in build mode.
New Battle Royale Modes
While Fortnite Blitz mode is still under wraps for the moment, don't forget that Squad mode has now been added (presumably permanently) to make the chaos of 100-player battles a little more manageable and give you more options to build fortifications as a team. It may not be quite as epic as the limited-time 50 vs. 50 mode, but it's well worth trying out.
Shooting Test 1 mode is also now live and can be selected by clicking Change Mode in the Battle Royale lobby. This mode is testing out changes to weapon accuracy and firing, so if you want to take part in the test to provide feedback on how guns should handle in Battle Royale, be sure to log in and give it a try! Expect some big changes to weapon accuracy to arrive as this mode wraps up.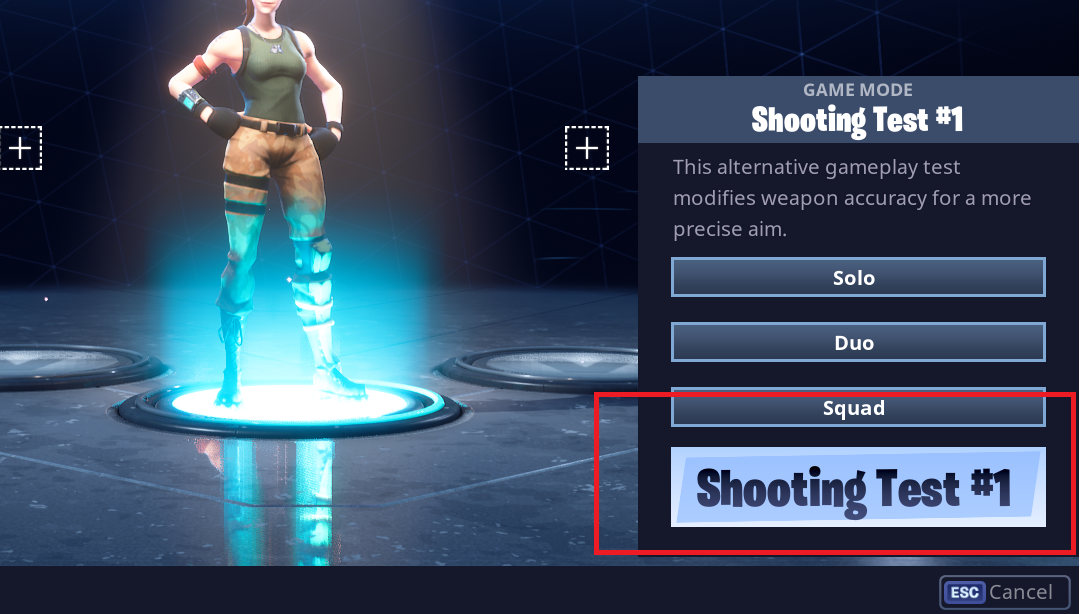 Trying out the Shooting Test mode!
As the Battle Royale updates keep coming fast and furious for PC and console players, there are many new areas and items to use that you might not be familiar with yet! Get up to date and make your way to the top of the 100-player battles with our latest Fortnite guides here:
About the author