If you want to take on the more dangerous threats in Harry Potter: Wizards Unite, you'll need a steady supply of potions on hand to make your spell casting more potent, and to get the best of them, you'll need Master Notes.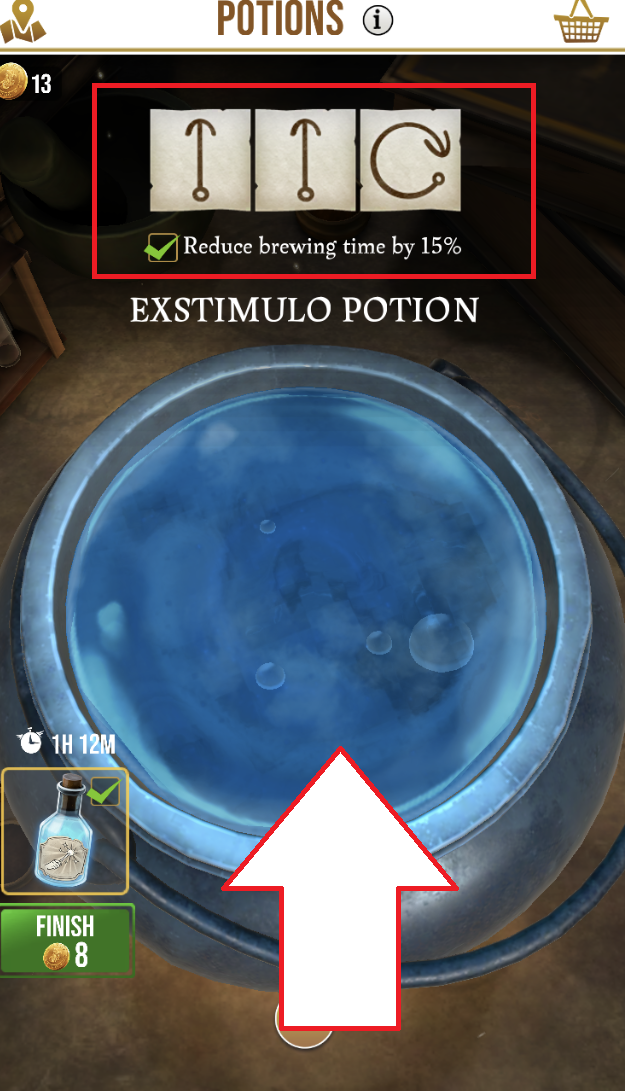 Of course, as with any freemium mobile game, there's a catch: potions work on timers that can be bypassed with gold.
You might be tempted to start making a huge number of potions immediately so you don't run out, but it's actually better to hold off until you learn each potion's input.
Using these while brewing significantly decreases the brew time without having to spend gold.
How To Enter Master Notes During Potion Stirring and Brewing
Haven't entered a symbol yet for a potion? On the Potions screen, when you have a brewing potion selected, tap the stirring stick in the pot to bring up the master input screen.
From there, just trace the motions in the cauldron (don't tap the question mark icons where it looks like the Notes should actually appear).
This process works just like casting spells against Foundables or enemies at a Fortress, except there's no guide on the screen to help you with you the specific motion. When you get a motion correct, it will replace the question mark at the top.
After successfully entering the Master Notes motions three times for a single type of potion, the formula will remain on the screen near the top so you don't have to remember the motions or keep referencing a guide.
Wizards Unite Complete Master Notes List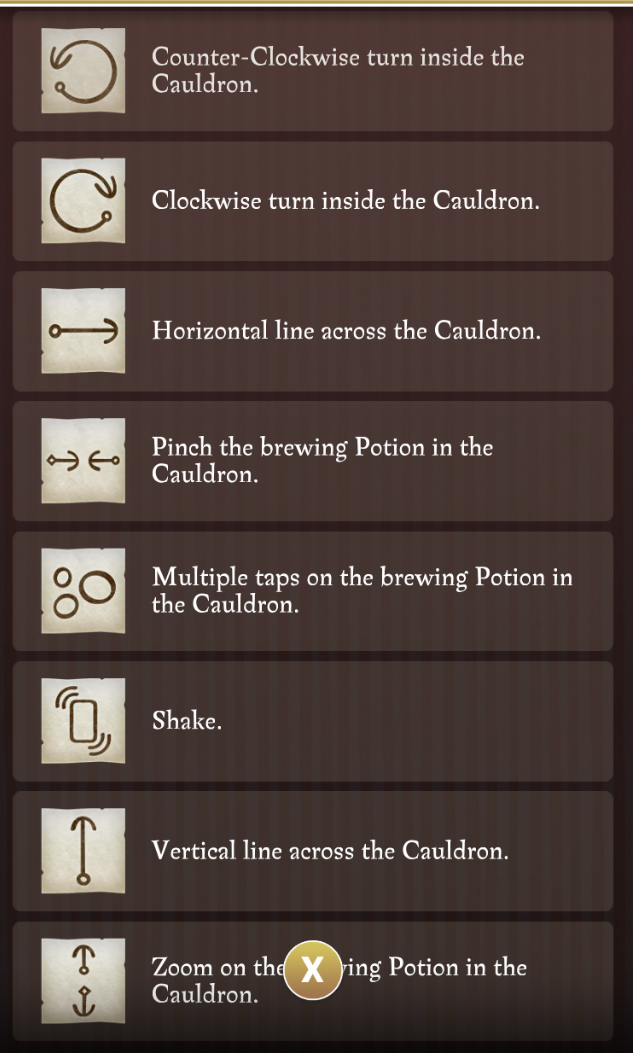 Each potion requires between 3-6 symbols to be traced on the cauldron.
With some of the more advanced potions featuring huge wait times, that 15% reduction provided by these inputs can be significant, especially if you are constantly brewing a large number of potions.
The table below shows each symbol for every potion type.
The guide on the left will help you figure out the exact way to perform the tap or phone motion to complete the gesture.
Here's what to know when using them in potion brewing:
Tap and drag in a counterclockwise circle

Tap and drag in a clockwise circle
Drag a horizontal line left to right across your device
Drag a vertical line top to bottom across your device
Tap two points on the left and right side of the screen and pinch inward (like you were zooming out on a web page)
Tap two points at the center of the screen and pinch outward up and down (like you were zooming in on a web page)
Shake your device back and forth quickly
Rapidly tap three points anywhere on the cauldron
| Potion | Note 1 | Note 2 | Note 3 | Note 4 | Note 5 | Note 6 |
| --- | --- | --- | --- | --- | --- | --- |
| Exstimulo Potion | | | | None | None | None |
| Strong Exstimulo Potion | | | | | None | None |
| Potent Exstimulo Potion | | | | | | |
| Baruffio's Brain Elixir | | | | | | |
| Dawdle Draught | | | | | | None |
| Invigoration Draught | | | | | None | None |
| Strong Invigoration Draught | | | | | | |
| Healing Potion | | | | | None | None |
| Wit Sharpening Potion | | | | | None | None |
Keep in mind that these are current and accurate as of the official North American launch; it is quite likely more potions will be added over time or Niantic may change the configurations in the coming months.
If you see any potions we are missing or any outdated info, please leave us a comment so we can get this guide updated!
Need help with the rest of this augmented reality follow-up to Pokemon Go? Check out our other Harry Potter guides below:
About the author