Food is back and better than ever in Yakuza 6, and with the addition of the hunger gauge, Kiryu has become ravenous.
Though you can certainly go through the game eating random foods at nearby restaurants, there are a number of dish combinations at each establishment that grant additional EXP bonuses. It's in your best interest to order these combinations more often than otherwise because of the bonuses they offer, though really there is just too much food to keep Kiryu on a strictly combo-based diet.
This guide will list out all of the available food combinations Kiryu can chow down on in both Kamurocho and Onomichi in a pretty simple fashion. Kamurocho restaurant food combinations are listed first, and Onomichi restaurant combinations are listed after.
Do keep in mind that most of these combinations require a fair amount of stomach space to eat.
Kamurocho
Wild Jackson
Wild Combo: Wild Burger, Wild Fried Chicken
Akaushimaru
Blissfully Drinking Alone: Draft Beer, Beef Plate
Wette Kitchen
Delicious Sides: Onion Ring, Tomato Onion Soup
Quadra Garden
Full of Cake: Cheesecake, Chocolate Cake
Smile Burger
The Standard Smile Set: Smile Friends, Smile Burger, Smile Shake
Healthy Smile: Tuna Burger, Smile Salad
Ikinari Steak
A Solid Lineup: Tenderloin Steak 200g, Salad, Soup
Eating Wild: Wild Hamburg Steak 300g, Wild Steam 300g
Kanrai
A Yakinuki Staple: Salted Tongue, Kalbi, Sirloin
Nothing Grilled at Yakiniku!?: Spicy Beef Soup, Stone-cooked Bibimbap, Kimchi Combo
Bantam
Depth of 30 Years: Hibiki 30 Years Old, The Macallan 30 Years Old, Balantine's 30 Years Old
Sushi Zanmai
Tunalicious: Tuna Zanmai, Special Bluefin Tuna Bowl
Ringer Hut
Veggie Lover: Vegetable Champon, Veggie-filled Soup, Vegetable Saraudon
Gindaco Highball Tavern
This is Gindaco Highball!: The Kaku Highball, Absolutely Tasty Takoyaki
Osaka King
Spicy Combination: Shichuan Dandan Noodles, Mapo Tofu, Shrimp in Chili Sauce
Griddle Trio: Mixed Fried Rice, Original Fried Gyoza, Ramen
M Side Cafe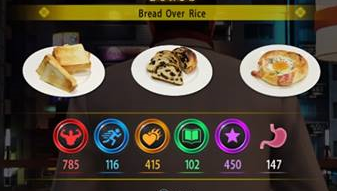 Bread Over Rice: Toast, Original Bread, Special bread
Fuji Soba
Harmony of Rice and Noodles: Katsudon, any soba
Rice Lover: Katsudon, Curry Rice
You can get Katsudon, Curry Rice, and any soba at once to trigger both combos.
Kyushu No. 1 Star
The Holy Trinity: Kyushu Tonkatsu Ramen, Fried Rice, Gyoza
Yoronotaki
I'll Have This to Start!: Draft Beer (Medium), Edamame
I've Gotta Order That!: Hand-selected Vinegar Mackerel, Juicy Mince Cutlet, Smelt Fish with Roe
Sushi Gin
The Ultimate Sushi Gin: Kiwami Chirashi, Kiwami Set, Kiwami Seafood Rice Bowl
Cafe Alps
An Elegant Time at Alps: Special Shortcake or Strawberry Parfait, Sandwich Set
Onomichi
Yonetoku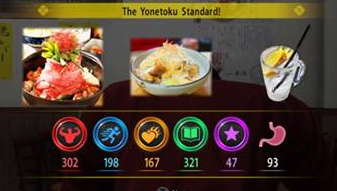 The Yonetoku Standard!: Meat Nabe, Crunchy Shochu Highball, Stew
Oyster Shack
Testing Your Luck: Fisherman Soup, Octopus Sashimi, Squid Sashimi
Jumangoku Chinese Soba:
Large Chashu Onomichi Ramen, Large Onomichi Ramen
La Pente
Aspiring Somelier!?: White Wine, Red Wine
Snack New Gaudi:
Quick & Tasty: Edamame, Pickles
That's it for all the combinations of food you'll come across in Yakuza 6. Keep an eye out for other Yakuza 6 guides here on GameSkinny!
About the author