EVE Online's Secret Sauce: The Evolving Sandbox
They tell us it's a sandbox, but what exactly does that mean?
The nature of EVE Online's single-sharded open-world gameplay environment is a double-edged sword. Having one single universe means that every action has far greater resonance, magnifying successes and mistakes with equal measure. The sheer diversity of gameplay available can also present hurdles.
As EVE Online evolved, an interesting parallel developed between the experience offered to its players and the manner in which CCP Games developed their game. Both had such overwhelming freedom of choice, what should be a good thing could easily lead to confusion, bad decisions and loss of purpose. In both camps, this has happened.
For players, the powerful sandbox tool set and lateral character advancement allow access to a vast amount of EVE Online's content straight away. This is should be a fantastic thing, but to understand and explore every gameplay aspect would take far more time and effort than many players would be prepared to devote. This gave rise to the perpetual in-joke of the infamous Learning Cliff of EVE.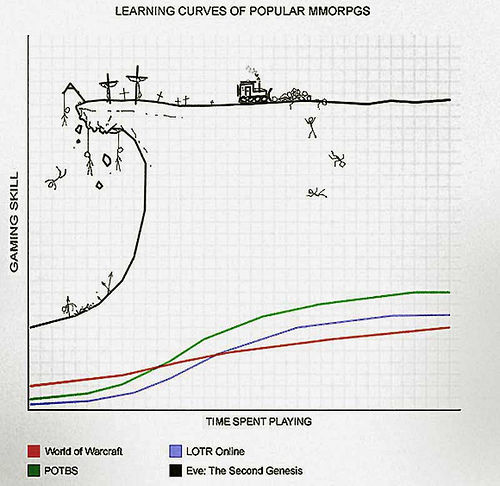 For CCP, curating a single-sharded virtual civilisation which reflects so much about human behaviour and the formation of societies is undoubtedly intoxicating. Over the years, the temptation to provide more and more sandbox elements in an effort to deepen the experience caused their development trajectory to become increasingly demanding, and they lost focus. The era of the "Jesus feature" and the Incarna debacle was the result. Fortunately, the ship was steadied and the sandbox thrives once again.
Building Better Worlds
In an interview with Gamasutra in July 2012, senior producer Jon 'CCP Unifex' Lander stated:
"We've just got to make sure that we don't take our success for granted, which I think is where we ended up as we were going through last year. We could do anything; it didn't matter what it was. It would work. I think everyone in the company has learned some really, really valuable lessons about that. Now, it's very much that we don't take anything for granted."
The art to managing these problems is perhaps CCP Games' final frontier – it is by no means something they have mastered, but they do have a wealth of experience to draw from and what they have done has clearly been enough so far - the continued survival of the company is testament to this.
Lander identified CCP's role as "being relatively hands-off janitors of the virtual world," which gives them some much needed distance to perform their task. Despite the ever-increasing size of the organisation and the player base, they have seen value in maintaining some agility and adaptability, allowing them to respond to changing demands as they evolve.
What has been achieved on EVE Online's Tranquility server cluster is far more than a children's sandbox; it is a beach-head for virtual societies, and petri dish for human behaviour and a fertile bed of creativity which has inspired countless imaginative endeavours.
Maintaining or participating in such a monolithic endeavour will always and unavoidably be a challenge.
CCP's Secret Sauce Article List
Published Aug. 27th 2013