EVE Online's Secret Sauce: Free Expansions
The constant cycle of new, free content is an effective honeytrap.
Ten years ago, when EVE Online was first released, the popular payment method for MMOs was by monthly subscription. Almost every MMO used it and EVE Online was no exception. But for most video game enthusiasts, interest in a single game is not a constant and it becomes harder to justify the monthly expenditure as interest wanes.
The big challenge for any MMO developer dependent on regular subscriptions was to keep the subscriber interested. CCP Games' successful strategy is comprised of many commonly used marketing tactics, but there are key components which were more unique to EVE Online.
The policy of delivering expansions twice a year at no additional cost to the subscriber has played a large part in the EVE Online success story. It is an intoxicating lure that works on many levels; each expansion would offer something fresh to entice new subscribers, they pique the curiosity of lapsed subscribers and would define a discrete calendar period reinvigorating invested player interest, keeping them hanging on to see what's next.
There are few things that work better to keep a flagging subscriber hanging on for just one more month, or a lapsed customer to check back in, than to see a wealth of free new content cascading onto the hard drive. That desire to be the first in line and to not miss out on a new opportunity ensures subscriber numbers spike after the release of each expansion.
Blogger and CSM player representative Ripard Teg regularly examines subscriber behaviours to gauge the reception and success of each expansion based on subscription increases and retention.
His figures show that subscriber rates almost always increase for the first month, with more variable subscriber behaviour thereafter. Proof that regular content – even if poorly received - brings players back. Of course keeping them there is a whole different ball game.
The composition and delivery of these expansions has evolved over the years, but the benefits remain the same; they serve as a shot in the arm and an incentive which keeps the EVE Universe turning.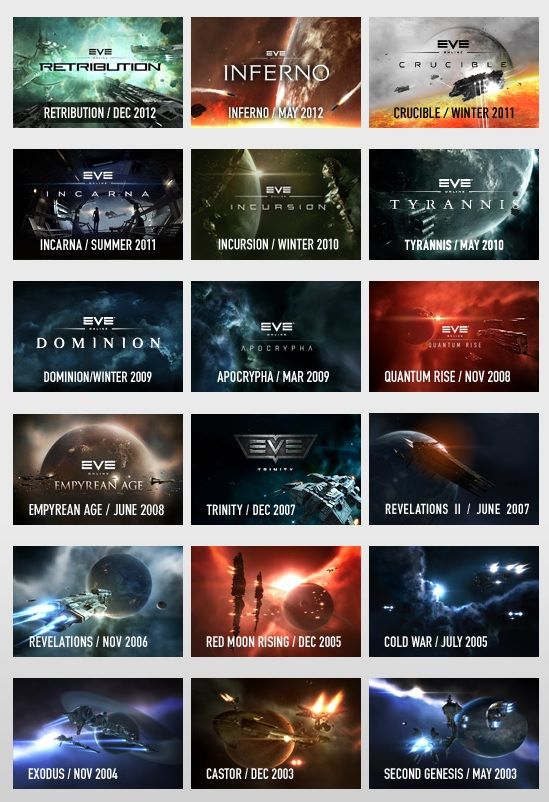 CCP's Secret Sauce Article List
Published Aug. 27th 2013