Zenimax Files For Trademark on "Void Engine"
Zenimax Media Inc. has placed a trademark for a new "Void Engine" that suggest that the company has developed a new game engine.
As the next-gen consoles prepare for launch, Zenimax Media Inc. has recently filed a trademark application for "Void Engine powered by Id Tech." This news has raised speculation that Zenimax has built an all-new gaming engine, but it is unclear whether the engine is intended for the PS4 or the Xbox One.
id Tech is the name of the series of game engines developed by Zenimax-owned id Software. The latest release was the id Tech 5 that is slated to be used in next-generation games such as Wolfenstein: The New Order, The Evil Within and Doom 4.
Zenimax Media Inc. is the parent company of Bethesda Game Studios, the game company best known for The Elder Scrolls and Fallout 3. This news should be particularly exciting to Fallout fans, as Fallout 4 is rumored to be in development, with Boston as the main setting.
I wrote about my love for Fallout in one of my articles a while back, so the news of a new game engine brings a smile to my face. As much as I love Fallout, I had problems with Fallout 3 and Fallout: New Vegas freezing or glitching while I was playing so maybe a new game engine will help sort out the problems.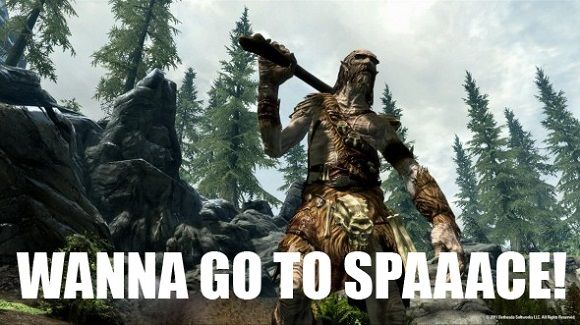 If you've played Skyrim then you know exactly what this Giant is insinuating...
Funnily enough, some similar issues exist with The Elder Scrolls: Skyrim, which is developed by the same company. I included Skyrim in my article about games that I still have not finished due to the sheer size of the game, and the fact that I continually get side-tracked during quests, etc. However, there are plenty of examples of Skyrim having crazy (if not funny) glitches as well as some annoying game crashes or freezes.
The trademark application that was filed on November 8th pertains to "software game engine used to design and develop computer games." A Bethesda representative told Gamespot that, "we don't really comment on trademark filings."
Unfortunately, there is no official word yet on whether this new game engine will be compatible with the PS4 and Xbox One. With any luck, Zenimax or Bethesda will release information pertaining to the Void Engine and possible reveal the intent for the engine as well.
Is anyone else excited about the Void Engine Powered by id Tech like I am? Personally, the thought of a new Fallout or The Elder Scrolls on a next-gen console sounds fantastic, and I cannot wait to hear more.
Let me know what you think in the comments below!
Published Nov. 14th 2013