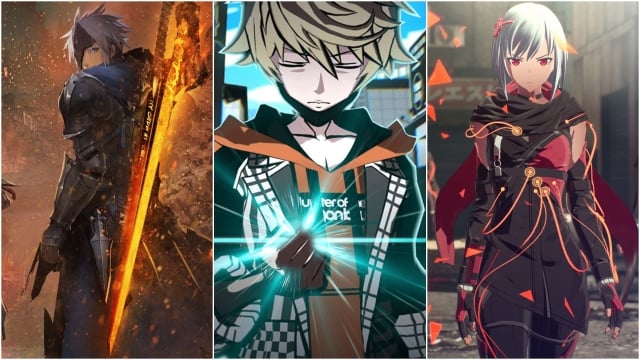 We just recently worked up a list focused on the upcoming turn-based RPGs that you should be on the lookout for in 2021, including games like the just-released Bravely Default 2, Loop Hero, and Darkest Dungeon 2. It's only right that we do the same for action RPGs as well.
2020 gave us memorable action-oriented titles such as Nioh 2, Genshin Impact, and Final Fantasy 7 Remake. This year is looking like it will provide more than a few notable releases too.
If you prefer more fast-paced combat in your RPGs, this is the list for you. Here are 14 action RPGs that you should definitely have on your radar in 2021.
---
Tales of Arise
Platforms: PC, PS4, Xbox One
Release Date: TBD 2021
More than a few games set for release in 2020 were delayed to 2021 (or further) due to working conditions in the COVID-19 pandemic. Tales of Arise is one of those games. It was originally set for an "early 2020" release window, but now, it's slated for launch sometime this year.
Tales of Arise is the 17th mainline entry in the long-running series, and the last game, Tales of Berseria, came out in early 2017 for the PS4 and PC in the West (it released in 2016 in Japan).
For the first time in ages, a Tales game is being made without using the series' usual in-house engine used for previous releases, such as Berseria and Zestria. Sporting a brand-new Unreal Engine 4 makeover and a tweaked battle system, Arise looks to shake things up for Tales fans in more ways than one.
---
Monster Hunter Rise
Platforms: Switch, PC
Release Date: March 26, 2021 (Switch), TBD 2022 (PC)
Monster Hunter Rise is Capcom's first follow-up to the ultra-successful Monster Hunter: World. This is another storied RPG series that can easily fill the action RPG void in your life with hundreds of hours of gameplay. Launching in just over a month on March 26 for the Nintendo Switch, Monster Hunter Rise takes its name literally, featuring more verticality than previous installments.
According to recent reports, it will release on PC sometime in 2022. There's no firm release date just yet, but producer Ryozo Tsujimoto said it's definitely happening.
If you didn't get a chance to try the game's demo earlier this year, you should know that Rise a new adventure that features four-player co-op, new locations, improved traversal, and of course, new monsters. You can read more about it over here on our game page.
---
Outriders
Platforms: PC, PS4, PS5, Xbox One, Xbox Series X|S, Stadia
Release Date: April 1, 2021
Outriders is a third-person story-driven co-op RPG looter-shooter (a lot of qualifiers, I know) that takes place on the dangerous planet of Enoch. It's post-apocalyptic through and through, underpinned by a dark, sometimes morbid narrative.
Leading up to release, one of the game's most appealing features is crossplay between all platforms and drop-in/drop-out co-op throughout its entire story. You can journey across this dangerous alien world with friends, regardless of their respective setups or in-game progression.
It's similar in nature to other looter-shooters like Destiny and The Division, but it's been made clear that Outriders won't follow the games-as-a-service model. Developer People Can Fly and publisher Square Enix have said the entire Outriders experience will be in a single package at launch.
There is beta/demo out now on all platforms, and it will remain live even after the game launches on April 1. That gives those interested in checking it out plenty of time to do so.
---
Gotham Knights
Platforms: PC, PS4, PS5, Xbox One, Xbox Series X|S
Release Date: 2021
If shooting and looting don't scratch your co-op action RPG itch, then maybe taking down criminals in Gotham City will. Gotham Knights is basically what you get when Batman is nowhere to be found and crime runs amok in DC's darkest city. Batgirl, Knightwing, Robin, and Red Hood are filling in for him, and from the looks of it, their plates are full.
However, despite having four playable characters to choose from, Gotham Knights only allows for two-player co-op, as seen in the first gameplay reveal for the game. That being said, a co-op game set in DC's famous city should still be an experience that you won't want to miss out on, and like Outriders, it's drop-in/drop-out, allowing players to team up anywhere, anytime.
---
SCARLET NEXUS
Platforms: PC, PS4, PS5, Xbox One, Xbox Series X|S
Release Date: Summer 2021
In SCARLET NEXUS, players will jump into a world where humans have gained extra-sensory powers. And of course, with more powers comes more problems. As if right on cue, aggressive mutants with a thirst for human brains start falling from the sky. These mutants, known as Others, are the main threats in the world of SCARLET NEXUS.
To piece together the game's whole story, players will take on two paths from two different characters. One is the tale of new recruit Yuito Sumeragi, and the other is the tale of the prestigious Kasane Randall. How their stories intertwine remains unknown, but there will be plenty of action along the way.
---
Vampire: The Masquerade - Bloodlines 2
Platforms: PC, PS4, PS5, Xbox One, Xbox Series X|S
Release Date: Beyond 2022
If you're not one for linear tales and want a bit more choice in your action RPGs, Vampire: The Masquerade — Bloodlines 2 is one of the games that you should be looking forward to the most.
You begin the game as a human, before getting attacked during a vampiric Mass Embrace in the city of Seattle. From then on, the discipline you choose, faction you align with, and clan you join will shape your narrative as a newly born vampire.
As the sequel to the longstanding cult-classic Vampire: The Masquerade — Bloodlines, there's a lot to live up to. Though it's disappointing for fans, Bloodlines 2 has been indefinitely delayed as publisher Paradox Interactive looks for a new developer. Hopefully, we'll learn more before the end of the year.
---
Biomutant
Platforms: PC, PS4, Xbox One
Release Date: May 25, 2021
Jumping from vampires to varmints, the next game you should keep an eye on in 2021 is Biomutant, a post-apocalyptic open-world RPG that somehow manages to mix shooting, kung fu, and tiny creatures into what looks to be a unique ARPG experience.
You'll dive deep into systems involving crafting, customization, and mutant powers as you're tasked with uniting the game's many divided Tribes. Of course, you're also tasked with saving the New World from a plague that is slowly killing the Tree of Life, a task no good RPG would leave out.
---
Dying Light 2
Platforms: PC, PS4, PS5, Xbox One, Xbox Series X|S
Release Date: 2021
Dying Light 2 is another post-apocalyptic action RPG that should be on everyone's radars this year. Like so many other titles, this is another game that was delayed indefinitely in early 2020. Since that announcement, we've heard very little about how development's going, but hopefully, it will be ready for release before 2021 comes to a close.
Combining survival and role-playing elements, Dying Light 2 is much like its predecessor and is played from the first-person perspective. Set in a new setting, but one that's still post-apocalyptic, Dying Light 2 follows a new protagonist 15 years after the outbreak of the virus. Your agility and talent will help you survive, but it's your decisions that will determine the outcome of your story.
---
Rune Factory 5
Platforms: Switch
Release Date: 2021
In a slight change of pace from Dying Light, Rune Factory 5 is a vibrant RPG sim with a bit of action thrown in for good measure. After suffering from memory loss (because no farm-sim game with action elements would be complete without it), you end up in a small town where your story begins.
Since Rune Factory is first and foremost a simulation game, a lot of your time will be spent farming, fishing, taming creatures, building relationships, and more.
But outside of the town, there's plenty of action to be had as you become a member of a band of peacekeeping rangers. There's plenty to do, whether you choose to live a domestic life, a dangerous one, or both in this upcoming Switch exclusive.
---
NEO: The World Ends with You
Platforms: PS4, Switch
Release Date: Summer 2021
The World Ends With You released all the way back in 2007 for the DS and mobile iOS and Android devices. The game was re-released in 2018 for the Nintendo Switch, but now, 14 years after the cult hit first released, a true sequel is finally on its way.
NEO: The World Ends With You follows four new protagonists stuck in a city playing a deadly game. Longtime fans will recognize the premise, visuals, and even the gameplay shown off in the trailer above.
Square Enix hasn't revealed any more details beyond what's in the trailer but is sure to share more soon if the summer release window holds strong.
---
Dungeons & Dragons Dark Alliance
Platforms: PC, PS4, Xbox One, Switch
Release Date: Fall 2021
If you thought that NEO: The World Ends With You was lacking in info, you might not be too pleased here — especially if you're a D&D fan. Unfortunately, not too much is known about Dungeons & Dragons Dark Alliance at this point.
The good news is that it's confirmed to be a four-player co-op action RPG that supports both online and local multiplayer in the lands of Icewind Dale. The bad news is that the information more or less ends there. Regardless, this is still an exciting concept for D&D fans who are looking for their next adventure.
---
Horizon Forbidden West
Platforms: PS4, PS5
Release Date: TBD 2021
Circling back around to post-apocalyptic settings, Horizon Forbidden West is one of the most anticipated RPGs of the year. Period.
Aloy is back, and this time around, she's exploring unseen lands as she attempts to stop a mysterious blight that's ravaging the world. This blight may bring on another extinction, so it's up to her to find out the truth behind it while going up against new machines and hidden foes.
While we don't have a definitive release date other than "sometime in late 2021," a recent Sony Instagram advertisement (courtesy of VGC), points to the game still hitting that vague release window. At least for now.
---
Atomic Heart
Platforms: PC, PS4, Xbox One
Release Date: TBD 2021
Atomic Heart looks like it's set in a post-apocalypse, but it isn't. Instead, it's an ARPG set in an alternate timeline that explores what could have happened in the USSR following World War 2.
Set in 1955, there are plenty of surprising technological advancements, all centered on communism and aggression towards the Western world. You play as a KGB officer who finds himself in the middle of a huge robotic malfunction at "The Facility." Inside, you'll be faced with hostile machines that were originally made to be used in wartime combat.
So much of the game is still shrouded in mystery, and it's been rumored that the game has undergone significant changes since it was first announced in 2018.
---
Magic: Legends
Platforms: PC, PS4, Xbox One
Release Date: TBD 2021
Finally, we have Magic: Legends. In this three-player co-op ARPG, you'll become a Planeswalker in the Magic Multiverse. You'll choose a class, journey out into various locales, and build decks full of spells to use in fast-paced combat.
The deck-building mechanic leads to plenty of loadout combinations in battle, no matter whether you choose to be a Geomancer, Necromancer, Sanctifier, Beast Caller, or Mind Mage. The game's difficulty modifiers and challenges were recently outlined, and there's sure to be more news in the lead-up to the game's release later this year.
---
That's it for our list on the ARPGs to keep an eye on in 2021. There's bound to be something in this list for almost every action RPG fan out there, whether you want to play alone or with friends. Be sure to make note of each game that catches your eye, and let us know if we missed any other releases that you're looking forward to!