December is the month when Mojang will finally release a full Minecraft 1.15 update that adds bees and beehives to the game. This is a big event as it has been a long time since the release of the previous 1.14 update.
In this month's selection of the top Minecraft seeds you will find a whole array of unusual biome spawns, including mushroom islands, mesas, and others. You will also see some of the structures that are usually hidden underground being exposed on the surface, as well as the opposite.
In any case, be sure to check them all and find that one perfect world for your survival game.
---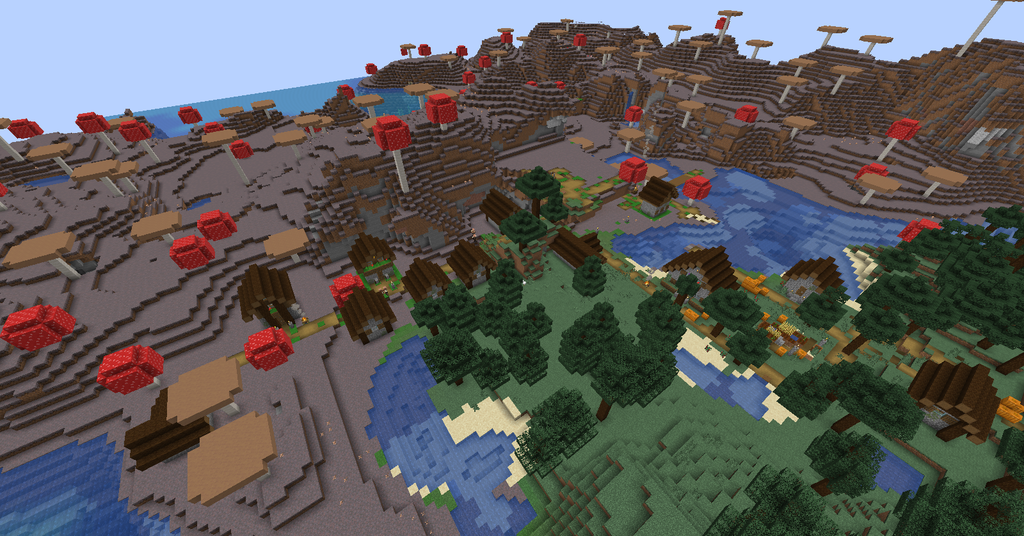 Seed: -7483099968026705512
Coordinates: 100, 250
Biomes: Taiga, Mushroom Island
Spawn in the center of a small taiga forest that has a very rare neighbour: a mushroom island biome. The fun thing about it is that there is a village standing on the border of these two biomes at coordinates -450, 300.
If you go in the opposite direction, you will see two more villages: one standing on savanna biome at coordinates 400, 100, and another one on plains biome at coordinates 50, 650.
---
Seed: -38089157682620
Coordinates: 250, 200
Biomes: Various
Spawn near a village that stands on top of the extreme hills biome overlooking the entire area to the south. Further to the north you will find a few more villages with the following coordinates:
150, 350
800, 700
650, 200
550, -350
At coordinates 850, 150 you will also see a desert temple, which is a great source of materials.
---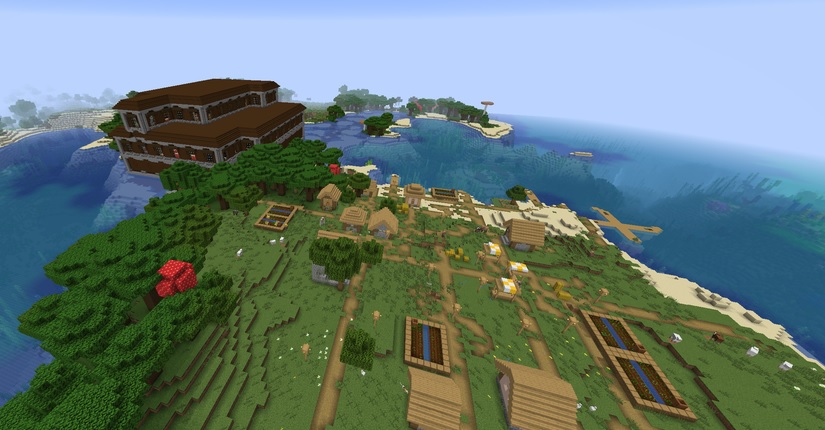 Seed: 960570313
Coordinates: 250, 250
Biomes: Plains, Roofed Forest
Village and woodland mansion at spawn!
There are also coral reefs right next to the village, which is another rare site these days.
When you're done exploring the mansion, follow the trail to coordinates -850, -150 and -1250, -200, where you will see two more villages standing on the opposite sides of a beautiful lake.
---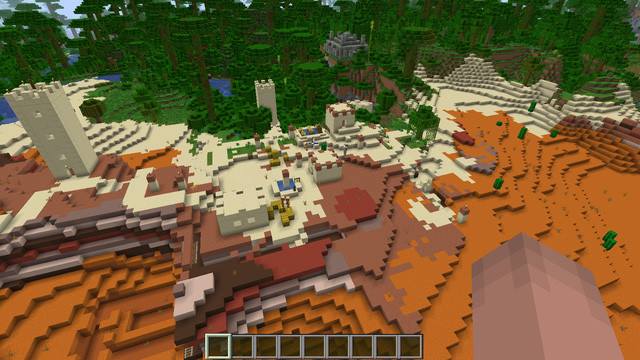 Seed: -3396846385434347605
Coordinates: -50, 250
Biomes: Mesa, Jungle
You will spawn at the intersection of several biomes, such as mesa, desert, jungle, and forest.
At coordinates 1550, 100 you will find a desert village standing next to a jungle pyramid. This is a really rare occasion, when jungle structures spawn so close to the settlements.
At coordinates 1200, 700 you will find another village, but this time near a desert temple.
---
Seed: 922634720
Coordinates: -100, 250
Biomes: Plains, Forest, Extreme Hills
Spawn right next to a plains village that occupies nearby hills with several of its buildings.
East of spawn you will find a patch of taiga forest with another village at coordinates 5, 200.
Lastly, at coordinates 75, -450 and -200, -1200 you will find two huge ravines. The latter one stretches underneath the mountain, creating a sort of deep cave.
---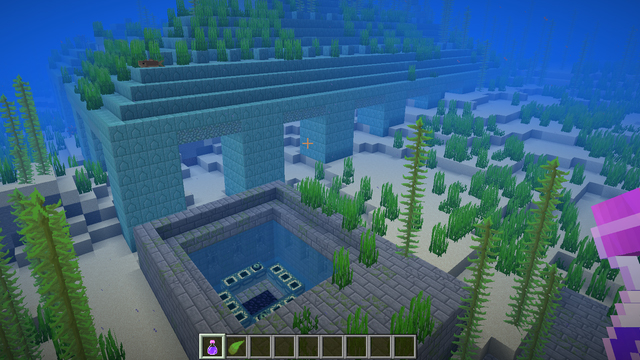 Seed: -456590433279384177
Coordinates: -100, 250
Biomes: Ocean
Spawn on the ocean shore that opens a way to one of the most incredible locations. At coordinates 1670, -1785 you will see an ocean monument with an exposed end portal right on top.
To the east of the monument you will also find an extremely rare mesa island at coordinates 500, -1800.
---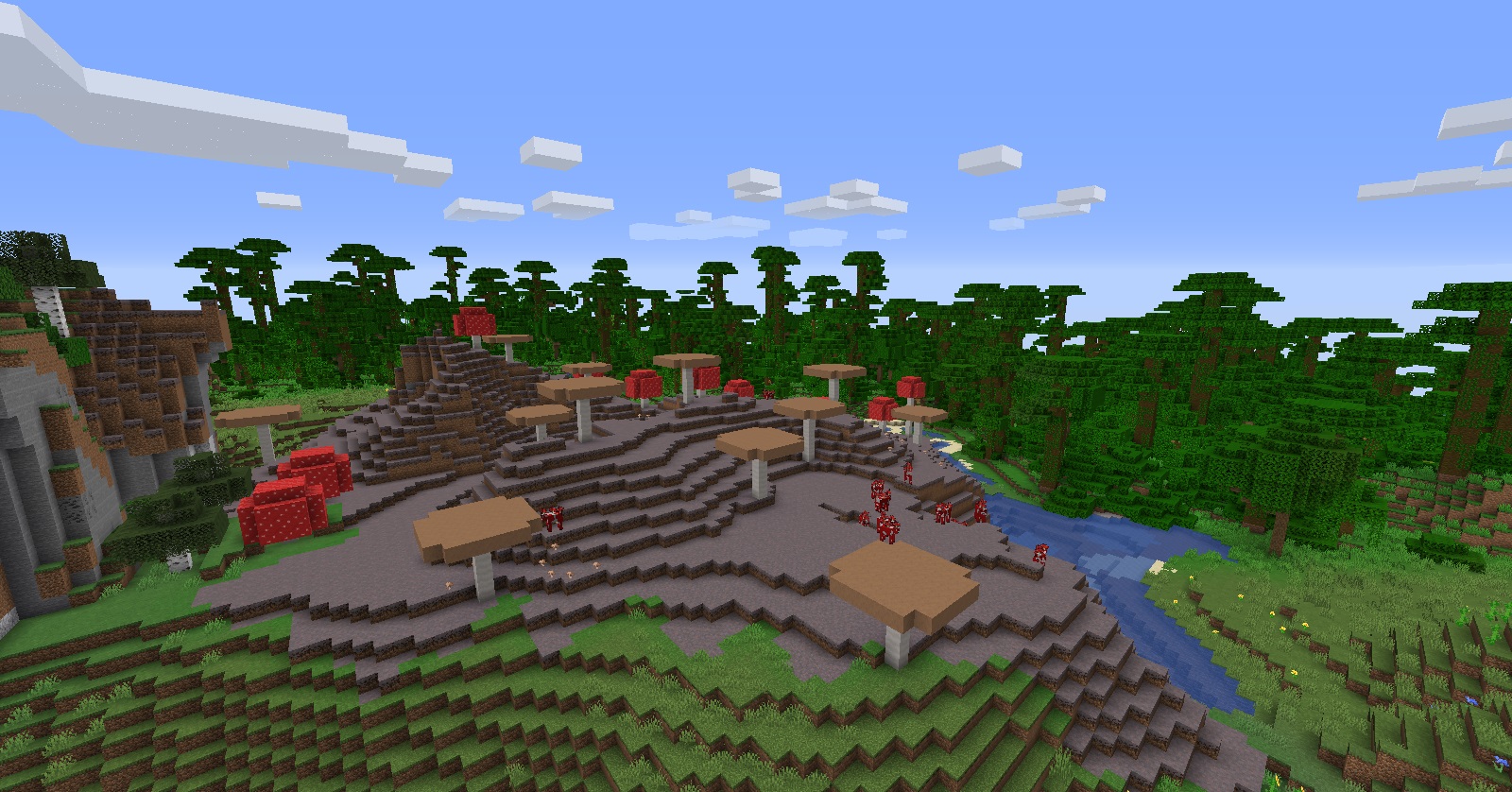 Seed: 5878760421836343227
Coordinates: -50, 200
Biomes: Jungle
Mushroom islands are called islands for a reason - they spawn exclusively in the ocean biomes. But in this Minecraft seed you will spawn on a tiny patch of mushroom island that got landlocked inside a jungle biome.
This is really unique and unusual occurrence. But don't stick too long in there and travel to coordinates 50, -500 for a desert temple just north of the spawn.
---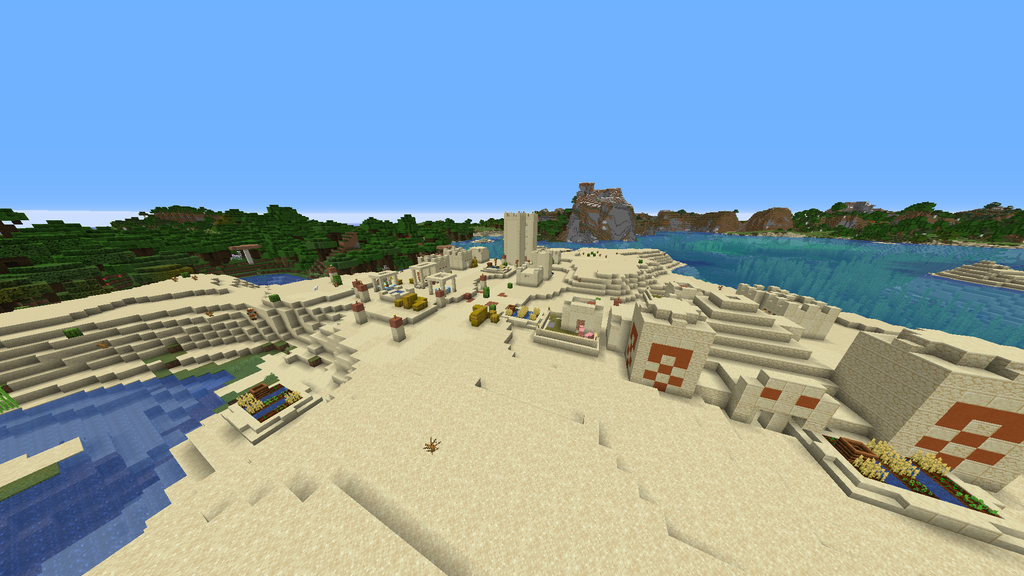 Seed: 8949017629024077829
Coordinates: -200, 250
Biomes: Desert, Forest
You will spawn on a pretty large survival island that consists of plains and taiga biomes.
If you travel to the east, at coordinates 1650, 150 you will find a village standing right next to a desert temple.
The fun thing is that some of the farms and pathways of the village have spawned inside the temple. So check it out for yourself.
---
Seed: -307085870064009
Coordinates: 150, 250
Biomes: Desert, Forest
Spawn on the beach of a desert biome next to a forest. Go up just a bit and at coordinates 500, 250 you'll see a patch of savanna that hosts an abandoned village that is completely covered in cobweb.
Across the forest to the east you'll find another village at coordinates 700, 750. This one is an ordinary plains village that also has a blacksmith.
---
Seed: 289518009334173891
Coordinates: -220, 250
Biomes: Desert, Forest
Spawn in the forest right next to a pillager post standing lonely overseeing the extreme hills to the north.
But, if you head south, you'll find something very unusual - a desert temple that collapses right into the ravine at coordinates -900, 1250.
Near the temple you'll see a desert village that decided to spread its buildings all around the forest at coordinates -50, 1050.
---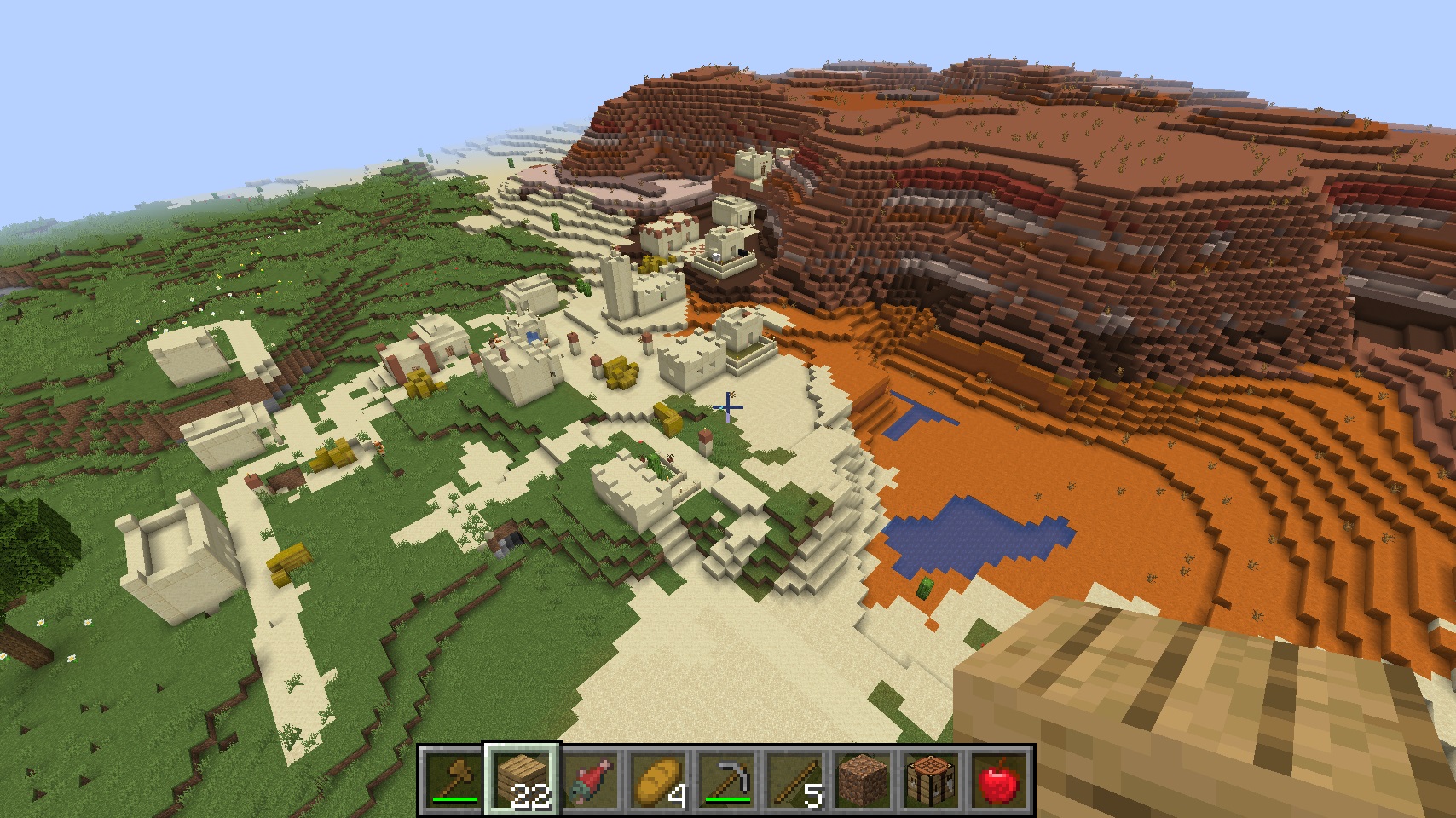 Seed: 1603598272
Coordinates: -250, -100
Biomes: Plains, Desert, Mesa
Spawn near a desert village that occupies a narrow pathway between mesa and plains biomes at coordinates -200, -350.
Not too far away you will also locate a desert temple to the north of the spawn at coordinates 300, -700.
Further up north there is a vast desert biome with many more villages and temples. Be sure to check it out, too.
---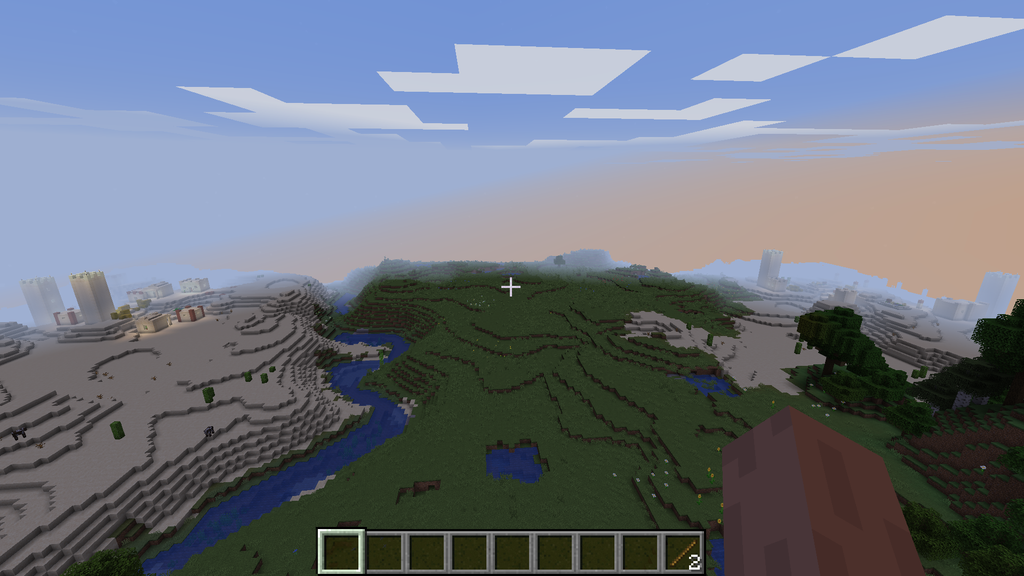 Seed: -2735186061900845112
Coordinates: 50, 250
Biomes: Plains, Desert
You will spawn at the foot of the mountain, but the main point of interest is located up north at coordinates -1050, -1850. There you will find two identical desert villages that are separated by a narrow plains margin.
This Minecraft seed can be used in multiplayer games on any private server for some fun tower defense mini-games.
---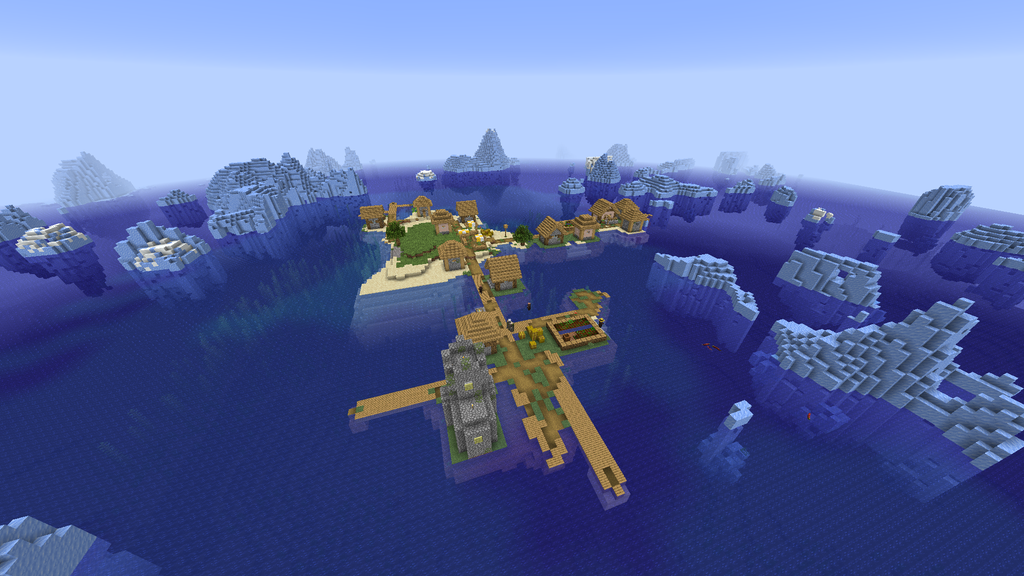 Seed: 2217074882967442941
Coordinates: -250, -50
Biomes: Ocean, Plains
It's getting cold in this Minecraft seed, which is full of icebergs surrounding a little island village at coordinates -200, -250, which is really close to where you spawn.
If you manage to find your way out of this frozen kingdom, then at coordinates 750, 250 you'll find a desert temple full of awesome loot:
1x golden apple
7x emerald
1x golden horse armor
3x gold ingot
---
Seed: -4938907194838976235
Coordinates: 250, 250
Biomes: Ocean, Plains
You will spawn in the middle of the taiga biome not too far away from an ocean shore.
Find the spot at coordinates 300, -400, where you should be able to locate a village with a top-tier shipwreck standing right in the center of it.
This unusual formation looks really fun and definitely something you don't see every day in Minecraft.
---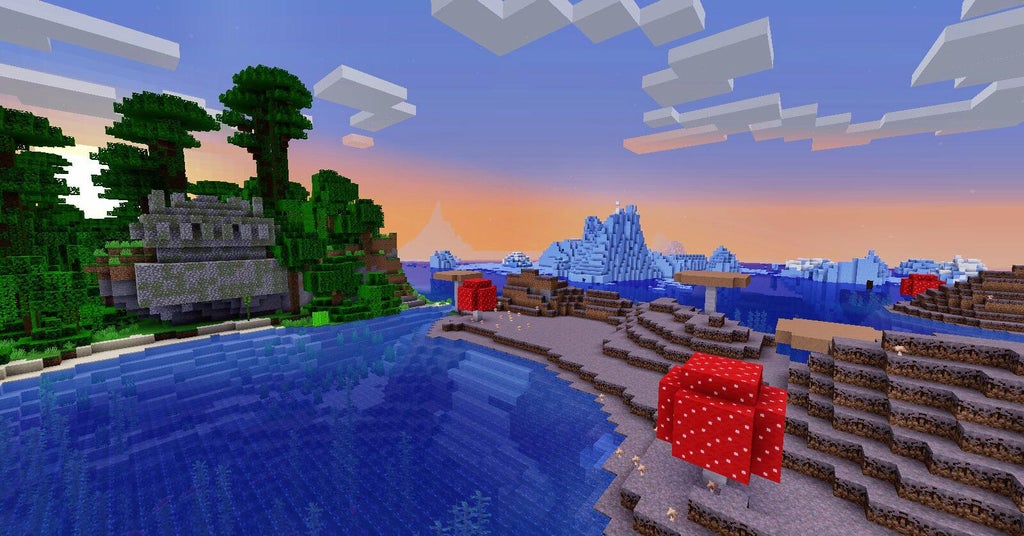 Seed: -5122472569260530564
Coordinates: 100, 250
Biomes: Ocean, Jungle, Mushroom Island
In this seed you will find a true gem of a jungle temple. It is located on the border between the mushroom and jungle islands at coordinates -750, -300. What makes it even more beautiful is the row of icebergs surrounding the two islands.
If you're looking for something genuinely interesting in Minecraft, then this is the seed you need to try out.
---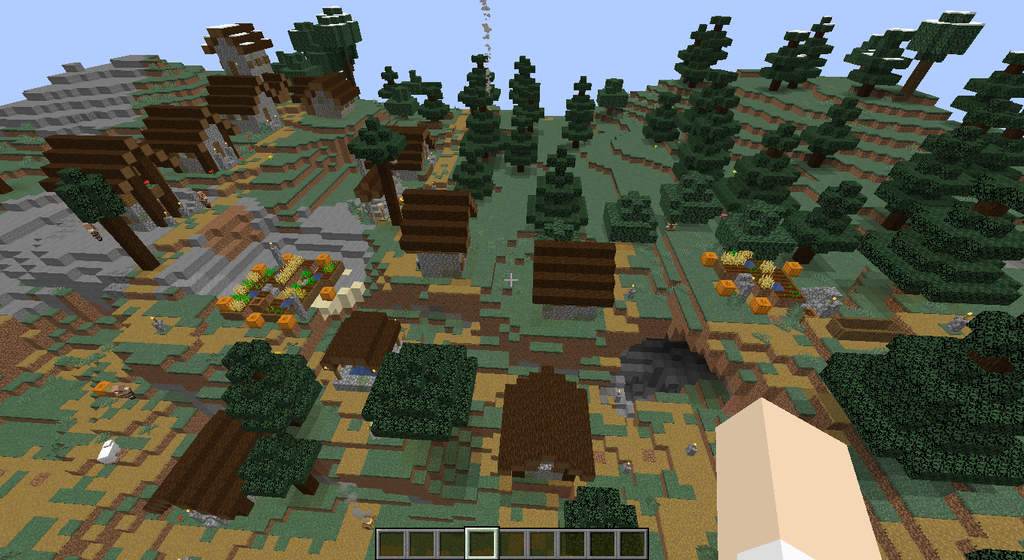 Seed: 2120117689
Coordinates: -100, 250
Biomes: Taiga
Spawn next to a taiga village that stands on top of the hill at coordinates -160, 70. There is a cave system under the village with an open access under one of the buildings.
What's really unusual is that pathway is completely random in this village, having no distinct outlines.
---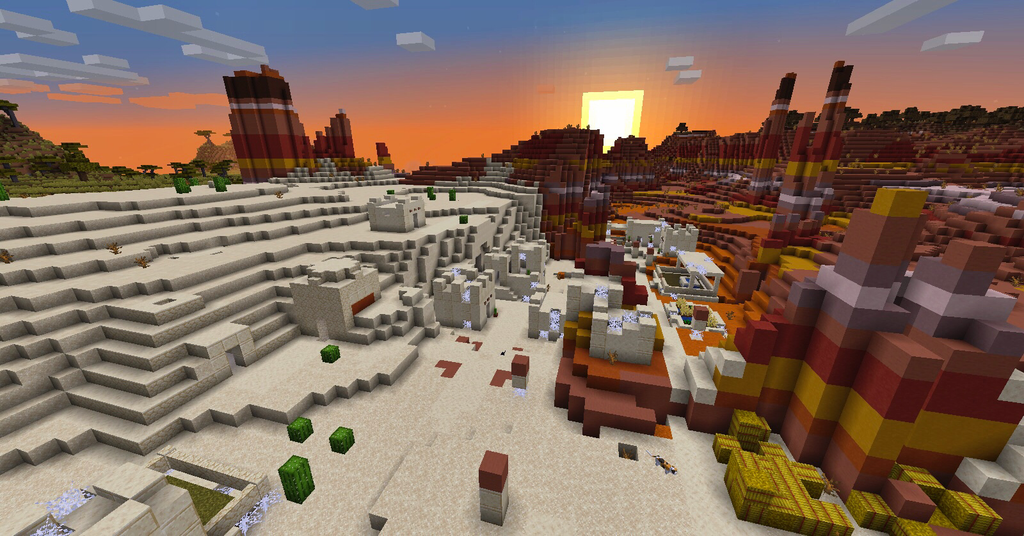 Seed: -5216910048144715161
Coordinates: -100, 250
Biomes: Desert, Mesa
You will spawn near a plains village that stands on the border of savanna and desert biomes.
Then, head up north along the desert biome until you reach an abandoned village that stands at coordinates -450, -900. There is also a half-buried desert temple inside the village, which is not corrupted by the cobwebs yet.
---
Seed: 6310120282261823030
Coordinates: 50, 50
Biomes: Beach, Ocean
Spawn on the tiny survival island that has a deep cave carved in its body. This island stands between two of the rarest biomes in the game - the mushroom islands. You can find both at coordinates -150, 200 and 300, -250.
There is also a swampland formation in the ocean close by, which is just as unusual. Go to coordinates 150, 200, if you wish to explore it, too.
---
Seed: 607597581600554389
Coordinates: -150, 250
Biomes: Ice Plains
Right at spawn you will see a nice plains village surrounded by mountains and fields of flowers.
Near the spawn you will find an igloo resting in the cold taiga at coordinates -420, 20. It has a basement with a treasure chest that holds a golden apple.
After that go to coordinates -1200, 500 for a double snow village, one of which is a zombie village, which is really cool and rare.
---
Seed: 723797117717694314
Coordinates: -100, 50
Biomes: Ocean
Spawn on a survival island with a shipwreck nearby. Then, swim straight in the eastern direction, and at coordinates 1150, 10 you will see a real Minecraft Venice - a massive village on water with 14 buildings and three farms.
If you take a closer look, you will also notice an ocean monument right underneath it.
---
For more Minecraft seeds, check out the list below: