Having released only about two weeks ago, Dragon Ball FighterZ has already become a massive success in the fighting game community and even secured a spot at Evo 2018! Since the day of launch, modders have been busy at work trying to put together mod packs to help change the way the game looks, sounds, and feels.
I've spent hours testing out dozens of these mods. Some are good, and others are very, very bad. If you're looking for a list of the best and most complete Dragon Ball FighterZ mods to date, I've got you covered.
SSGSS Vegeta
Super Saiyan God Super Saiyan, more commonly known as Super Saiyan Blue, is one of the most visually pleasing Saiyan forms in all of Dragon Ball.
This mod brings the SSGSS form of Vegeta to Dragon Ball FighterZ. In its latest version, 2.2, the mod had a significant update that added color to SSGSS Vegeta's aura and particles. A lot of these mods are released unfinished (including this one), but this is one of the few Vegeta mods that comes with updated auras.
SSGSS Vegeta is unlocked in Dragon Ball FighterZ organically by earning an A in the Hyperbolic Time Chamber Course (Hard) in Arcade Mode. This course is hidden until you beat the standard Hyperbolic Time Chamber Course. A lot of people are saying this mod does a better job of portraying SSGSS Vegeta to Dragon Ball Super, in terms of hair and costume, than Dragon Ball FighterZ itself does.
Download the SSGSS Vegeta mod for Dragon Ball FighterZ here.
Gohan Blanco (White Gohan)
Gohan Blanco is a popular meme in Dragon Ball culture. Often referred to as "Godhan" due to the white hair, Gohan unlocked his highest potential in the 88th episode of Dragon Ball Super. It was one of the most anticipated moments for fans of the series.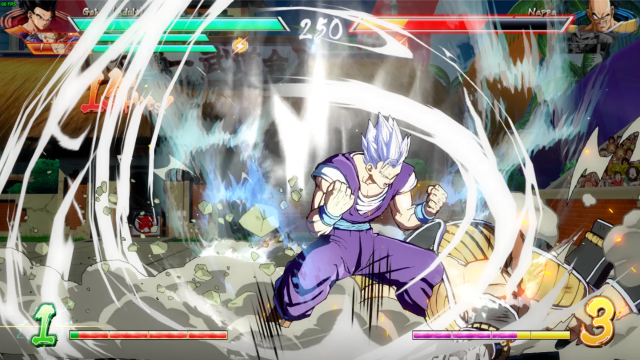 This mod is very complete, offering a Blanco form for all 12 of Gohan's skins in Dragon Ball FighterZ. There's even a Blanco form for Gohan's clone. The author of the mod put a lot of attention to detail into these reskins, and it's one of my favorite mods so far.
Download the Gohan Blanco mod for Dragon Ball FighterZ here.
Uganda Knuckles
Clearly a more fun and less serious mod of the bunch, Uganda Knuckles jumps from VRChat to Dragon Ball FighterZ in this modded skin for Gohan.
The author of this mod confesses that the model import for Uganda Knuckles isn't his best work. With the rising popularity of the mod, that's being worked on as we speak. The mod is still completely functional in its current state, and maybe even the "trashy" (as they described it) nature of the visuals lends even more to the hilarity of it.
Download the Uganda Knuckles mod for Dragon Ball FighterZ here.
Chrono Trigger Trunks
Old-school Dragon Ball and SNES fans are really going to like this one. It's been in the air for a while now that Trunks vaguely resembles Crono, the main protagonist from what many will say is the best JRPG of all time. The purple hair is the most noticeable difference, and this mod changes that.
This mod adds the option to change Trunk's fourth costume color to resemble a skin with Cronos' hair and costume from the SNES classic Chrono Trigger.
Download the Chrono Trigger Trunks mod for Dragon Ball FighterZ here.
Purple Heart's OST Pack
Unlike the rest of the list, this is one of the earliest and most complete music packs for Dragon Ball FighterZ. This mod will change several themes in the game to popular songs from the Dragon Ball Z and Dragon Ball Super anime series.
Here's just a few of the changes to music in the game:
Main: Cha-La Head-Cha-La
Character Select: Resume (Buu Saga)
Cell Games: Song used during Cell Games (DBZ)
Space: Bardock's theme (DBZ)
Hit: Hit's theme (DBS)
Goku: Super Saiyan theme (used in the Cooler OVA)
Any Dragon Ball Z fans will get a nostalgic kick out of this OST pack. A few of the songs (like the one previewed in the video above) are also fan-made remixes. All of them are really high quality.
Download the Purple Heart's OST Pack mod for Dragon Ball FighterZ here.
—
Installing mods for the PC version of Dragon Ball FighterZ is very simple and usually just requires dragging and dropping an archive (or set of files) into a folder in the game's directory. If you go to the referenced download link for each mod, there are instructions on how to install. If you're having any issues, you can feel free to ask in the comments below, and I'll do my best to help you out.
Check out some of our other Dragon Ball FighterZ content:
About the author