All I Want For Christmas...
My letter to "Gamer Santa"
Dear Gamer Santa,
Hi Santa, it's been a long time. The last time I wrote you a christmas list, my Mom told me all the presents in the back of the trunk I found were from her... not you. It took my mother quite some time to convince me I wasn't getting two Sega Genesis's that year; that she indeed, was Santa Claus. I knew somewhere deep down inside, she was wrong. I write to you now, to let you know what I want for christmas this year and why.
Are you sure this is a wish list?
As you may know, since you watch me all year-long, which is still kinda creepy, I got diagnosed with two herniated discs, two years ago after my second child entered this world, on my birthday none-the-less. Since then I've had issue's with my leg, nerve problems, strength, and range of motion. During that time I acquired a cane, and boy did I become a bitter, bitter person. My doctors explained to me I will be dealing with chronic pain my whole life. It used to bother me that people opened doors for me, I was cranky with strangers and with my family and for no good reason.
This year though, this year has been different, I've changed my attitude, I've started helping my friends more, being more social, and most importantly... spending more time with my family, and being happy to do so.
I've donated to charity this year, given away bags, upon bags of clothes, and even started helping babysit other folks' kids. I've really been a good boy this year. Most important to me though St. Nick, is writing about video games. As a teenager I pursued being a musician and after 15 years of that, I can no longer use a kick pedal. So I have turned to writing, and what's better to write about, than my favorite hobby and industry, video games.
I'll see you on the flip-side
Now fortunately enough GameSkinny saved me from a rough transition of having my own site, to what I thought was a step backwards, in writing for someone else's site. Boy was I wrong. Gameskinny has given me a place to help mold and improve my craft. Even to the point now where a few hundred people read my articles when I post them. It blows my ever-loving mind every time. Gameskinny and it's community has helped change my attitude and given me a sense of self worth on a professional and personal level. I no longer see most of my obstacles as a negative thing, but rather as motivation. Writing has helped me achieve this state of mind.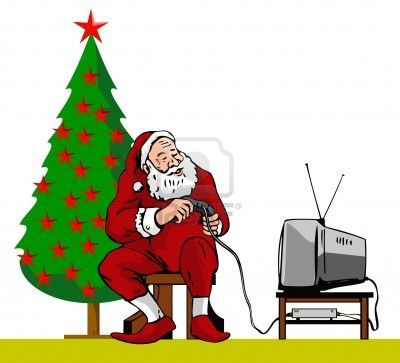 What concerns me, ol' bearded one, is that with the next generation of consoles coming out, I won't possibly be able to keep up with the times. Money is tight around this house as it's very difficult to find work to support the offsprings. Having such a wonderful surprise as a PS4 with all those wonderful indie games lined up would be a dream come true. Even an XboxOne would be quite wonderful, that way the Kinect could help keep an eye on me throughout the year to give you a break Santa (that's a great use of humor).
I have a fear, whether rational or not; that if I don't keep up with the latest and greatest in the industry that maybe I'll lose out on whatever foothold I've gained thus far. This is such a crazy industry that I'm nose diving into, and at the age of 30. It's all been so overwhelming and exciting to meet such great people. And those people all have the same passion and love for gaming as I do. I want to maintain the respect of my peers and experience gaming for the next generation with them.
Merry Christmas, Ho, Ho, Ho, and all that jazz...
I know this may seem a bit sappy of a letter for you Gamer Santa, but this is what I've got. Those are the few good deeds I've done this year. It may not be so much done for others, but the personal growth and transformstion in my attitude is a blessing for those around me (believe me). Those are my reasons why I think I could be lucky enough to win the contest. I feel like this year is the best in a long time. And come christmas time, I hope this will be the icing on the cake.
Thanks G-Santa, hopefully I'll see you online come your off-season. Good luck with those elves, we all know how those elvish unions are.
Much love,
@Coatedpolecat
Published Nov. 27th 2013