One of the most important parts of 7 Days to Die is the PvP multiplayer mode that allows you and your friends to fight against other players in the world infested with zombies. This mode has way more traps and pitfalls than the normal PvE single mode, so it's important to learn a few things beforehand.
There are many dangers in the multiplayer game. For example, if you leave your base unprotected in order to gather some food, it could be easily robbed by other players; if you try to add people who you don't know to your friends list, don't expect them to be 100% loyal; etc.
This guide will give you some of the most important tips on how to manage your survival game in the harsh environments of the PvP mode.
Choose your server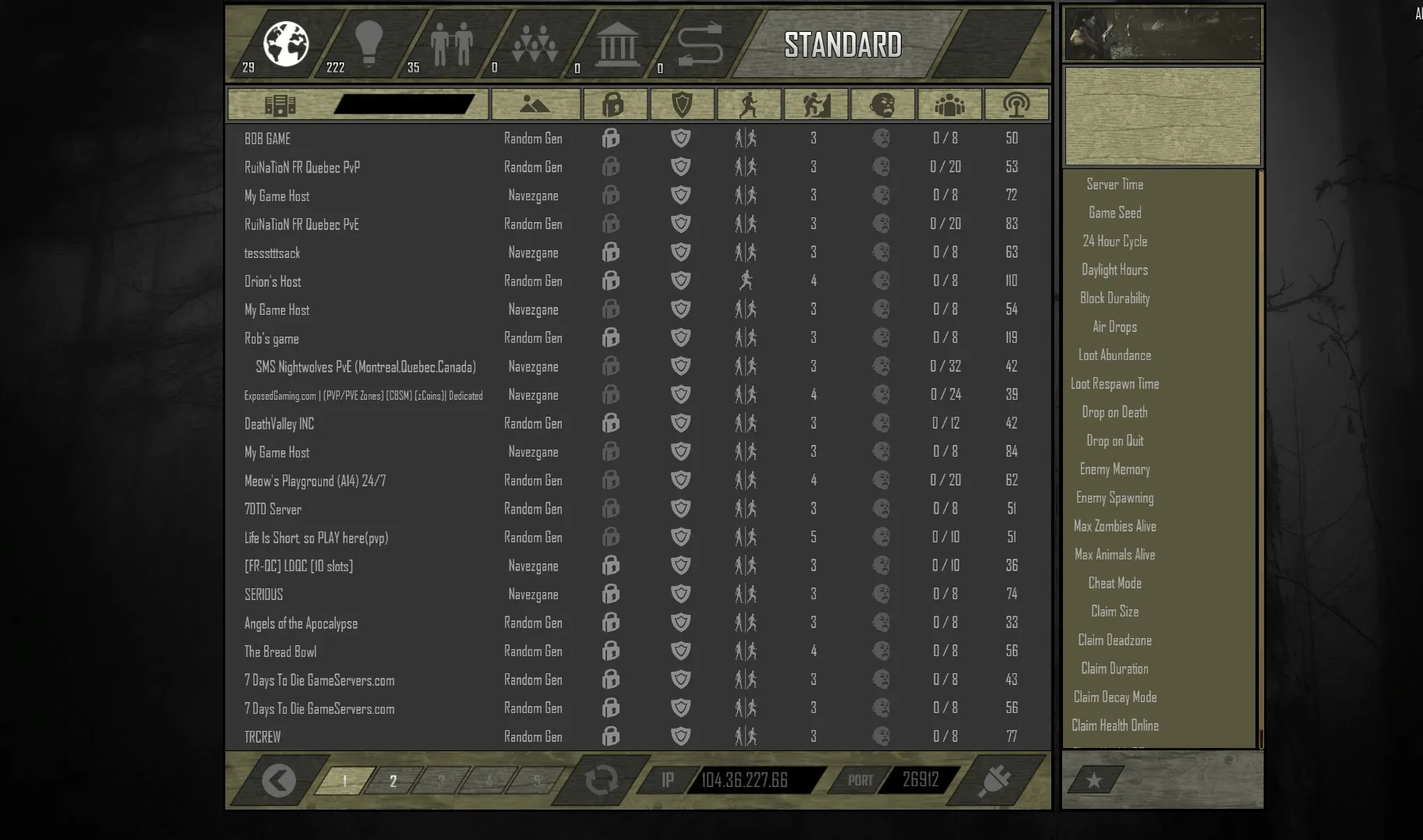 In the very beginning you need to know how to choose the right server. Each server has its own particular settings, so you need to understand what they all mean.
A proper PvP server must have a link to a dedicated group or even a website that supports the given server. This should give you enough information about the popularity of the server, and it should contain the rules and the settings of the game.
Here are some of the most important settings you should be looking for:
Drop on Death — indicates which parts of your inventory you lose permanently after you die.
Claim Deadzone — specifies the distance to your enemy's Land Claim Block.
Claim Duration — indicates how long your own Land Claim Block stays active while you're offline.
Learn the map
Every server has its own randomly generated map. Its boundaries and environments are set up by the owners of the server. So first, you need to talk to the local players and find out everything you can about the map that you've chosen to play on.
Here are a few things to know before starting the PvP game:
Always look for the desert biome at the start of the game. It has many advantages and will give you the best resources for the initial part of the game, such as:

Yucca Fruit and Plant Fibers — your main sources of food.
Yucca Juice — a great alternative to water.
Oil Shale — an excellent fuel for your campfires.
Time from time you can get an Air Drop of supplies that is defined by the settings on the server — so it would be wise to learn this information beforehand, as well — when and how these Air Drops take place.
You should remember that the bigger the map, the lesser chance you will have to find animals and zombies due to a larger number of players.
Make up your own base
Your own base could be anything: an empty building you've found somewhere along the road, a shack that you've built with the simplest tools, or just a hole in the ground that would be large enough to keep your stuff and Forge.
Here are a few mistakes you should avoid when playing on a PvP server:
Never set up your base in towns or other crowded places, it will be easily detected by the enemy players and they will steal everything you have.
You should also avoid the edges of the map, as it will be extremely uncomfortable to cover huge distances. On top of that, some experienced players know this trick too well, so they specifically explore the edges of the map for easy targets.
Try not to farm food too close to your base, as it may help enemies identify your base. Set it up in a different biome instead and use some cover up materials, even something as simple as soil will work.
Never use any sources of light and minimize all sounds that you may produce in your base. If you have a forge, dig up a deep hole in the ground — it will subdue the noises coming from it.
Look for enemy bases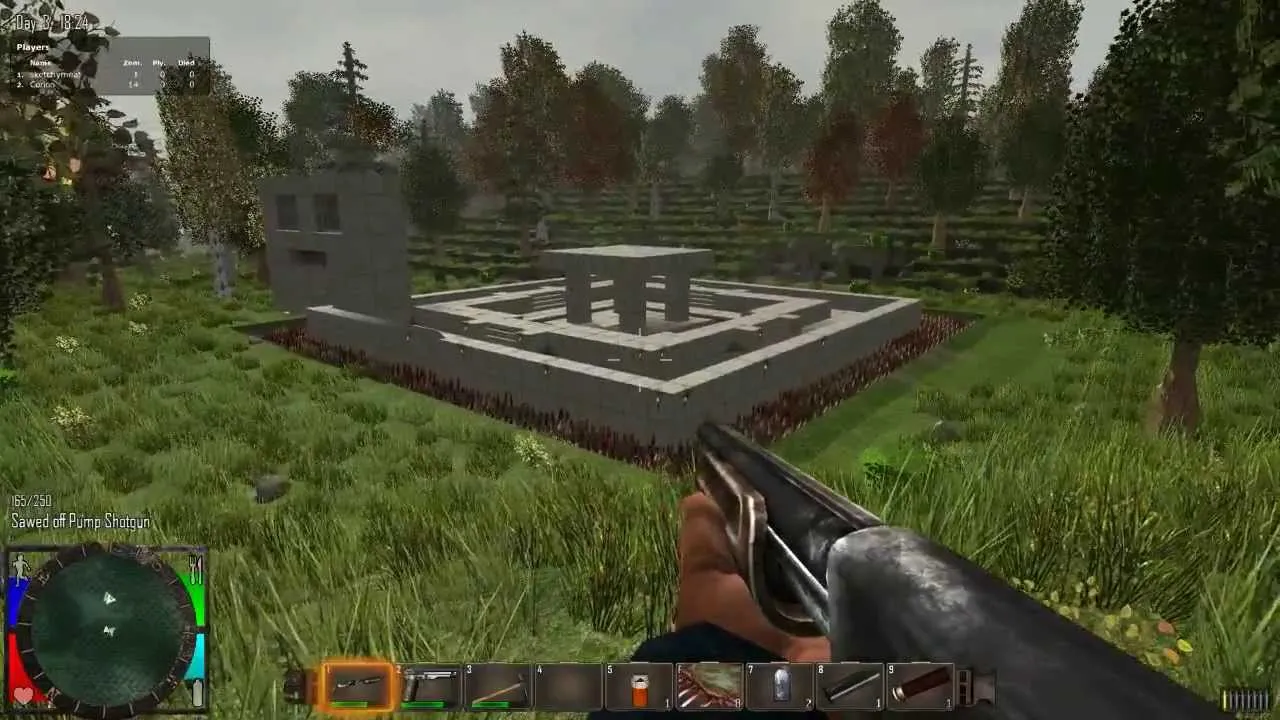 Soon you should be ready to go out and look for some treasure. The best time for doing this is at night. So first, go to Menu > Video Settings > Tone Mapping > Bright. This will make your nighttime adventures more comfortable.
Apart from that you should prepare the following:
Always make sure you have enough melee weapons, guns and ammo to survive any kind of brawl on your way.
Every time you locate an interesting spot on the map always remember to put a marker on it.
If you've found a building with no defenses, but with a player inside, don't do anything and let it be for a few days. It's probably a new player and they won't have much to offer anyway. Let them grow first, and then come back later for a bigger score.
If you want to go back to the place of interest that you've spotted earlier, drop a Bedroll nearby and cover it up.
Deceive your enemies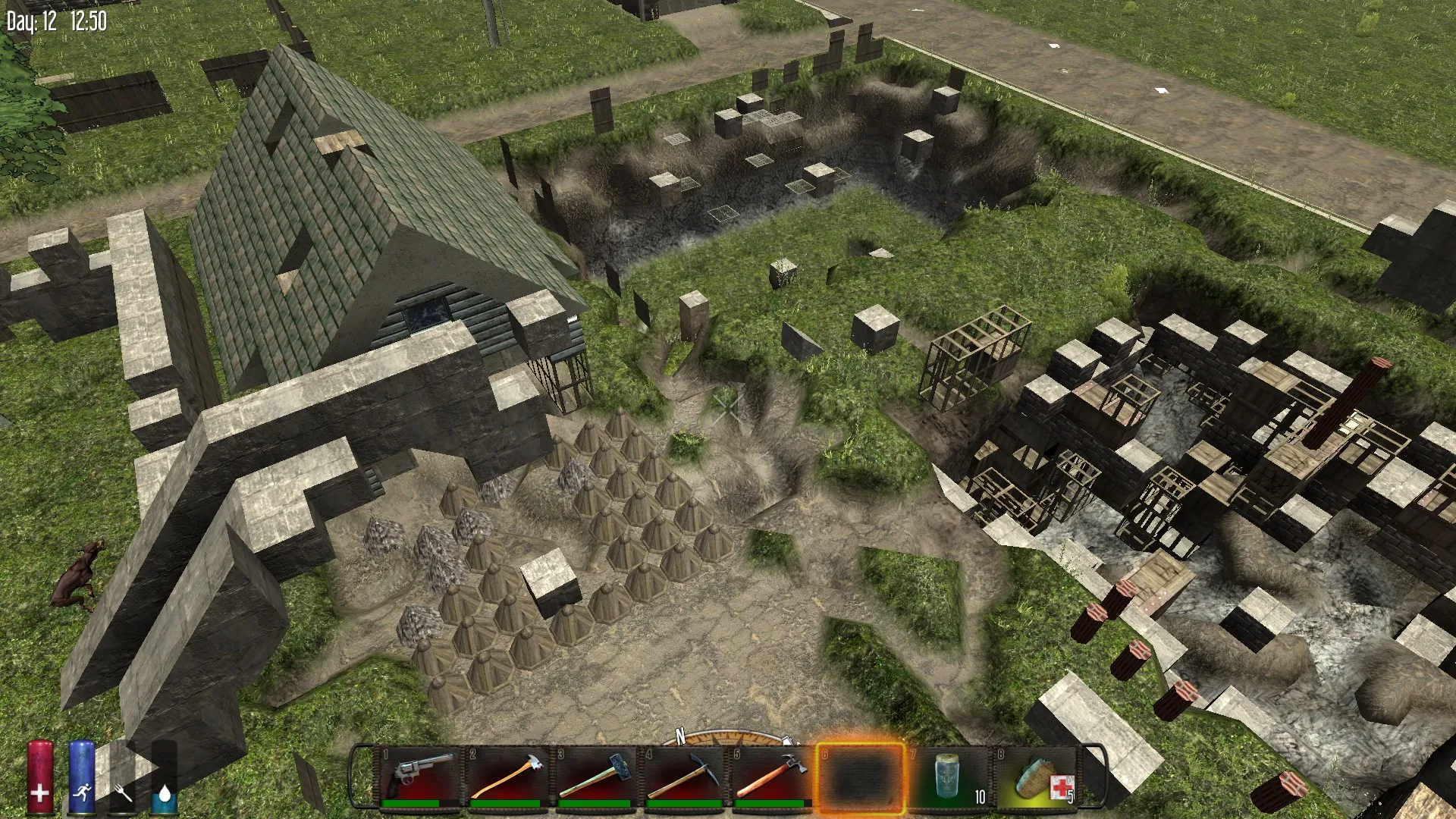 Now, when you have a lot of resources and experience you can start building traps that will protect your base from the enemy attacks.
Here are a few cool tricks you can use in a PvP game:
Build another fake base to cover up the real one. It doesn't have to be something special, but it should look like the beginner's shack with some irrelevant loot lying around. Most players will check it out and avoid coming back here, thus leaving your actual base intact for a long time.
Another great way to deceive your enemies is to build an underground labyrinth that would completely confuse the enemies. They won't be able to find the entrance to your base unless they have too much patience.
Never keep your most precious items in one place. Separate and hide them in many different places. For example, use concrete to cover up the hideout — it'll be easier for you to destroy it later, then to lose it completely to an enemy player.
Dig up many tunnels that lead to dead ends and set up empty crates everywhere. Basically, you should play mindgames with your enemies, and at certain point they will give up on you.
Also, don't neglect typical traps, such as trenches around the base with spikes on the bottom. Since there are still lots of zombies roaming around, it would be a decent protection against them.
Some more general advice to improve your survivability:
Try different servers and see which rules and settings resonate with you the most. Some are more suitable for new players, while others may be too hard to begin with. So pay attention before joining any of them.
Play the game with your headphones on, as they will significantly improve your chance of hearing distant noises.
Try to find or craft a high quality armor. It will protect you from a series of gunshots and may keep you alive long enough for you to be able to escape the danger zone.
If you don't have a Machete, find one as quickly as possible. This is the best melee weapon in the game — it's quiet and very strong.
Don't neglect Air Drops, but be careful when approaching them, as other players may want to compete for them, too.
Beware of the Screamers — these are mobs that react to a campfire light by screaming in a terrible voice, thus attracting hordes of zombies.
Learn to identify traps. Look for textures and patterns on the ground that don't belong there, for example, a piece of unusual biome, which can cover up a dynamite trap or a hole in the ground.
Playing in PvP mode is extremely interesting and the more you play the better you get. Don't be afraid to make mistakes — that's how you learn.
Come back soon for more 7 Days to Die guides at GameSkinny!
About the author