Dreams has been officially released for a little over a week now. With our review of Dreams itself coming up shortly, you might be curious to know what we thought about some of the individual "dreams" that have been cooked up by devotees of developer Media Molecule's new infinitely open-ended toybox.
That said, here are 10 of our favorite dreams so far. You can find these by popping into the DreamSurfing mode and searching for them by name. Or, you can jump into the one you want directly from your browser by following the links below.
Top 10 Dreams to Try First in Dreams
Art's Dream
Created by Media Molecule
Art's Dream is a must-try first experience for every new dreamer.
It's a short two-to-three-hour campaign that showcases everything that Dreams can offer in terms of its engine and toolset capability, but it's extremely well-crafted for being, essentially, "just a tech demo."
If you like platforming, branching dialogue, and action-combat sequences, there's plenty of that here. And it's all done pretty dang well, often to the point of making you forget that it was even created inside of this toolkit.
Art's Dream also has a ton of heart, and we think you'll agree that its imaginative use of visuals and music stand out long after you've rolled the credits.
Pip Gemwalker
Created by ManChickenTurtle and Phreakers
Pip Gemwalker is a fun little puzzle platformer that contains some truly clever level design.
There are seven levels to beat here, each one offering a unique challenge, but once you're finished, you don't have to stop. Creator ManChickenTurtle has left things open so that you (or anybody else) can remix any of the levels in the DreamShaping mode.
Blade Gunner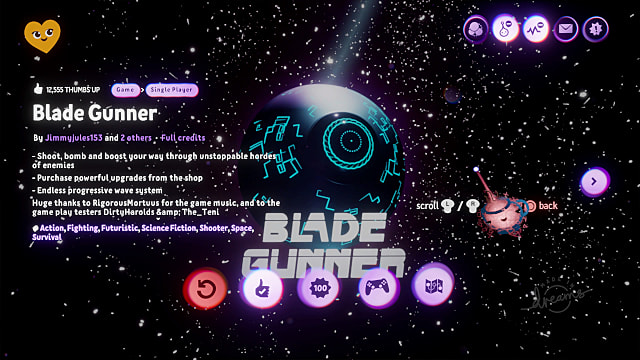 Created by JimmyJules153 and RigorousMortuus
Blade Gunner does a pretty faithful impression of arcade shooter Resogun, but with a refreshing twist!
After each round, you can use earned currency to upgrade your ship in any number of ways, which makes it way more compelling to come back for another round.
GREAT JOB, HUMAN!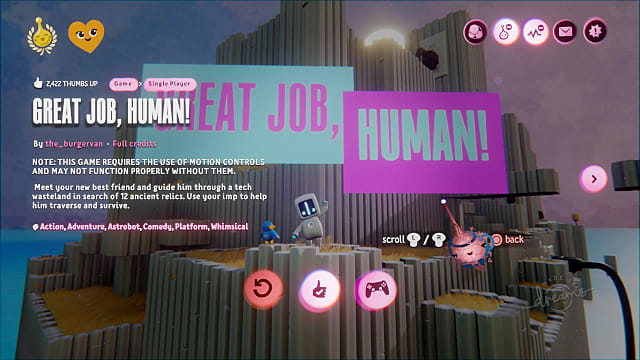 Created by the_burgervan
GREAT JOB, HUMAN! is a puzzle platformer that makes our list for great visuals, fun levels, and character design that pays tribute to the ever-delightful Astro Bot: Rescue Mission.
It also won the Best Sound Design award at the very first annual IMPY Awards, which is kind of a big deal.
Comic Sands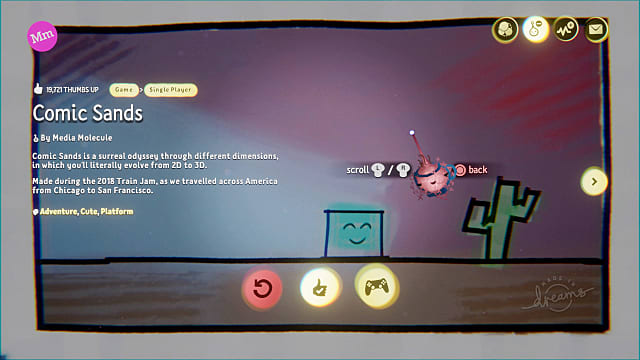 Created by Media Molecule
Here lies Comic Sands. This one-and-a-half minute short is a little different from the rest. Granted, that's because Comic Sands was created on the road (rather, on the train tracks) from Chicago to San Francisco, in under three days.
That isn't to say that its boppy soundtrack, coloring book kitsch, and clever weave-ins of Muppets-inspired 3D characters are anything less than a must-see for fresh dreamers.
It might be short, but Comic Sands is a total delight to the senses that, once again, shows off what's possible within Dreams.
Ommy Kart
Created by ManChickenTurtle
Ommy Kart does a great job of introducing Mario Kart-style combat racing into the fray. Start by choosing one of four characters, then leave the rest of 'em in the dust.
Though Ommy Kart doesn't currently support any multiplayer, the foundation of this racer is already set in stone. A challenging first map (there's only one for now), responsive kart handling, and genuinely fun to use weapons solidify this one in our Top 10.
Mt. Rainier Showcase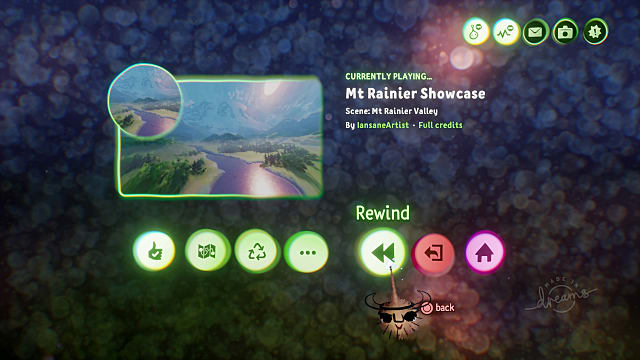 Created by IansaneArtist
Mt. Rainier Showcase isn't a game, rather it's a short film that takes you through the breathtaking scenery of Mt. Rainier and surrounding areas.
Expansive vistas burst with color and detail in this showcase. Meanwhile, added touches (for example, swirling mass of butterflies) make the world feel lived in and real.
The composition looks positively stunning on a modern screen — such as the Samsung Q70R QLED TV — making this one our "eye candy" pick of the top 10.
GALAXY CADET 2020
Created by RbdJellyfish and Phreakerz
Move aside, Alien: Isolation. There's only one stealth horror game you need to play in Dreams, and that's GALAXY CADET 2020.
Sneaking your way through an empty arcade after dark isn't usually all that terrifying, but sneaking your way through an empty arcade that's actually full of killer robots certainly ups the ante a bit. Wait a minute, why does that sound so familiar?
Anyway, GALAXY CADET 2020 has enough sneaking, hiding, and unintentional panic attacks to satisfy those dreamers who like a little spice in their gaming sessions.
Kaleidothing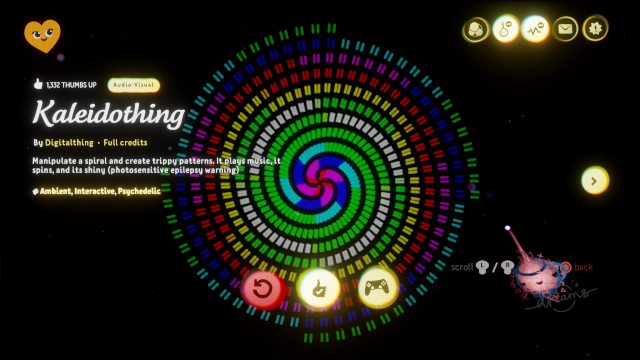 Created by Digitalthing
Kaleidothing is a living kaleidoscope that you can control with the buttons on your DualShock 4 or Move controller(s). It comes with its own soundtrack, and you can even let it run in the background for ambiance. Either way, we think Kaleidothing is a cool and creative little toy.
Wind-Up (Isometric Action)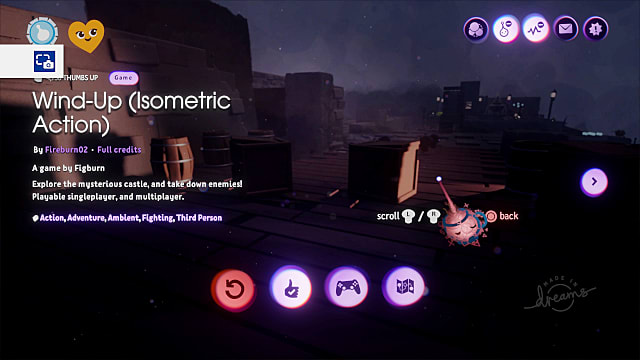 Created by Fireburn02
Wind-Up (Isometric Action) is a… rogue-lite, lite? Anyway it's an impressive, and quite difficult, action RPG that's even supposed to support multiplayer, though we only tried it solo.
As you delve deeper, you earn currency and buy upgrades that make you even more powerful, but what stands out is some very clever writing and storyboarding that can make you forget that you're playing a user-created game in Dreams.
—
That's our list of the Top 10 first dreams to check out in Dreams! If you like what you saw on this list, you can follow my personal collection, called Best First Dreams, which I'll be updating as I continue exploring the Dreamiverse.
If you want to find even more dreams, try the AutoSurf feature, or check out what's going on in the Community Jams and IMPY Awards sections of the Dreamiverse.
Stay tuned to GameSkinny for more Dreams tips and tricks, including a guide on how to get more imps. We've even spent some time to show you how to level up faster, and even how to discover more awesome creations.
About the author