There are 40 legendary weapons in Conan Exiles. They include axes, swords, daggers, spears, and many others. These weapons are highly efficient and have their own specialties.
You can get these weapons only from legendary loot chests, which can be found all over the Exiled Lands. But in order to open them, you need to be at level 60 and have skeleton keys.
If you want to know what legendary weapons are currently available in Conan Exiles, as well as their stats, then follow our guide below.
Legendary Axes
| Title | Damage | Durability | Weight | Perks |
| --- | --- | --- | --- | --- |
| Reaver's Axe | 51 | 1350 | 4.03 | Shieldsmash |
| Strangely Familiar Axe | 53 | 1350 | 4.03 | Shieldsmash, Bonus Grit |
| Axe of the Lion | 53 | 1350 | 4.03 | Shieldsmash, Bonus Strength |
| Battle-axe of the Berserkers | 53 | 1350 | 4.03 | Shieldsmash, Bonus Health |
| Glimmermoon | 56 | 1350 | 4.03 | Shieldsmash |
Legendary Swords
| Title | Damage | Armor Penetration | Durability | Weight | Perks |
| --- | --- | --- | --- | --- | --- |
| Tulwar of Amir Khurum | 48 | 9.9% | 1350 | 3.5 | Cripple |
| Dueling Blade of the Hawk | 50 | 9.45% | 1350 | 3.5 | Cripple, Bonus Agility |
| The Wightblade | 50 | 9.45% | 1350 | 3.5 | Cripple, Bonus Vitality |
| The Bane of Khostral Khel | 50 | 9.45% | 1350 | 3.5 | Cripple, Bonus Strength |
| El's Drinker | 52 | 9% | 1350 | 3.5 | Cripple |
Legendary Greatswords
| Title | Damage | Armor Penetration | Durability | Weight | Perks |
| --- | --- | --- | --- | --- | --- |
| The Watchblade | 60 | 13.5% | 7200 | 5.25 | Cripple |
| The Papyrus Blade | 60 | 14.85% | 1800 | 5.25 | Cripple |
| Jedias Greatsaber | 63 | 14.18% | 1800 | 5.25 | Cripple |
| Baal-pteor's Razor | 63 | 14.18% | 1800 | 5.25 | Cripple, Bonus Encumberance |
| Blade of the Adventurer | 66 | 13.5% | 1800 | 5.25 | Cripple |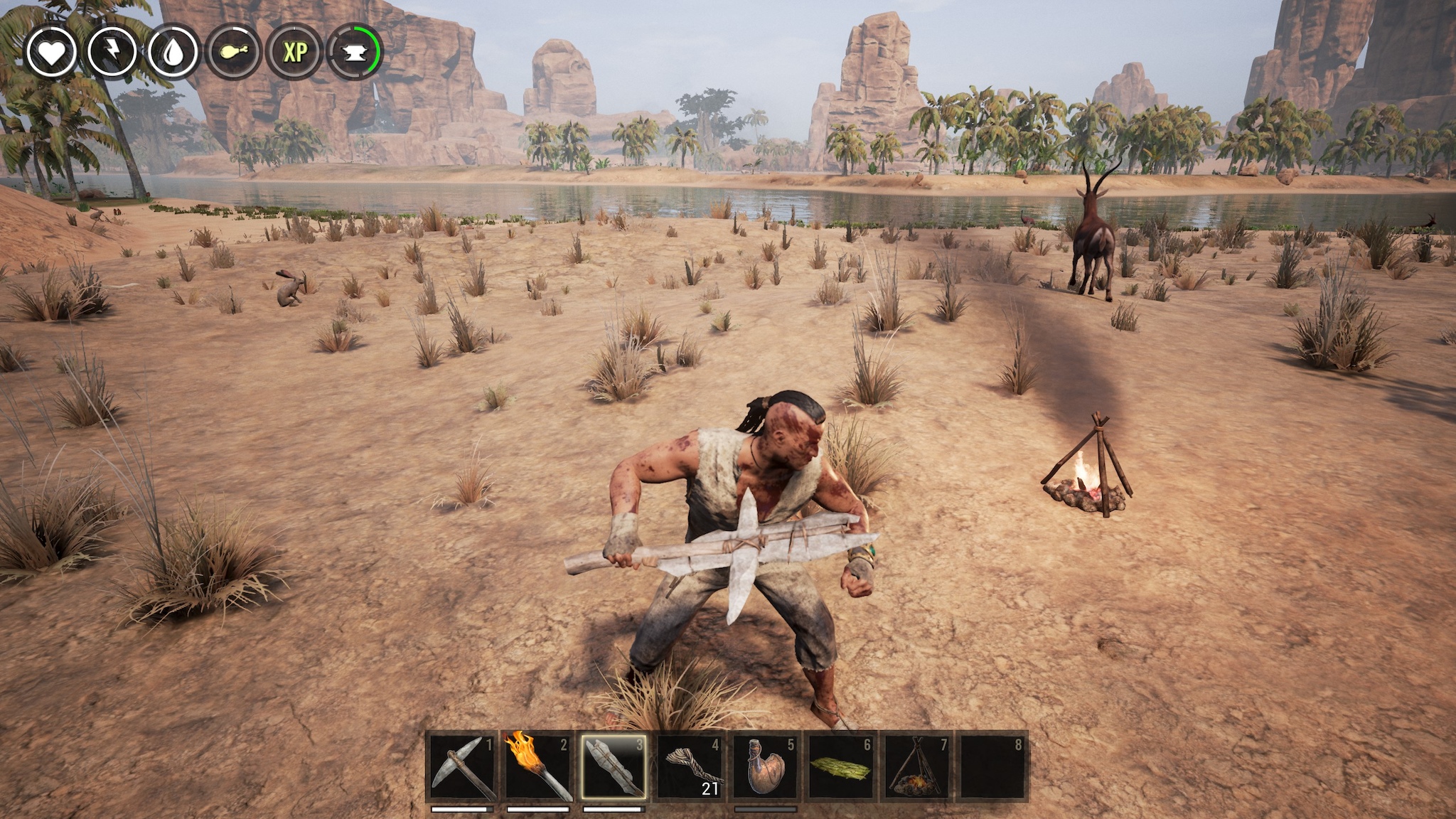 Legendary Maces
| Title | Damage | Armor Penetration | Durability | Weight | Perks |
| --- | --- | --- | --- | --- | --- |
| Lovetap | 1 | — | 3300 | 4.55 | Shieldsmash |
| Aja's Bane | 50 | 18.9% | 1650 | 4.55 | Shieldsmash, Bonus Strength |
| The Unintelligible | 50 | 18.9% | 1650 | 4.55 | Shieldsmash, Bonus Survival and Encumberance |
| Momentum | 52 | 18.0% | 1650 | 4.55 | Shieldsmash |
| The Brittle Bastard | 55 | 16.2% | 400 | 4.55 | Shieldsmash |
Legendary Hammers
| Title | Damage | Armor Penetration | Durability | Weight | Perks |
| --- | --- | --- | --- | --- | --- |
| Sledge of Tsotha-lanti | 54 | 27% | 4800 | 5.25 | Sunder |
| Bec-de-Corbin | 54 | 29.7% | 2400 | 5.25 | Sunder |
| Forgelight | 56 | 28.35% | 2400 | 5.25 | Sunder |
| Baal-pteor's Lodestone | 56 | 28.35% | 2400 | 5.25 | Sunder, Bonus Strength |
| Hanuman's Gada | 59 | 27% | 2400 | 50.0 | Sunder |
Legendary Daggers
| Title | Damage | Armor Penetration | Durability | Weight | Perks |
| --- | --- | --- | --- | --- | --- |
| Akbitanan Blades | 39 | 13.5% | 1800 | 2.45 | Bleed |
| Heartsblood | 39 | 14.85% | 900 | 2.45 | Bleed |
| Daggers of Nameless Days | 41 | 14.18% | 1800 | 2.45 | Bleed |
| Zhaibar Knives | 41 | 14.18% | 900 | 2.45 | Bleed, Bonus Agility |
| The Grim | 43 | 13.5% | 900 | 2.45 | Bleed |
Legendary Spears
| Title | Damage | Armor Penetration | Durability | Weight | Perks |
| --- | --- | --- | --- | --- | --- |
| Warspear of the Black Circle | 43 | 8.1% | 2100 | 4.38 | — |
| Gavain's Rusty Pike | 48 | 9.9% | 2100 | 4.38 | — |
| The Impaler | 50 | 9.45% | 400 | 4.38 | — |
| Vaulting Pole | 50 | 9.45% | 2100 | 4.38 | Bonus Agility |
| Black Dragon Pike | 55 | 8.1% | 1120 | 4.38 | Bonus Stamina |
Legendary Bows
| Title | Damage | Armor Penetration | Durability | Weight | Perks |
| --- | --- | --- | --- | --- | --- |
| Frostshot | 18 | 9.9% | 1500 | 3.5 | — |
| Bessie's Bow | 18 | 9.45% | 1500 | 3.5 | Bonus Grit |
| The Huntress | 18 | 9.45% | 1500 | 3.5 | Bonus Survival |
| Eye of the Khan | 18 | 9.45% | 1500 | 3.5 | Bonus Accuracy |
| Splinter | 21 | — | 1500 | 3.5 | — |
—
That is all for the legendary weapons and their stats, and for other Conan Exiles guides at GameSkinny, please check out the links below:
About the author