The Diablo 4 Avarice the Gold Cursed is one of the game's World Bosses. Battling it can be quite a challenge since you need to watch out for its Teleport Slam, Golden Sludge, and Pulverizing Pillars abilities. Our Diablo 4 Avarice the Gold Cursed World Boss guide tells you this foe's spawn times, locations, and rewards while providing tips on how to beat it.
How to Beat Avarice the Gold Cursed in Diablo 4
Avarice the Gold Cursed Location and Spawn Times
The Diablo 4 Avarice the Gold Cursed monster is part of a small pool of World Bosses that can spawn every six hours. However, the opponent you'll face tends to be completely random. The Avarice the Gold boss location can also differ, though these tend to be in large arenas in various regions. Here are some examples where it could spawn:
Fractured Peaks: The Crucible
Scosglen: Caen Adar
Dry Steppes: Saraan Caldera
Kehjistan: Seared Basin
Hawezar: Fields of Desecration
As usual, there's a World Boss icon that appears on the map 30 minutes before the boss is set to spawn. Moreover, given the notification, as well as the always-online and open-world gameplay of Diablo 4, you can expect around a dozen players or so to also head to that area. Still, remember that you have to beat the boss within 15 minutes, or it will despawn.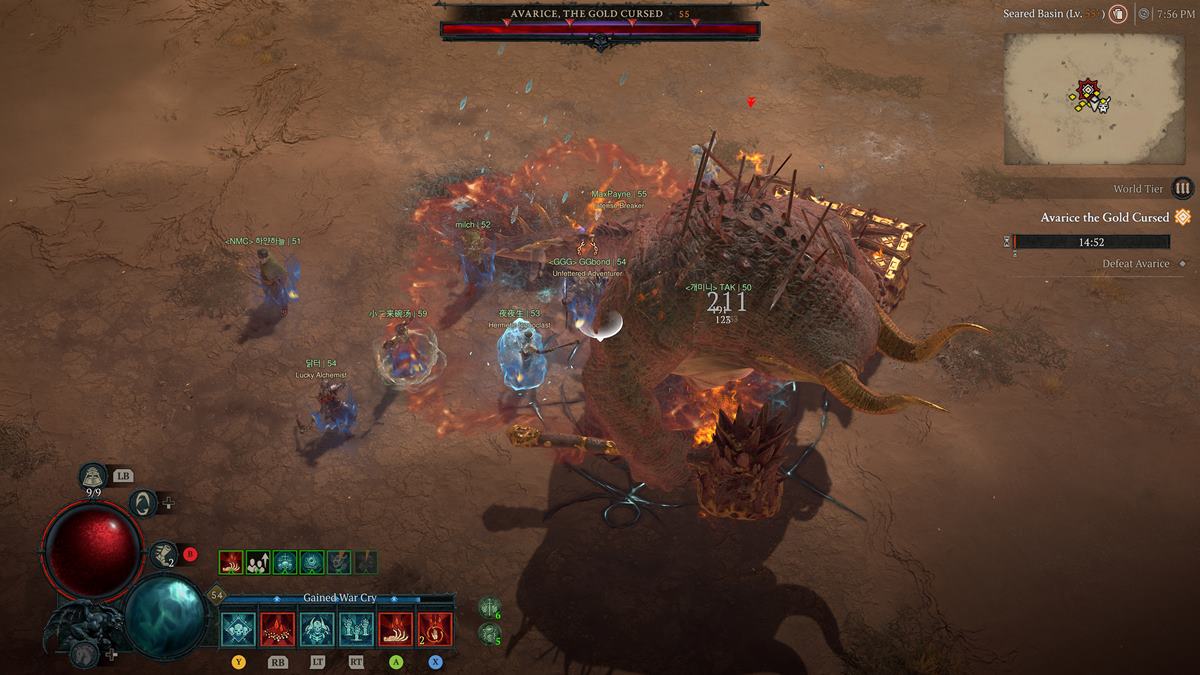 Avarice the Gold Cursed Abilities
The Diablo 4 Avarice the Gold Cursed World Boss has the following abilities that you need to be aware of:
Teleport Slam: Avarice regularly passes through a portal, eventually appearing in another spot, before instantly slamming its weapon on the ground. Be on the lookout for the second portal that appears since this devastating melee strike can kill weaker characters.
Golden Sludge: The boss will belch out molten gold underneath it, which can be a hassle for melee characters. You can avoid this by repositioning slightly.
Pulverizing Pillars: Multiple golden pillars will appear in the arena. They won't do anything at the start. However, once Avarice creates a shockwave, these will explode and deal massive AoE damage. It's imperative that you move out of the way when you see these pillars pulsating with energy.
Summon Treasure Goblin: Avarice the Gold can also spawn a Treasure Goblin once you've depleted half of its HP bar. I do think this is done to distract players. I know I've chased these creatures around, even though attacking Avarice was more important.
Avarice the Gold Boss Rewards
With a bit of luck, patience, and some powerful random players that happened to pass by, you have a shot at beating the Diablo 4 Avarice the Gold Cursed World Boss. Since this also counts as a Whisper of the Dead, you'll receive +5 Grim Favors. Moreover, the large treasure chest that it drops tends to contain high-end loot, like Legendaries and Sacred/Ancestral variants.
In any case, Avarice isn't the only World Boss in Diablo 4. You might end up fighting others based on random selection, such as Ashava the Pestilent and the Wandering Death. For more tips, walkthroughs, and strategies, our Diablo 4 tips hub has you covered.
About the author