The Diablo 4 Malnok Stronghold can be found in the Fractured Peaks. Surprisingly enough, it's in the middle of nowhere, but this frigid place has a beast that awaits your arrival. Our guide details how you can complete the Malnok Stronghold in Diablo 4.
How to Complete the Malnok Stronghold in Diablo 4
Malnok Stronghold Location
The Diablo 4 Malnok Stronghold can be found in the eastern portion of the Fractured Peaks region. You can either go south from Bear Tribe Refuge / Kor Valar or north from Yelesna to reach it. It's also quite close to the area where you'd do the Pilgrimage quest early in the game. However, I only suggest tackling this until you've leveled and geared up a bit. That's because the enemies here are around level 25 by default, and they'll be two levels above your character beyond that point.
Stronghold Challenge: Slay the Ice Clan Stormcallers
When you reach the Diablo 4 Malnok Stronhold, you'll notice a gigantic goatman boss in the center. There's no way for you to attack him, so you'll have to look for the three Ice Clan Stormcallers.
You can trace a line from the wispy, magical trails to find them. But, once you take them head on, a Guardian or Overseer type of elite will also spawn. Once you've eliminated the protector, you should be able to defeat the shaman as well.
Diablo 4 Malnok Stronghold Boss, Rewards, and Unlocks
With the three Ice Clan Stormcallers defeated, it's time to face Frosthorn, the boss of the Diablo 4 Malnok Stronghold. This fella is surprisingly tough due to powerful melee slams. However, what makes him deadly are his Frozen Orb projectiles. He'll scatter these orbs around the arena, which will then explode, dealing damage and freezing anyone caught in the blast. I'm a Necro main, and I was surprised when almost all of my minions died in a single explosion.
Still, with a bit of patience and luck, you should be able to take down your opponent. After you interact with the Wanderer's Shrine, you'll unlock the following:
Anica's Claim: Stormclaw's Aspect (Druid) – Critical strikes with Shred deal +20% of the damage as lightning to the target and surrounding enemies.
Rimescar Cavern: Aspect of Plunging Darkness (Necromancer) – Bone Prison spawns a pool of Blight that deals 50% bonus damage over six seconds.
Healer NPC
Amulets and Rings vendor
Armor vendor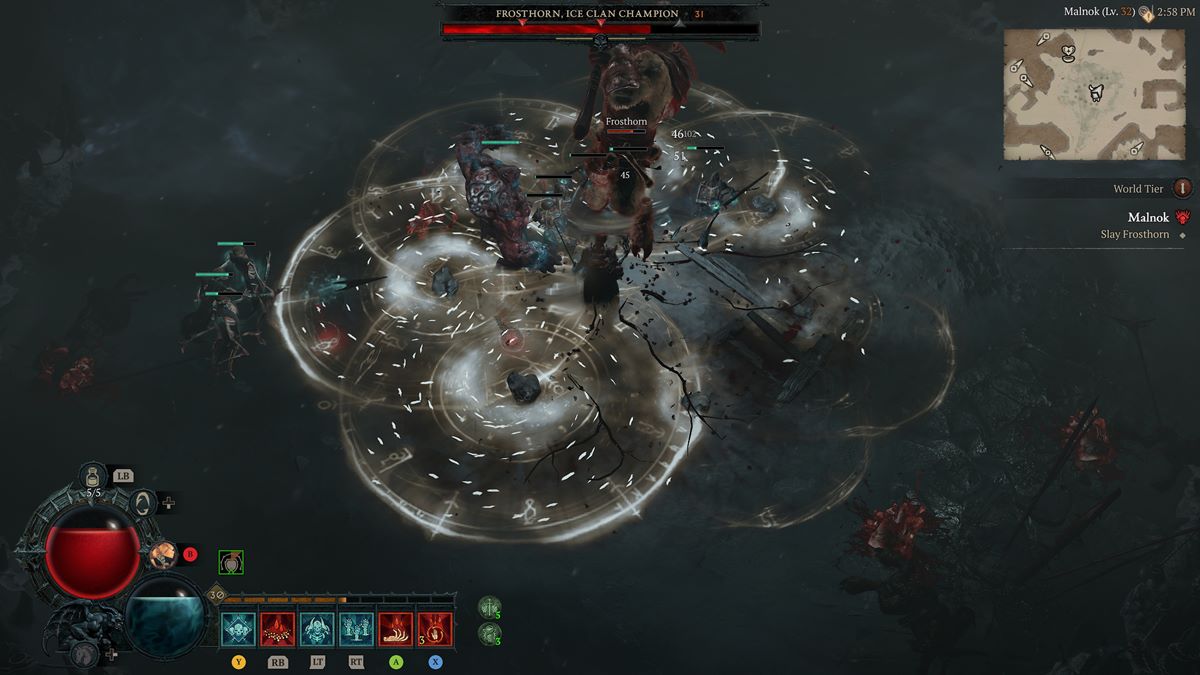 That does it for the Malnok challenge in the game. Don't forget that there are other corrupted places that await, and you can learn about these locations in our Stronghold locations guide. Likewise, for other tips and strategies, head over to our D4 guides page.
About the author