Before Diamond Casino and Resort, there was the Arena Wars update for GTA Online, which included one of the best adversary modes in the game: Games Masters.
This unique mode pits two teams of up to eight players against each other on the deadliest open space lanes ever. One of the teams gets to spectate the other one from the spectator's booth and try to prevent the team on the lane from collecting as many checkpoints as possible within three minutes.
When time is up, the teams change positions, and it begins all over again. This mode is a really tough one, but it also offers some incredible fun and some nice rewards. So, if you're having a hard time competing in Games Masters, then follow our guide below.
Three Maps: Apocalypse, Future Shock, Nightmare
You can start Games Masters mode by hosting Arena Wars from the Rockstar Created Jobs menu.
After you purchase the arena for in-game money, you will gain access to a garage with 10 exclusive vehicles, which can be used only or Arena Wars, and three new maps with different themes: Apocalypse, Future Shock, and Nightmare.
Each map has a unique obstacle design and weapons, but the damage is all the same.
Apocalypse is heavily influenced by the Mad Max franchise
Future Shock is all about science fiction
Nightmare has lots of neon lights and glowing effects
If you start the Games Masters mode from your daily jobs menu, the game will automatically give you with a random map. You can also make quick and easy cash, but first, you need to know which vehicles are the best for this mode.
Best Vehicles for Games Masters
The 10 default vehicles you get in your garage are basic and unmodded versions that have no weapons or any attachments. This means that you will need to spend money in Arena workshop and seriously mod your vehicles if you want to win.
In any case, some vehicles are worth upgrading, while others should be left alone. Here are some of the best vehicles for the Games Masters mode:
Deathbike: This is a perfect choice for any arena. It's fast and agile, and it's much smaller than other vehicles, which is why it's so hard to hit it from the spectator's booth.
Sasquatch: If you want a big and flashy vehicle, then this monster truck is definitely a very popular choice.
Dominator: This is a standard vehicle with a tombstone on its back, which can be dropped off and disrupt other chasing vehicles behind you.
ZR380: Another standard vehicle with armored windows, which is great against any type of damage.
You can also unlock other vehicles by ranking up tiers:
Tier 25: Taxi
Tier 50: HVY Dozer
Tier 75: Clown Van
Tier 100: Trashmaster
Tier 200: HVY Barracks Semi
Tier 300: HVY Mixer
Tier 500: Space Docker
Tier 1000: Tractor
How to Win Fast and Make Money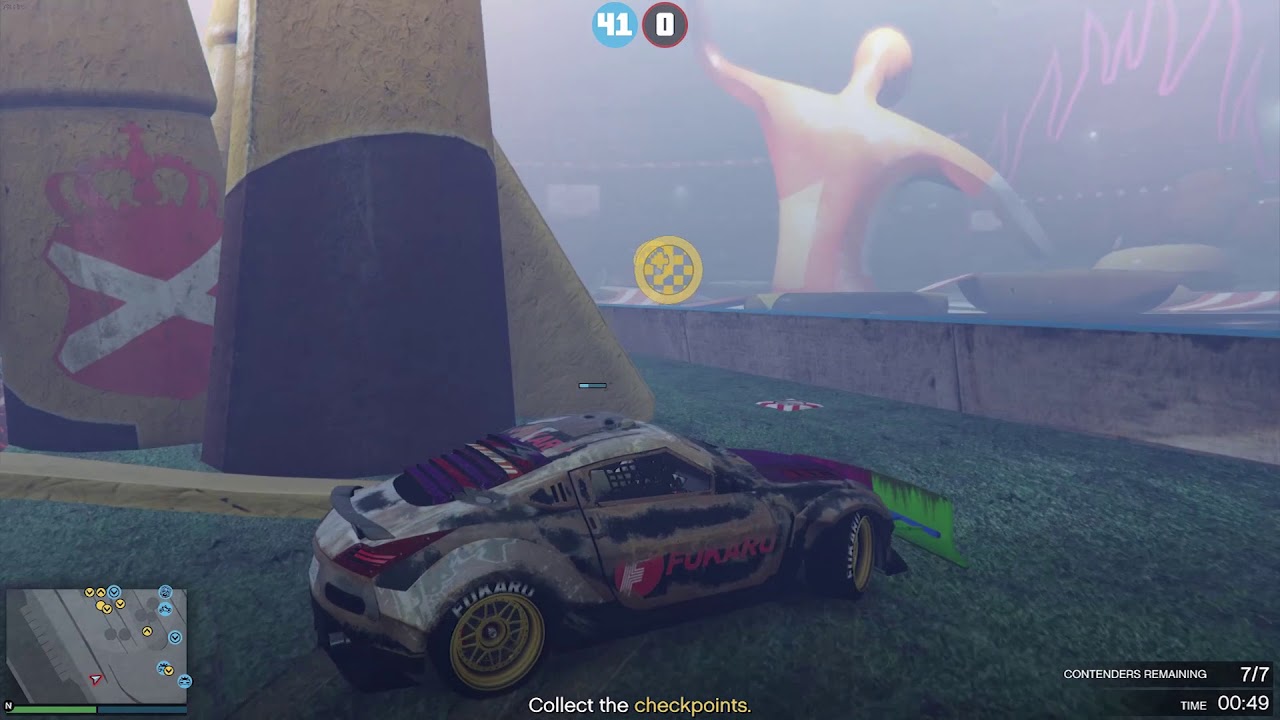 If you're playing Games Masters outside of the daily jobs routine, then all your rewards will be unlocked at each new tier, and for most of the part, they will be random rewards.
However, if you want to make more money, then be sure to play Games Masters during your daily jobs. Then you can earn $8,000 in just a couple of minutes if you belong to the winning team. But even if you lose, you will still earn $4,000.
Collect the Checkpoints
Winning in arena races can be hard at first because you will not know the lanes and the locations of the checkpoints. But the more races you play, the better you will know how to orient on all three maps.
On the other hand, it doesn't matter how well you know the lanes because the enemy team will always find a way to disrupt your path with one of the available weapons.
In the end, you need to collect more flags than the enemy team, and then you can take your turn in the collector's booth.
Spectator's Booth
This part is just as important as the races themselves, and at times, it can turn the match-up in your favor.
Here, you have access to several types of weapons, such as turret and the battle drone. With these simple tools, you can force the enemy team to lose by blowing their vehicles and not letting them collect more flags than your team.
So use both of these opportunities to get your victory. This will take under 10 minutes total, and you will be able to raise your skill and sponsorship levels.
Sponsorship
Lastly, you can ignore the spectator's booth opportunities and instead choose to play the Spin to Win wheel.
One spin of the wheel costs $5,000, but it also gives you the chance to increase your sponsorship level, which unlocks new random rewards random.
If these rewards are more important to you than money, then Spin to Win is available in the spectator's booth during races.
—
Now you can easily win at Games Masters in GTA Online. For more GTA Online guides, see the list below:
About the author