The Pokemon Sword & Shield Isle of Armor Expansion Pass DLC just launched, so you may be asking yourself one simple question: how do I actually start Isle of Armor after I download and install it?
Luckily for you, there's no real travel or discovery involved in getting to your destination. You'll be taken to the Isle of Armor automatically after a few simple steps. Follow the guide below, and you'll be catching new Pokemon on the Isle of Armor in no time.
How to Get to the Isle of Armor in Pokemon Sword and Shield
Getting to the Isle of Armor is actually pretty simple. Once you've purchased, downloaded, and installed the Isle of Armor expansion from the Nintendo eShop, you'll need to update Pokemon Sword and Shield. The software update shouldn't take too long.
After the update is completed, you'll be given an Armor Pass automatically once you enter the game. Just take that pass to Wedgehurst Station, and you'll take a Corviknight taxi to Armor Station on the isle.
You won't even need all of the gym badges to experience the expansion DLC. Leave that gym challenge behind if you want. You can even fast travel between the Galar mainland and the Isle of Armor at any point after you make your first trip there.
Getting Started on the Isle of Armor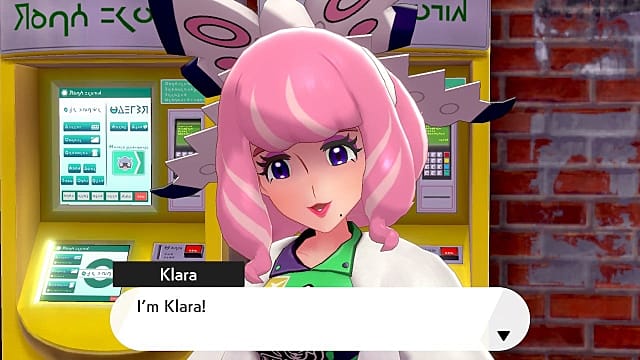 Upon your arrival, your Pokedex will be conveniently updated by Klara, who is located in Armor Station, so that it can keep track of all the new Pokemon you'll be catching.
As you'd expect, there's a battle waiting for you as you attempt to exit the station. It'll be either Klara for Pokemon Sword or Avery for Pokemon Shield. They both have Pokemon with levels in the low 60s, so make sure you're ready.
Klara specializes in Poison Type Pokemon, while Avery likes to use Psychic Type Pokemon. You won't have to deal with any Fighting Type Pokemon or Fire Type Pokemon.
This battle should be no sweat at all either way. Make short work of them, and head to the Master Dojo straight ahead of you to officially start the main quest of the Isle of Armor.
Related Content
That's it for our guide on how to start Isle of Armor in Pokemon Sword and Shield. Follow the steps above and you'll be well on your way to catching 'em all on the Isle of Armor. If you're looking for more tips on the expansion, check out the links above or head over to our Isle of Armor guides page for more!
About the author