Looking to earn more grand stars and get a bingo for extra coins in Mario Kart Tour? Your best bet is to complete as many weekly challenges as possible, like earning a score of 7,000 or higher using a driver with a hat.
If you've been around since launch you might remember this challenge showing up a few weeks back, but then it was only 6,000. They've upped the difficulty this time, but with the right driver and track combo it isn't too hard to complete.
Score 7,000+ Using A Driver With A Hat
Using a driver with a hat's favored course is basically required here, as there's not much chance of getting all the way to 7,000 if you can't pull 3 items at a time or have the opportunity to frenzy.
Of course, having the favored gliders and karts helps, too, since you'll get a starting point bonus.
If you got super lucky and pulled Halloween Rosalina from the pipe, then Choco Island 2 is one of the easiest places to complete this challenge.
It's much more likely you are going to need to do this with Baby Mario or Baby Luigi however, and it may take a few tries in their favored courses to get all the way to 7,000.
It is incredibly simple to finish this challenge with Baby Luigi in Daisy Hills T due to the constant jump boosts with coins giving you quick action combos.
Luigi's Mansion R is one of the more difficult maps to utilize here due to the layout. Unless you hit every single coin and manage to avoid all the scuttling trees, its not easy to get an extremely high point total there.
Here's the full list of drivers with hats, and the favored courses to use so you have the best chance of completing the challenge:
Driver
Favored Courses
Baby Mario
Mario Circuit 1T
Waluigi Pinball
Baby Luigi
Luigi's Mansion R
Daisy Hills T
Mario
Mario Circuit 1
Cheep Cheep Lagoon T
Koopa Troopa Beach
Mario Circuit T
Luigi
Cheep Cheep Lagoon T
Luigi's Mansion
Luigi's Mansion T
Ghost Valley 1
Diddy Kong
Dino Dino Jungle R
Toad Circuit R
Rock Rock Mountain R
Wario
Choco Island 2T
Kalimari Desert R
Kalimari Desert T
Waluigi
Waluigi Pinball
Neo Bowser City R
Musician Mario
Yoshi Circuit R
Waluigi Pinball R
Daisy Hills
New York Minute T
New York Minute R
Halloween Rosalina
Shy Guy Bazaar
Choco Island 2
Luigi's Mansion
Ghost Valley 1
Ghost Valley 1T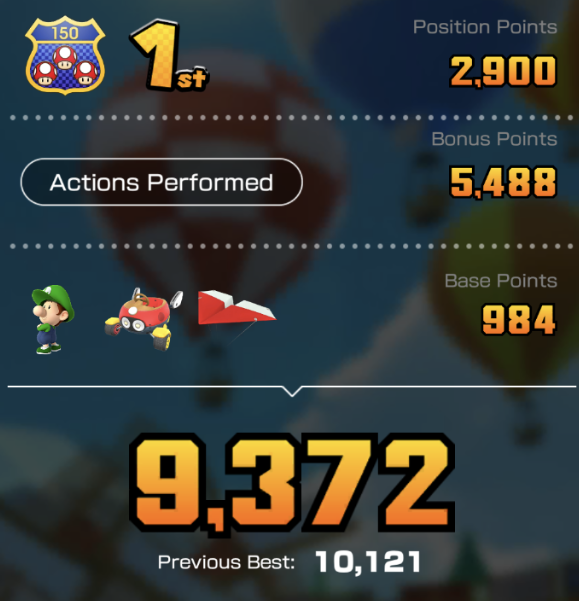 Where did you manage to complete the challenge, and what driver / kart combo did you use? Sound off in the comments below!
Looking to complete the rest of this week's challenges? Be sure to bookmark our other Mario Kart Tour tips and tricks:
About the author