While most of the Mario Kart Tour challenges for the Ice Tour courses can be completed by anyone, some are much easier (or only possible) by using a limited selection of drivers.
Completing the Pass Through 10 Rings Created By A Dash Ring Item challenge is one of those annoying achievements that requires you get lucky with the right pipe pulls. When you finally get the right driver though, this challenge is easy to complete in just a few races.
10 Rings Created By An Item Challenge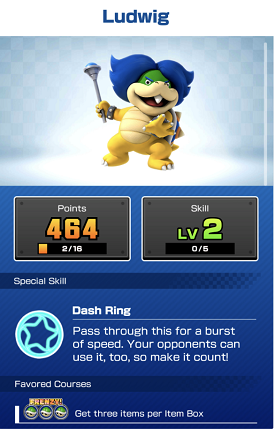 Right now there are only four drivers who can pull the Mario Kart Tour Dash Ring from an item box:
Ludwig
Rosalina
Halloween Rosalina
Wintertime Peach
Unfortunately if you didn't pull Halloween Rosalina during the event, you're out of luck on her for now. Ludwig does appear in the shop randomly, however.
To complete this challenge the fastest, just go to any of those driver's favored courses. You want to pull 3 items at a time to maximize your chances of pulling a Dash Ring.
Unlike normal items, there are currently no gliders that increase your chances of getting a Dash Ring, so you just need to keep hitting item boxes (or using item tickets) until it happens. After using the item, drive directly through the ring for a speed boost. You will probably need to do this on more than one course to hit the full 10.
Here's where to go with each of those four drivers to finish this challenge quickly:
Driver With Dash Ring
Favored Courses
Ludwig
Bowser's Castle
Kalimari Desert
Kalimari Desert R/T
Neo Bowser City R/T
Rosalina
Cheep Cheep Lagoon
DK Pass R
Mario Circuit R
Rainbow Road
Rainbow Road R/T
Paris Promenade R/T
Rosalina (Halloween)
Shy Guy Bazaar
Choco Island 2
Luigi's Mansion
DK Pass R/T
Tokyo Blur 2R/T
Ghost Valley 1
Ghost Valley 1T
Rainbow Road R/T
Peach (Wintertime)
Choco Island 2T
Frappe Snowland
Frappe Snowland T
Vanilla Lake 1T
It is technically possible to still complete the Dash Ring challenge without any of these drivers, but it will take a whole lot of effort and a bit of luck.
Instead of initiating the Dash Ring, you need to stay close to other AI players and wait until they start popping them off, then follow inside the rings.
Of course, this method could take hours of trying — or never even work at all — depending on whether the AI drivers use Rosalina, Ludwig, etc. and ever pull the Dash Ring item while near your kart on the course.
Which driver did you use, and what course did you think was easiest to pass through the dash rings in a straight line? Let us know, then check out our other Mario Kart Tour challenge guides including:
About the author