The Sons of the Forest Modern Axe is an upgrade to your starting Hand Axe. However, you may never stumble upon it in the game's early hours because it's not marked on your map, nor is it in an obvious location. You quite literally have to stumble upon it without a guide.
The Modern Axe is slower than the Hand Axe, so you won't get in quite as many blows as you would using the smaller, nimbler weapon. But it does provide damage and defense increases that are worth the cost. Overall, it chops trees barely better than your starting tool at this point in Early Access, which seems like something that will change with updates and hotfixes.
Where to Find the Modern Axe Location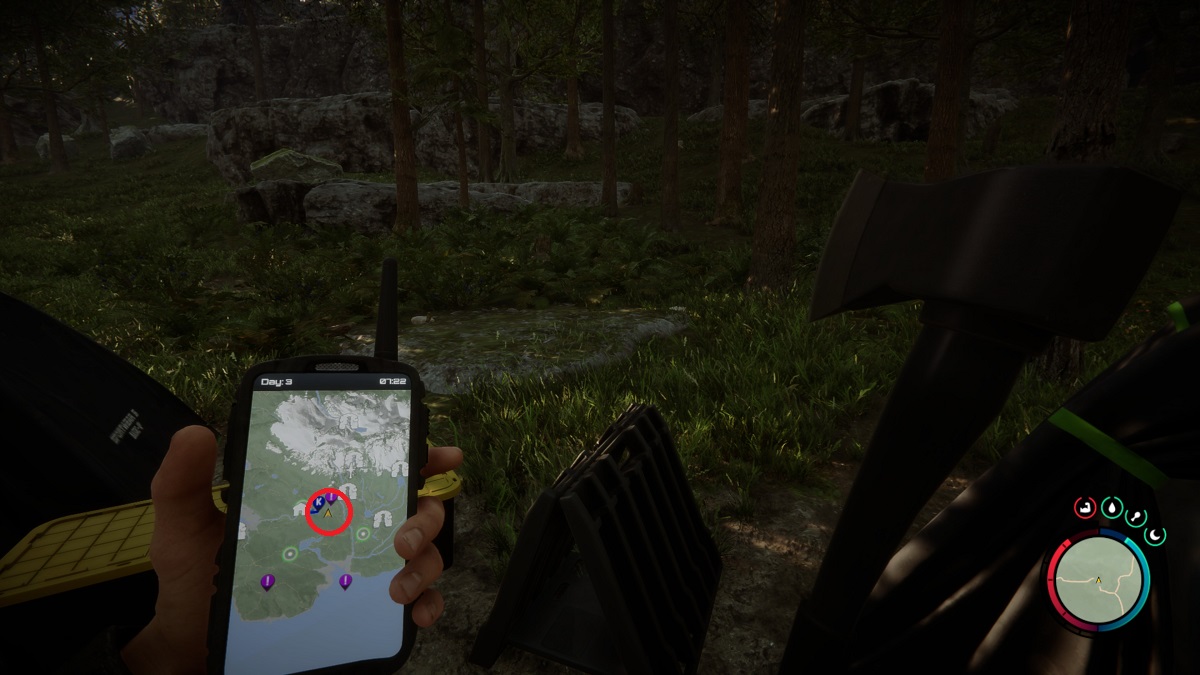 Screenshot by GameSkinny
The Modern Axe location can be found near the Flashlight location, which is at the purple GPS marker closest to the original helicopter crash site. From the bottom tip of the marker, go directly south to the road (brown line) on the map. Make sure to zoom your map out if you can't find it.
There, in the middle of the road, you'll find a camp with three tents, a campfire, and a radio blaring music. The Axe is in a body leaning against the middle tent. Be sure to check the crates and tubs at the site for Batteries, Flares, C4 explosives, Grenades, and other loot.
After finding the location, you can add the axe to your inventory, and you'll find it on the right side if you want to re-equip it. You can also add it to your Backpack quick selection in place of the regular Hand Axe. And you can also assign it to a Hotkey binding.
Now that you know how to get the Modern Axe in Sons of the Forest, you've got a powerful new tool in your possession, one that's able to chop trees just as well as it can lop limbs from cannibals. Another is the Stun Baton. For more tips, we've got more SotF guides here.
Featured image by GameSkinny.
About the author