There are a lot of weapons to acquire in Starfield. These are categorized based on rarity, and a few are quite unique. One particularly notable and sought after gun can even be obtained early in the game, though it's not cheap to get. Understandable, considering its high rate of fire. Here's how to get the N67 Smartgun in Starfield.
How to Get the N67 Smartgun in Starfield
The N67 Smartgun can be purchased in the UC Distribution Center for roughly 40,000 credits. Here's a quick summary:
The UC Distribution Center is located in the city of New Atlantis. It's on the planet of Jemison in the Alpha Centauri system.
Use the MAST Transit or fast travel to the Commercial District. Upon arriving there, keep to the right until you see the UC Distribution Center building.
40,000 credits is just a rough estimate. This can be lowered if you allocate more points into your Commerce skill.
The vendor NPC in the store also sells another unique weapon called the Rapidshot.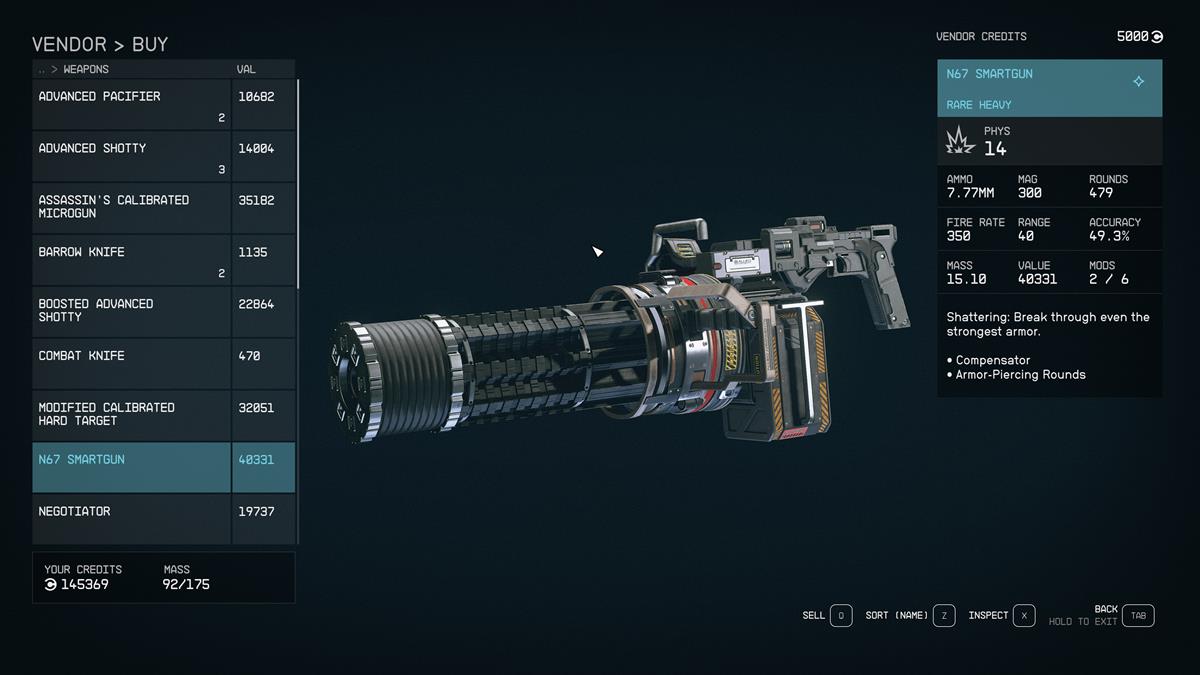 N67 Smartgun Stats, Mods, and Perks
The N67 Smartgun has the following features:
Classification: Rare Heavy
Damage: 14 physical
Ammo: 7.77mm
Mag: 300/479
Fire rate: 350
Range: 40
Accuracy: 49.3%
Mass: 15.10
Mods: Compensator and Armor-piercing Rounds
Perk: Shattering – Break through even the strongest armor.
Should You Purchase the N67 Smartgun
In my opinion, I don't think it's worth spending 40,000 credits just to get the N67 Smartgun. Although its high fire-rate and countless bullets can shred multiple opponents, you're better off buying more important items with your credits, such as ship parts for extra cargo space. Moreover, I was able to find additional weapons just by exploring, and some of them were also legendaries.
As an aside, I also suggest grabbing Heller's Cutter. The Cutter weapon variant isn't the best, but it does have infinite ammo. That's everything you need to know about how to get the N67 Smartgun in Starfield. For more tips and strategies, you can visit our guides hub.
About the author