There are two unique and expensive guns you can get rather early in Starfield that entice many a player. One being the N67 Smartgun, with the other being the Rapidshot. Both can be acquired in the first major settlement that you visit in the campaign, but there's a massive price difference between the two. Here's how to get the Rapidshot in Starfield and whether it's worth it.
How to Get the Rapidshot in Starfield
The Rapidshot can be purchased in the UC Distribution Center for roughly 28,000 credits. Here's a quick summary:
Make your way to the planet of Jemison in the Alpha Centauri system. You're looking for the city of New Atlantis.
Ride the MAST Transit or fast travel to the Commercial District. To your right, you should see a facility called the UC Distribution center.
Having to spend 28,000 credits early on might be a bit much. However, the price can be lowered if you've ranked up your Commerce skill.
You can buy another unique weapon, the N67 Smartgun, from the UC Distribution Center vendor NPC.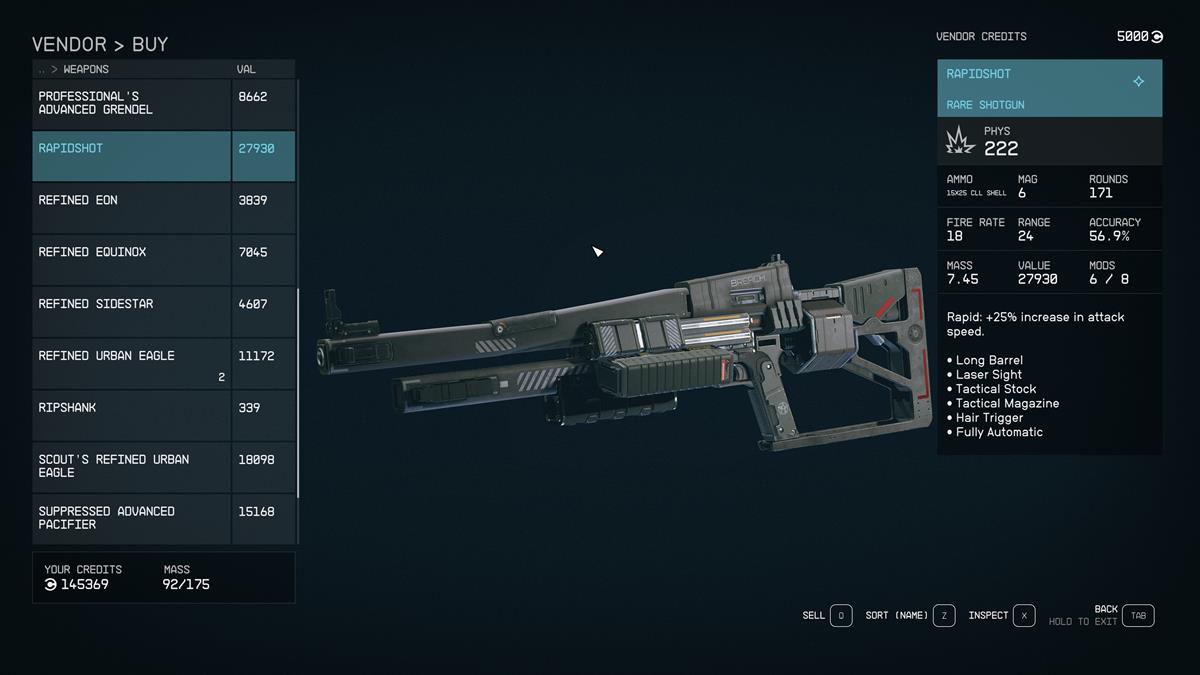 Rapidshot Stats, Mods, and Perks
The Rapidshot has the following features:
Classification: Rare Shotgun
Damage: 222 physical
Ammo: 15×25 CLL Shell
Mag: 6/171
Fire rate: 18
Range: 24
Accuracy: 56.9%
Mass: 7.45
Mods: Long Barrel, Laser Sight, Tactical Stock, Tactical Magazine, Hair Trigger, and Fully Automatic
Perk: Rapid – +25% increase to attack speed
Should You Purchase the Rapidshot
Personally, if you can only choose between two unique weapons from the UC Distribution Center, then I feel that the Rapidshot has an edge compared to the N67 Smartgun. This is primarily due to the high damage and decent range (for a shotgun). The included mods, as well as the unique perk, also ensured that I was able to eliminate targets from medium range, as each shell packed a punch.
I also advise you to pick up the Heller's Cutter. Although Cutter weapons aren't ideal, they do have infinite ammo. Likewise, Heller's Cutter has its own unique perk that allows it to deal additional damage against robots.
And that's everything you need to know about how to get the Rapidshot in Starfield. For more tips and strategies, you can visit our guides hub.
About the author