Here are the 10 finalists for Most Fashionable Overall!
We poured through hundreds of screenshots, stories and ensembles from Guild Wars 2 players and have selected the top 10. From these 10, the First, Second, and Third Place winners in the Guild Wars 2 Fashion Contest will be chosen.
Comment with who you think should win! Winners will be announced for all categories on August 28th
First Place
Second Place
SteelSeries Guild Wars 2 Gaming Mouse so you can vanquish enemies and swap outfits in style.
2,000 Gems

Third Place
Guild Wars 2 Limited Edition Strategy Guide
2,000 Gems
We were blown away by the creative and stunning entries from players, and by the wonderful Guild Wars 2 community.
Special Categories
Here are the top contenders for our other categories, featuring prizes from ArenaNet!

The Community Weighs In
Several community members have stepped forward to share their own assessments of the entries, check out these articles. They don't always agree with our judges (or each other!), but they offer another perspective on many of the entries.
"Tough Love for Guild Wars 2 Fashion Finalists" by Chiuna
"Top 10 GW2 Fashion Finalists: Opinions of a Finalist" by Guades
Best of luck to everyone!

---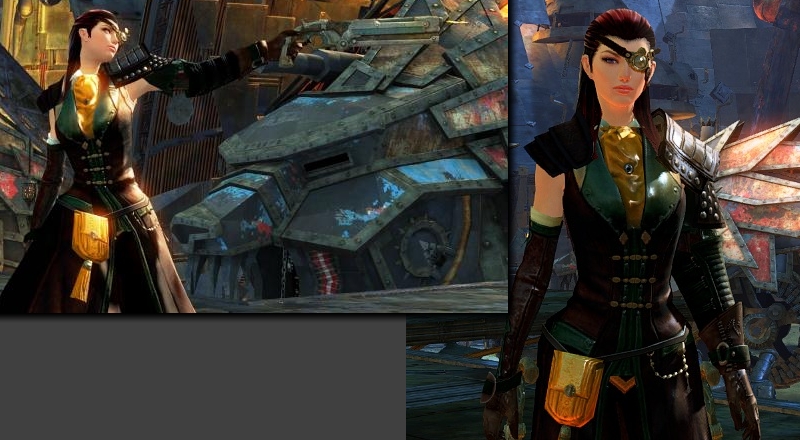 Character: Atlas Krayn, The Iron Alchemist
Krayn_7567 created a put-together nod to Steampunk with her female engineer. We're impressed tha she used pieces from all different sets, but created a seamless look.

---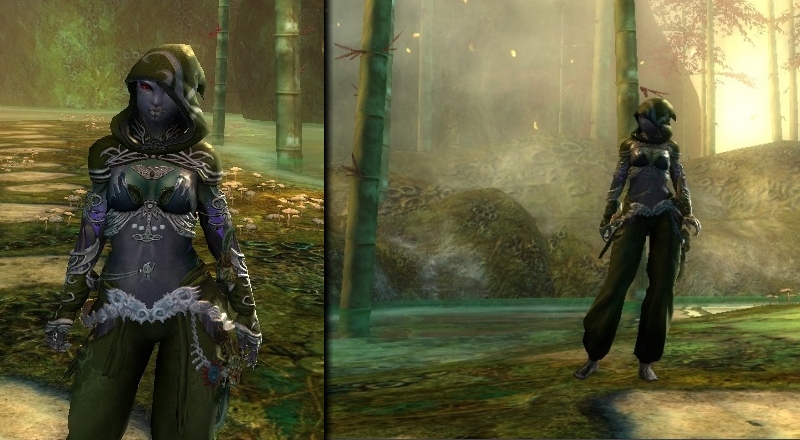 Character: Name Unknown, The Shy Elementalist

kitten konekochanused an unusual combination of Cleric's Winged and Commando's pieces to achieve this understated but elegant look. We didn't see many ladies rocking pants and a hood, but this Sylvari brings it all together with grace and style.
"Learning the ropes, taking down one enemy, then a few enemies, then a group of them. Keep poking at this little elementalist and she'll show you her thorns."
---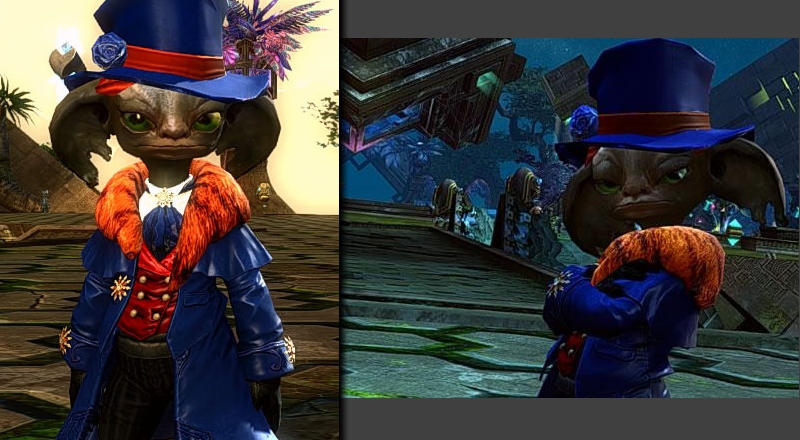 Character: Name Unknown, The Most Dashingly Dapper

Hunter712 demands only the best for his Asura. While the Fancy set was seen with some regularity, it was the addition of the Ringmaster's hat, gloves, and a bold color combination that made this small-in-stature entry loom large.
---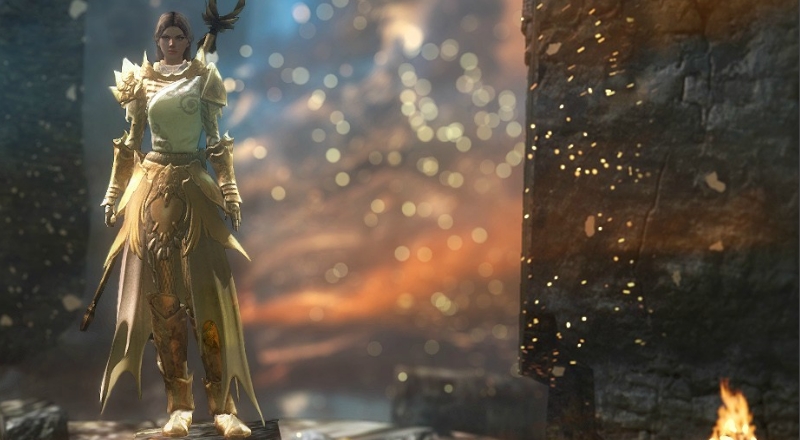 Character: Ianthe, The Krytan Guardian

shdowmyst knows how to work the camera! This carefully put-together golden armor set includes a self-crafted skirt, pieces of Tier 3 cultural, and boots and gloves from Caudecus's Manor.

Check out the gorgeous images and in-depth story alongside this entry - you won't be disappointed.
---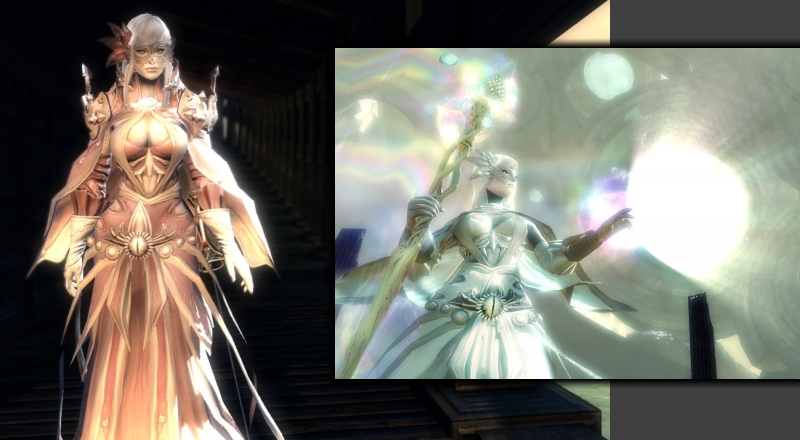 Character: Persefone Fleur, The Queen Gone Crazy

MoonlitLilac filled us in on the background of this Mesmer, and the story behind the look. Both are equally impressive, and there are oodles more pictures in Persefone's entry that are well work a second look.
"I feel that the Orrian Armor set is quite smart. If you keep the original hood and shoulders on, it remains Wraith-like. With the change of two pieces, it turned to badass royalty or, a style I personally love, 'Queen gone Crazy'"
---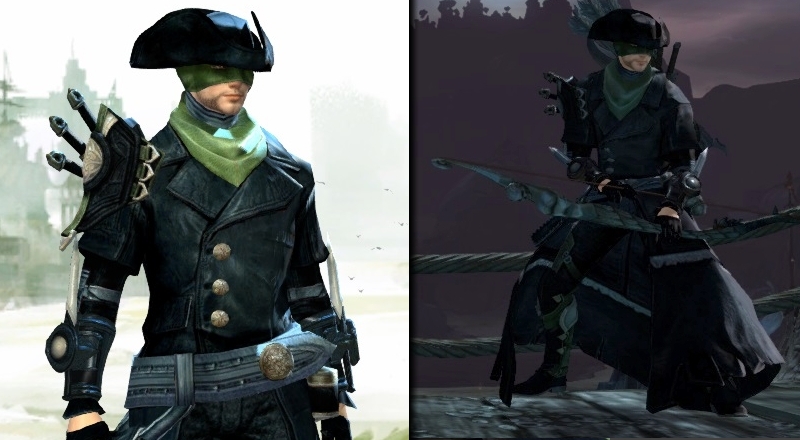 Character: Ciaran Paine II, From Sea to Shadows

Ciaran Paine has a shadowy past and a strong sense of style.
"He is usually seen with a Jade Kris on each hip, given to him by his Canthan grandmother, or his trusty and shapely bow carved into the visage of a sailor's doom: a siren."
---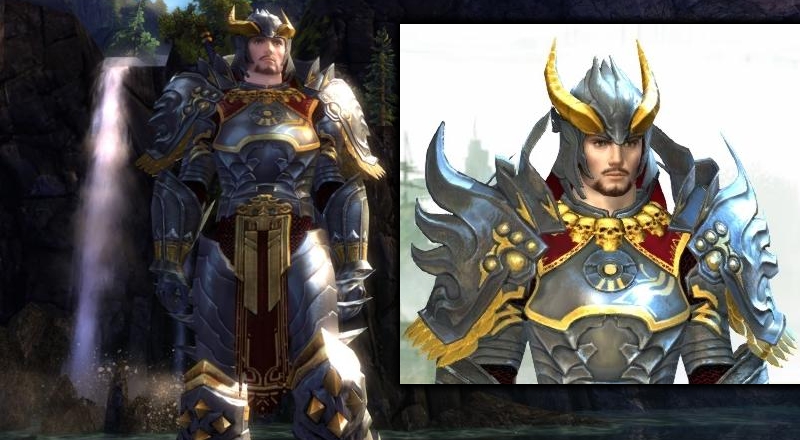 Character: Guades, Elite Ascalonian Armor
Guades stands as a shining example of attention to detail, great dyework, and tireless questing in the name of fashion.

"Compromised of many different armors found all throughout Tyria. Come on in and take a look at the details, there's shurikens involved."
---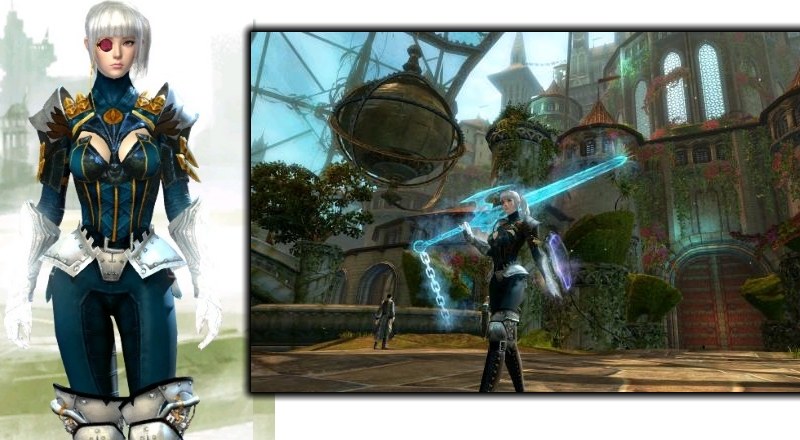 Character: Sabishii Kiba, Sleek Guardian Gear

kiba_9931 cast off the tyranny of plate mail and made it a personal quest to find something sleek but practical for Sabishii to wear into battle.

"Rangers! Think ye that leather is for thyself only? Not anymore. Featuring leather as the main material with metal buckles, grommets, kneepads and shoulderpads, I was able to achieve what I consider a 'noble' or 'aristocratic' look."

"But am I stomping invaders like a Sir? You betcha. When they're downed and waiting for the inevitable ground and pound I can only hope they catch the BLING coming off my monocle. At least they know they were defeated by a well-dressed fashionista!"
---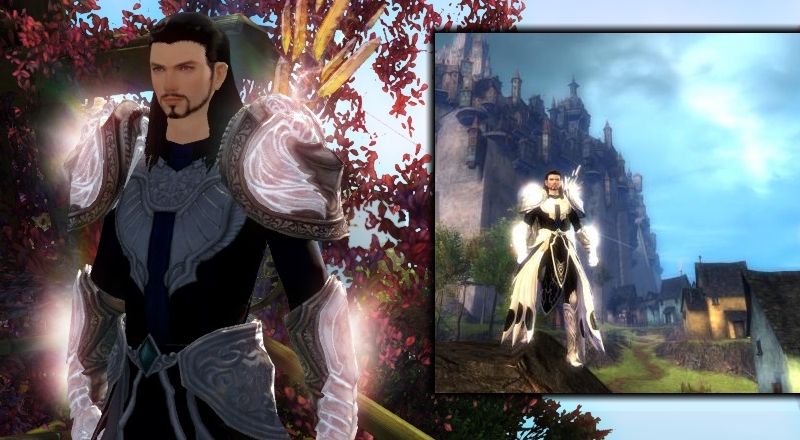 Character: Tago Medava, Beacon of Hope

Yago Medava used a truly astonishing variety of sets to create this one, glowing example of style.

"The people have cried out for a stylish and handsome hero to take a stand as the epitome of fashion and glory on Tyria and Yago Medava has responded."
---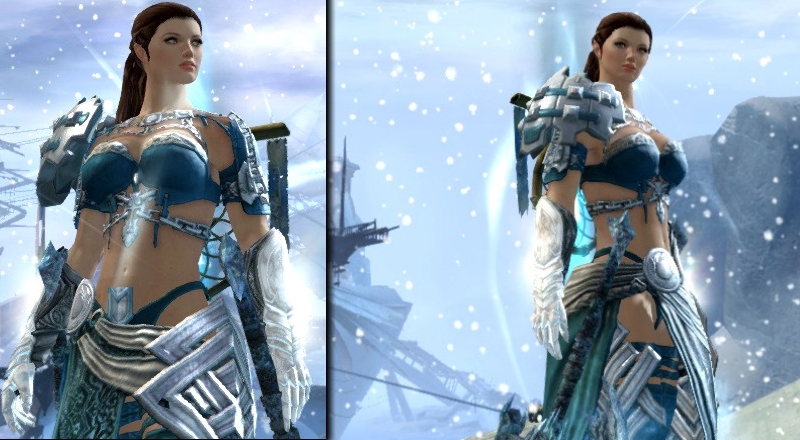 Character: Character Unknown, Norn of the Shiverpeaks

Charlee lets this Norn speak for herself and tell us about the fashion she's sporting in her trials across Tyria. Each piece is from a different set, but she still looks cohesive. An impressive feat matched only by the feats she accomplished to gain it all.

"My axes are fashioned from the corruption that Jormag's minions spread across the land."