I've been on the go a lot recently, which means that I've been playing more and more mobile titles. With more than 200 games hitting the iTunes and Google Play stores on the daily, there are no shortages of games to try out. One of the games that I have been playing for a few days now is Dunk Nation 3X3 — a competitive 3v3 basketball game.
I'm not much of a sports fan outside of watching combat sports like K-1 and UFC but I was drawn in by the vibrant, almost comic book style graphics of this game. And, after hitting Silver IV, I decided that I could share some pointers and general tips with the awesome readers here at GameSkinny to help give them an edge over their opponents.
Pay Attention to the Tutorial
When you first fire up Dunk Nation, you're going to get hit with a lot of boxes, tabs, and screens. The user interface can be pretty cluttered and confusing at first so take your time.
The tutorial moves pretty quickly and you'll find yourself learning the basic game mechanics in minutes — as well as getting flooded with rewards and clicking into several different screens. My best advice here is to take your time looking into the various tabs and screens offered by the main interface.
Game Modes & Progression
There are a number of different game modes to choose from in Dunk Nation — from 1v1 to 3v3 PvP, story mode, and a practice mode to hone your skills. If you were having a bit of trouble with the tutorial, then I highly suggest practicing your skills for a few minutes in the practice mode or doing the first couple of story matches, as they are relatively easy.
I find the story mode to be a bit on the boring side, so I generally play 3v3 matches and have been lucky to get some decent teammates.
Once you start winning matches, you're going to start leveling up your character and your team — so make sure you pay attention to upgrading your skills! Just note that your character's level cannot be higher than your team level, and your team level goes up as you play/win matches.
Improving Your Player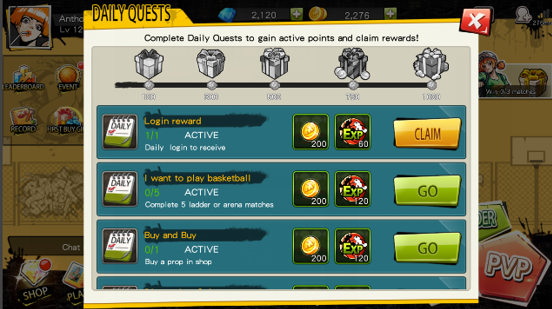 The main way to improve your player is to upgrade their skills. This helps to round out your character and might activate special effects. Make sure you equip skills so that they gain experience from PvP matches.
Once you progress further in the game you can send your characters off to training camps to improve their attributes, as well as unlock talents.
Lastly, doing the rookie missions is a great way for you to get a quick boost in the early game. Going through the A.I. story mode missions, as well as doing the daily quests, is a consistent way to rack up the EXP and score some great rewards. This can only be done once, however, so don't expect to grind your way to the top.
General Tips & Positioning Tips
Some of these general tips might seem like common sense, but you'd be surprised how many people don't make use of them at the lower ranking.
Use Fake Shot: If you quickly tap the shoot button, you'll do a pump fake. I use this regularly — and you'd be surprised how often it actually works on the defenders.
Pass the Ball Around: Don't hog the ball — you don't have to make all the shots for your team. In fact, the bulk of my wins in Bronze was because there was a greedy ball hog on the other team. This is a team game, so use teamwork and pass to your teammates when they're open and ready to make a play.
Drive: Don't be afraid to break past those defenders and get that dunk. Find your spot and hit that sprint button to break through them. This also works well with the pump fake for that extra layer of frustration.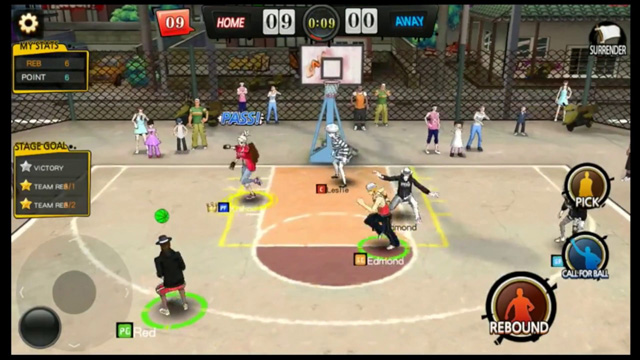 There are 5 different positions that you can choose to play in Dunk Nation — Center, Power Forward, Small Forward, Point Guard, and Shooting Guard. Each of these positions has an area of the game that they excel in, so there is a position for each playstyle.
Center: The Center is usually in the paint — the 2-point area of the court. The Center excels at defending shots in the paint, as well as getting rebounds. This position is a great choice for the "team player" type.
Power Forward: My favorite position to play, the PF is the position for scoring dunks and making plays in the paint. PFs have good speed and can put up points on the inside.
Small Forward: The SF is your jack-of-all-trades position — they don't really excel in any given area. This is a good starting position to play if you don't quite know what position, if any, you want to specialize in.
Point Guard: The PG is your playmaker. He's fast and has great passing skills, allowing him to set up plays and get the ball where it needs to be on the court.
Shooting Guard: The SG is your half-court sniper and the go-to player for crushing those 3-pointers. If you're trying to put up points from mid to 3-point range, then this is the position for you.
—
That wraps up our Dunk Nation beginner's guide! Hopefully, this helps you to get started off right on your road to ballin' out of control on your mobile device of choice. If you have any tips you'd like to add or any questions, drop a message in the comments below. Just make sure you keep checking back for more Dunk Nation guides here at GameSkinny.
About the author